Swan smashes eight-year-old record despite injured elbow as European Open begins
Ukraine leads medals table with three European champions from the country crowned after first two days of competition
25 Sep 2022
Imagen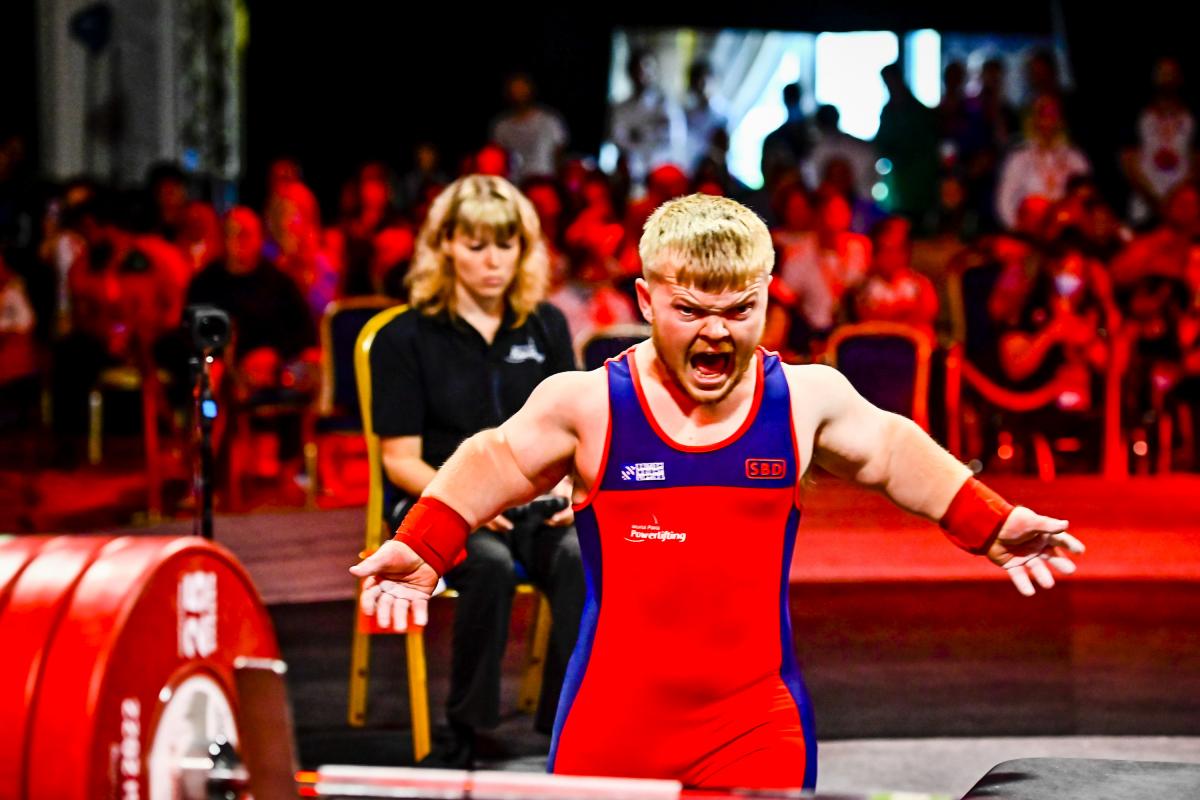 ⒸHiroki Nishioka/WPPO
By Lena Smirnova | For World Para Powerlifting
A new European record was a fitting way to begin the 2022 European Open Championships, which started on Saturday, 24 September in Tbilisi, Georgia and have already packed plenty of historical moments and personal milestones.
Great Britain's Mark Swan set the bar high from the first event of the competition, breaking a record that has stood intact for eight years. 
The Para powerlifter lifted 200kg in the men's up to 65kg class to claim his first European title. That result was an impressive 25kg more than the best press from silver medallist, Grzegorz Lanzer of Poland. 
What made Swan's accomplishment even more remarkable is that he injured his left elbow less than a week before his event and had doubts until the end whether he would be able to compete.
"I injured it in my training session on Monday back home before we flew out here and I was just thinking, 'All right, that's it. We're not going to compete here'," Swan said. "I wasn't even able to finish a training session on Monday.
"It felt a lot worse at the time than what it actually became, but my initial thoughts were, 'We're not going to compete here. We need to compete here'."
Not only did Swan compete and win gold, but his performance in Tbilisi also inspired his teammates to get more medals for Great Britain. Competing in the women's up to 61kg right after Swan's record-breaking lift, Rebecca Bedford gave her teammate a solemn promise.
"I told him just as I was coming into the warm-up area, 'I'll get me some of those as well'," she said. "And now I do."
Bedford won her first European title in dramatic style. She looked assured of the gold medal heading into the final lift, but then a fellow Brit Kimberley Dean posted her personal best - one kilogram over Bedford's second round result.
Becoming visibly more nervous, Bedford went back to the bench, and managed to up Dean's result by yet another kilogram for a winning lift of 90kg.
"It made it really tense. I knew I had to get this lift in order to get the European champion title, so I just had to really boost myself up to get ready for it," Bedford said. 
"It's my first Para lifting medal and title at the world stage so that's really exciting."
Tenacious comeback
Similar to Great Britain's Swan, Paschalis Kouloumoglou was glad simply to be healthy enough to compete. The Greek Para powerlifter injured his shoulder ahead of the Tokyo 2020 Paralympic Games, but unwilling to sit out the biggest event in five years, competed there at the cost of making his injury worse. 
By the time he went to the Tbilisi 2021 World Para Powerlifting Championships three months later, the injury was even more painful and he finished a distant 20th in the men's up to 59kg.
Kouloumoglou then took eight months off from training and has since been slowly building up his strength.
The 2022 European Open was his first major competition and he managed to make three clean lifts with a best of 175kg, which he says is still far from his full potential.
"I was out of training about eight months so it's very important that I came back to this competition and I kept the title of European champion, like in 2018," Kouloumoglou said. 
"I have more to give and I can, for sure, do better. We aren't in the 100 percent."
History for Spain
Making national history is a familiar feeling for Loida Zabala Ollero who became the first female powerlifter from Spain to compete at a Paralympic Games when she went to Beijing 2008. 
At Tbilisi 2022, she became Spain's first European champion, male or female, in Para powerlifting.
Zabala Ollero has finished in the Top 10 at previous competitions, but was always just short of the podium. She managed to break through in Tbilisi, however, lifting 93kg in the women's up to 50kg class. 
"I am in a state of shock because I was not expecting to be the champion. I feel extremely happy, but at the same time I cannot believe that I was able to reach first place," Zabala Ollero said, adding that she has even higher expectations for her future performances.
"I feel a little sad because my personal best is a lot better than what I showed in this competition, but in this moment I could not do it. Now we are starting the Paralympic cycle for Paris 2024 and I am very happy to begin with this gold medal."
Ukraine takes early lead
The Ukrainian team appears united by a special bond at Tbilisi 2022 where every teammate's medal ceremony is accompanied by cheers, flag waving and enthusiastic renditions of the national anthem.
And there have been three such occasions already.
Tetyana Shyrokolava brought Ukraine its first gold medal on the opening day of competition, winning the women's up to 67kg with a lift of 115kg, followed by two attempts to break the 118kg European record. 
Shyrokolava was also crowned European champion four years ago, but in a lighter weight class.
"There is a feeling of happiness, but it is a sad time now in our country. We have parents, families in our country and it's very difficult for us to be here," she said.
"I would have liked to perform better, to show a higher result. I felt a little like I haven't accomplished everything, but overall I am pleased."
The following day, her teammate Nataliia Oliinyk lifted a best of 140kg in the women's up to 86kg to win the gold medal with a whopping 47kg gap from the silver medallist, Poland's Beata Jankowska.
Oliinyk's coach was so enthusiastic with his cheering during the competition that by the end of the day, he had lost his voice. The sacrifice was worth it, however, as he joyfully high-fived his athlete after her winning lift.
"To be honest, I was very nervous," said Oliinyk, who made her European Championships debut four years ago and then came away with a bronze. "Now I am very happy. It is a lot of work, and I was working hard not to let my coach or the team down."
A few hours later Anton Kriukov put Ukraine at the top of the medals tally by adding a third gold medal to his country's collection. He managed three successful lifts in the men's under 107kg class for a best of 230kg and the biggest lift total.
The challengers
While 230kg was enough for the European title, Kriukov was surpassed in the Open competition where he faced Tokyo 2020 Paralympic champion Sodnompliljee Enkhbayar. The only Mongolian athlete at Tbilisi 2022, Enkhbayar clinched victory in the first round with an impressive 242kg lift and even attempted to break the world record on his final attempt of 254kg. 
Poland has also had a strong performance in Tbilisi so far.
Wawrzyniec Latus and Tomasz Majewski went head-to-head in the men's up to 88kg with Latus taking the top prize. In addition to Latus' gold, Poland has three silver and four bronze medals after two days of competition.
The Tbilisi 2022 European Open Championships run through 29 September with six more men's and women's events each, as well as three team events. 
Live streams and results from the competition are available on the World Para Powerlifting website. The competition can also be watched on the World Para Powerlifting Facebook page and the Paralympics YouTube channel.