Swansea 2014 Championship mark and website launched
There's now less than one year to go until Swansea, Wales hosts the 2014 IPC Athletics European Championships.
22 Aug 2013
Imagen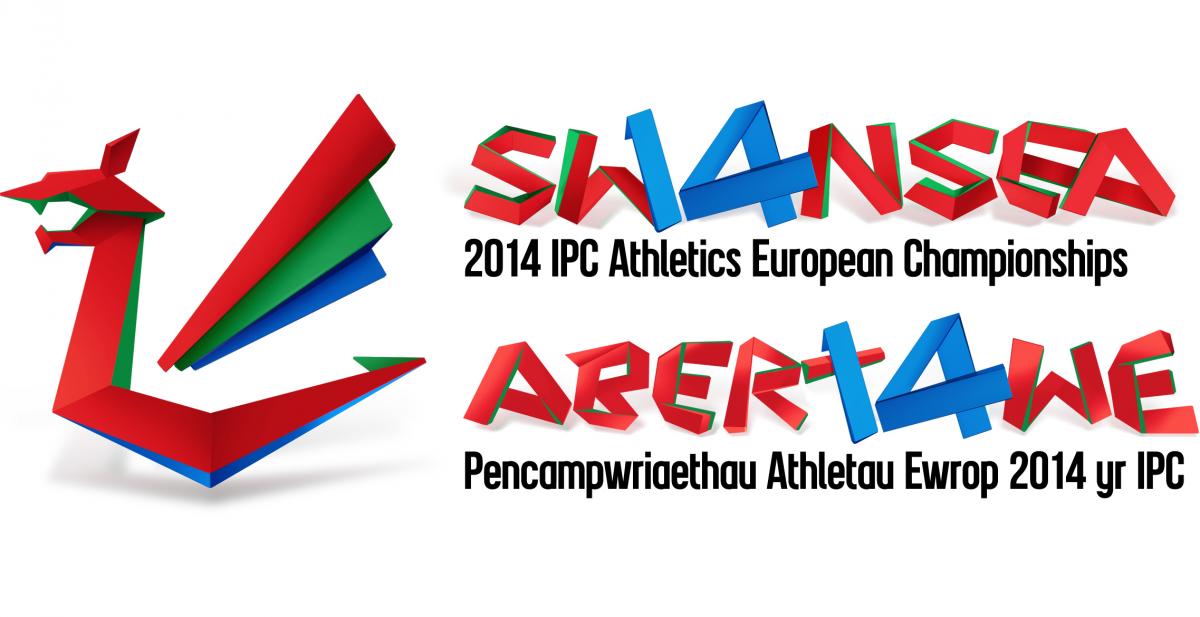 By IPC
"We can be sure that in one year's time, Europe's best athletes will arrive in this fantastic city looking to put in strong performances on their road to Rio 2016."
A leading figure in global Paralympic sport was in Swansea on Wednesday (21 August) to unveil the unique Championship Mark that will be used to promote the Swansea 2014 IPC Athletics European Championships.
The new Championship branding was revealed at an event held in the host city of Swansea to mark one year to go to the Championships.
IPC CEO Xavier Gonzalez was at Swansea University, along with Welsh athletes who hope to compete for honours in 2014, for the official launch day.
Gonzalez said: "We are delighted that another major international athletics competition will be hosted in Great Britain, and particularly in Wales. Swansea 2014 cements and continues the legacy of a fantastic London 2012 Paralympic Games, and spreads that legacy further into the British Isles.
"We can be sure that in one year's time, Europe's best athletes will arrive in this fantastic city looking to put in strong performances on their road to Rio 2016."
To mark the unveiling of the Swansea 2014 logo, the IPC launched the event website, where people can keep up with news over the next 12 months.
Event organisers are aiming to make Swansea 2014 the biggest and best IPC Athletics European Championships to date, and set a new standard for production, outreach and delivery – building on the enthusiasm and success of London 2012 and the British Athletics Sainsbury's Anniversary Games held earlier this year.
To illustrate this ambition, a unique and distinctive Championship mark has been created to reflect both Swansea and Wales and is underpinned by the red, green and blue colours of the IPC, the Swansea 2014 brand mark is dynamic, modern and sculptural.
Speaking about the concept behind the distinctly Welsh design Chris Fox of Goldfox – the creative agency behind the brand – said: "The mark represents everyone, by representing no one. That is to say, it intentionally doesn't visually represent any people.
"Instead, we felt the best way to unite all athletes and supporters from all impairment groups and all walks of life, was to speak to them through emotions and values. The mark calls upon the Welsh dragon to embody the pride, power, and tenacity required to compete at the highest echelon of competitive sport. It is a mark that welcomes athletes, spectators and businesses alike to Wales, Swansea and the Championships, and asks that they come away from their engagement with a bit of the dragon's spirit in them; empowered, proud and ready to take on the world all over again."
Paul Thorburn, Chair of Swansea 2014, said: "With one year to go to the exciting start of the 2014 IPC Championships I am thrilled that Swansea 2014 will be recognised across far and wide with this groundbreaking branding.
"Staging the Championships will be a great moment for Swansea and Wales. You can be assured that not only will we will deliver an outstanding championships that the whole of Swansea and Wales can be proud of – we will also provide a professional and welcoming environment, reflecting the warmth of a nation unlike any other in the world."
First Minister Carwyn Jones, said: "I'm delighted that Swansea will be hosting the Championships, which further underlines Wales' commitment to support and promote inclusive sport.
"The event will showcase both Swansea and Wales on the global stage and will once again highlight our ability to successfully host major, high-profile sporting events. Attracting thousands of visitors from across Europe and further afield, the Championships will also bring significant economic benefits for the region."
The Championships will build on the legacy of the 2012 Paralympic Games and put Wales firmly on the map as a nation that can deliver successful, high profile para-sport events.
Swansea University will host the event, creating an integrated venue and athlete village environment, supported by a strong Championship delivery team including Disability Sport Wales, Swansea Council, Welsh Government, British Athletics and Welsh Athletics.
Swansea 2014 will deliver a world-class event by combining extensive expertise in the delivery of the high profile championship events with considerable knowledge in the management and support of elite athletes.
Hosting training camps for both the Mexican and New Zealand Paralympic teams, Swansea has already shown its ability to deliver for disability sport in the build-up to London 2012. Staging the Championships, planned for August 2014, will help build on this legacy and support Swansea University's commitment as a leading sporting facility and continue the City's dedication to inclusive sport.