Swansea 2014 - Day 5 flashquotes
Find out what the athletes said after they competed at Swansea 2014
25 Aug 2014
Imagen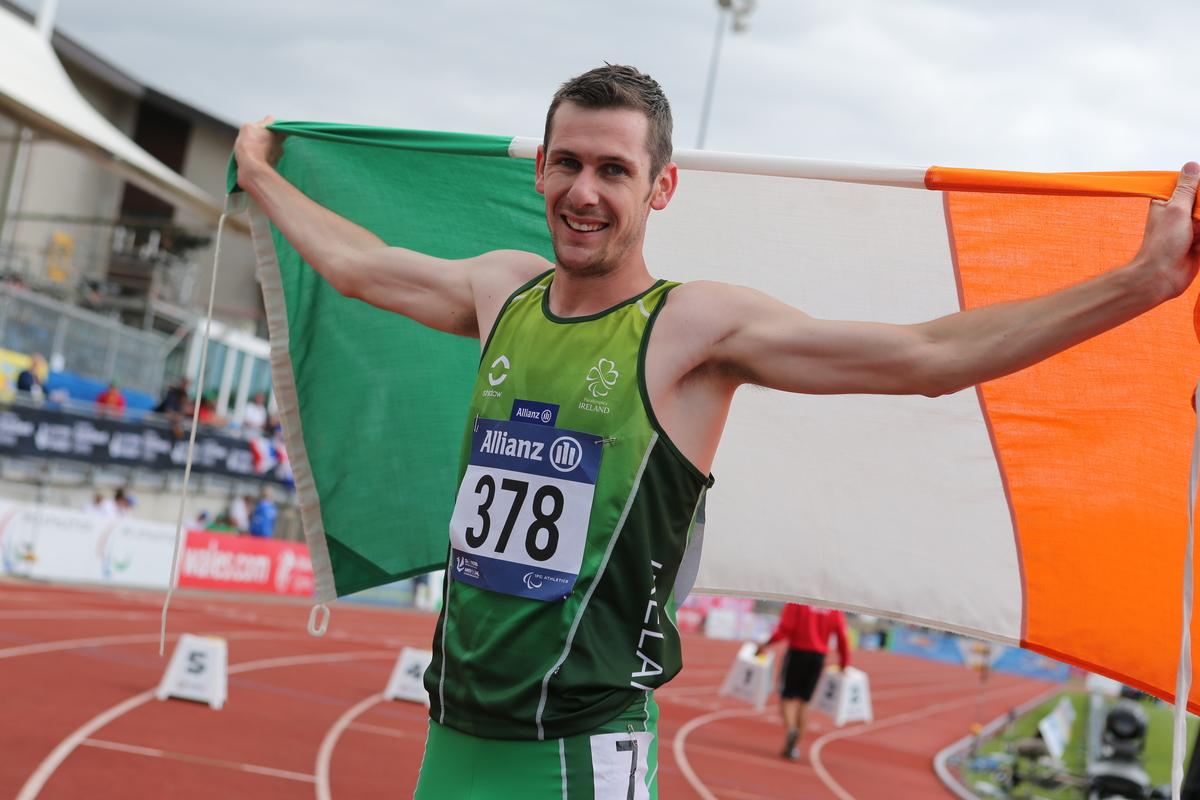 ⒸSporting Wales
By IPC
We are constantly updating this article with new flashquotes.
Men's discus F42 Final
Winner: Aled Davies (GBR) 46.46m
"After watching Dan Greaves throw a big one yesterday I was hoping I might get a good tail wind but the wind seemed to be coming towards me and the discus was going backwards. I can't complain too much I'm chuffed with the second gold medal and the crowd were incredible. I saw so many faces I recognised and I'm an athlete who thrives off a good crowd and a good atmosphere and it's great people have come out to support British athletes at an event like this.
"I was a bit disappointed with how things went in Glasgow and I wanted to do better. I want to keep pushing this event forward as it's a highly contested event."
Women's 4x100m T35-38 Final
2nd Place: Great Britain 53.84s
Olivia Breen: "It was a very proud moment for me to be able to run out in front of a home crowd it was just like London 2012 all over again."
Bethany Woodward: "Me and Olivia are like a well oiled machine now, and with Sophie coming into the team we put on a really good performance."
Sophie Hahn: "We felt really good and I wanted to do everybody proud because they've given us such good support."
Jenny McLoughlin: "I just knew I had to go out as hard as possible as soon as I had the baton. As a quartet we have performed brilliantly and there's more to come over the next few years."
Women's 1500m T54 Final
Winner: Manuela Schaer (SUI) 3:55.00s
"I'm really glad to win and I've had an amazing week. It started really well in the 400m and got better and better. I'm so happy I could finish with another gold medal.
"The race was ok, I thought maybe someone would have followed me when I picked up the pace but when no-one did I decided to keep going on my own and I was very happy to win.
"Things are going well for Switzerland, I think it's because we have some amazing facilities in the national centre and we have a very good group of people which helps.
"It's been a great event, very well organised, the track is not very quick but it has been good for me to show that I can win medals when the conditions are not perfect."
Men's 5000m T54 Final
Winner: Marcel Hug (SUI) 11:36.19s
"The pace started quite slow and I was just waiting and biding my time to see what would happen. I was concentrating on keeping my position and then I decided on my time to go faster.
"I was trying to push the pace as much as I could throughout the race but it was always slowing down so I just went for it.
"I'm very happy with another medal – the European Championships are another important stepping stone on the road to Rio.
"It was a good race but I'm not sure David Weir will be too impressed. It would have been nice to have him here so we could race against each other."
2nd Place: Alhassane Balde (GER) 12:14.19s
"I'm really happy with my second place because it's actually my first big event for six years. I was impressed with the athletes but I have been training hard, I felt strong and it wasn't a fast race. I was confident about my sprint and in the end that's what got me to second place.
"I've been training for two years for the European Championships and it's important to me to challenge the top athletes. I'm looking forward to Rio."
Women's shot put F34 Final
Winner: Birgit Kober (GER) 8.60m
"I'm really happy because that was my second gold medal. I threw a very good distance and I'm very proud of that because there are new rules and I didn't know how far I could go.
"I've only had a couple of months with my new chair so it has been a difficult preparation.
"with the new rules I am going to change from a sitting to standing group so that will be my focus now."
Men's 1500m T38 Final
Winner: Michael McKillop (IRL) 4:16.73
"I really enjoyed it, it's been a tough couple of months for me with injuries. It's great to be able to come here and do a job for my country it makes me very proud.
"It was such a slow first lap and the French guy kept saying 'too slow' but it's a championship race and I don't know what he expected me to do. I had always planned to build up the race with each lap and I was able to pull clear on the last lap.
"I want to take this form in to the World Championships next year and then on to Rio.
"I was waving to Jason Smyth on my final lap – he was in the crowd – he already had his two gold medals and I'm pleased I could do my job as well."
Men's long jump T42/44 Final
Winner: Markus Rehm (GER) 7.63m (1086 points)
"It was a difficult competition today because we had quite a strong head wind and cross wind to calculate and I found it hard to find my place to hit the board.
"I've had a great season and I was hoping to jump close to the 8m mark in Swansea but it just didn't happen. My goal over the coming years is to work on my consistency.
"I've been really lucky with the wind in all my competitions this year but today it wasn't so lucky and you could see that in the jumps of all the competitors.
"I had my last competition of the season in Berlin next week and I'm looking forward to it. Hopefully I'll have good conditions and I can jump quite far."
2nd Place: Daniel Jorgensen (DEN) 6.22m (975 points)
"I did not feel that pumped up going into the competition but as soon as it started that all changed. The crowd was excellent and the sun was shining I felt good.
"My goal coming into this event was to win the silver medal because with the F42 and F44 categories combined it is very difficult for me to beat Markus.
"But I jumped a new personal best which is always very pleased and it is a great end to my championships.
"I still feel there are some things I need to change and learn so I will go back to Denmark and work on those."
3rd Place: Ronald Hertog (NED) 6.78m (930 points)
"I'm happy. Obviously I was coming here to win a silver medal but in fairness to Daniel he jumped very well. That was a big personal best for him and with the points system it was always going to be difficult to beat him.
"It was an incredible competition and we are all very supportive of each other. We k now each other very well so there's a friendly rivalry between us.
"I love to come over to the UK – they know how to put on a proper event."
Men's 400m T11 Final
Winner: Timothee Adolphe (FRA) 52.87s
"It was a difficult draw being in lane one but we got a good start. I am very happy with the victory.
"That's our second medal after the 200m. We have the relay to come so it's been a very good championships for us."
Men's Javelin F12 Final
Winner: Hector Cabrera (ESP) 56.20m
"It's a very proud moment for me, my family, my country and my girlfriend. I was training very well but I did not expect a personal best.
"The competition was very close and very exciting and the crowd were very loud.
"I'm very happy with the gold medal."