Swimmers qualify fastest in search for latest medals
Sarah Louise Rung will try for her fourth gold medal in Funchal, Portugal, as part of a group of athletes looking for their next titles.
04 May 2016
Imagen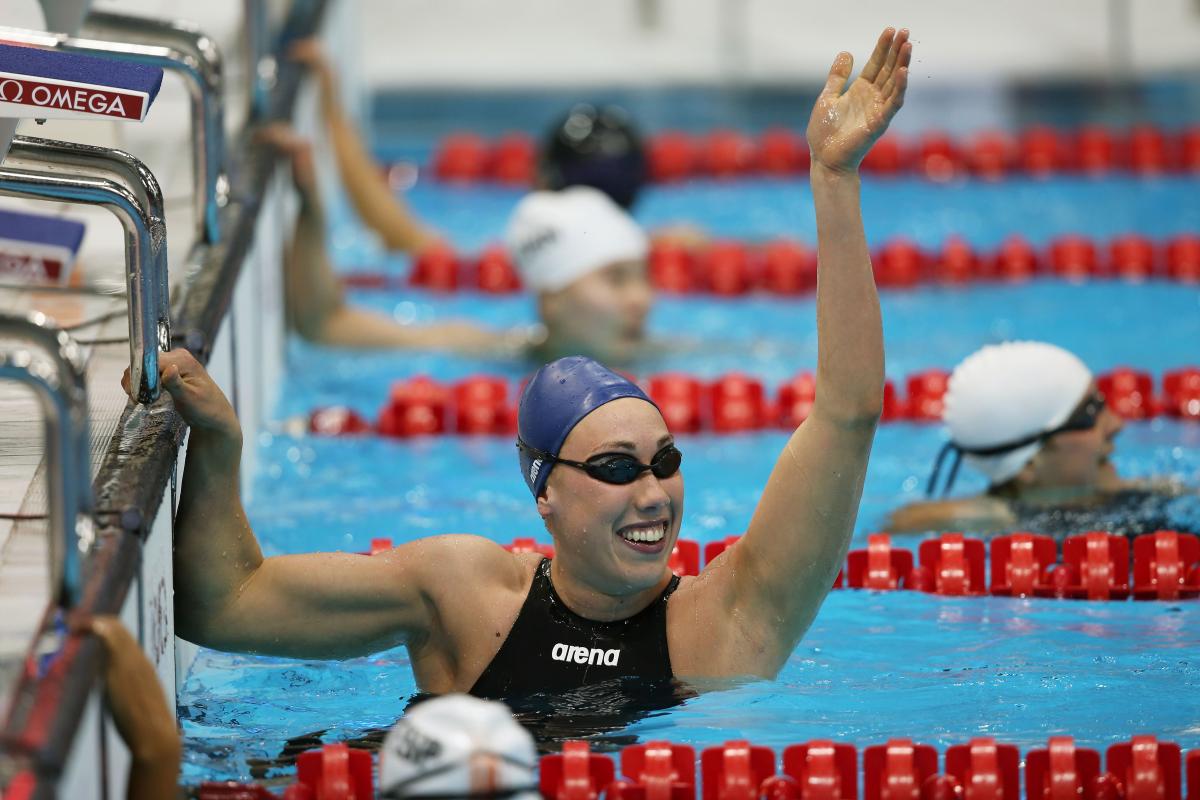 ⒸGetty Images
A series of swimmers searching for their latest titles led their heats at the 2016 IPC Swimming European Open Championships in Funchal, Portugal, on Wednesday (4 May).
European and world champion Sarah Louise Rung (1:48.01) headline the group as the quickest in the women's 100m breaststroke SB4, lining herself up for her fourth gold medal.
"It was ok, it was a morning swim," Rung said, "I have to look at the video and then see how I can improve my evening race."
Italy's Worlds and European silver medallist Giulia Ghiretti (1:57.22) was second ahead of Singapore's Theresa Goh (2:01.48).
World and European champion Ihar Boki will try for his third gold for Belarus in the men's 100m freestyle S13. Boki put in a great swim of 51.26, to qualify first ahead of Ukraine's Iaroslav Denysenko (53.36) and Russia's Aleksandr Nevolin-Svetov (53.54).
The Netherlands' Liesette Bruinsma (31.68) just qualified fastest in the women's 50m freestyle S11 ahead of Paralympic and European title holder Cecilia Camellini (31.69), who is hoping to add gold to the silver and bronze she has already won this week in Funchal.
When asked if she could win in the final to double her gold medal haul, 15-year-old Bruinsma said: "Anything is possible."
Sweden's Maja Reichard (31.83) was third.
Italy's Federico Morlacchi (2:25.01) looks good to retain his European title in the men's 200m individual medley SM9. He faces Great Britain's James Crisp (2:27.54) and Poland's Partyk Biskup (2:28.30) in the top three fastest qualifiers.
The top three fastest in the women's 200m individual medley SM9 qualified within exactly one second of each other, led by Spain's Nuria Marques Soto (2:41.78) on her 17th birthday.
Soto said she felt she could do better in the final in which she will face her teammate Sarai Gascon (2:42.14) and Hungary's Zsofia Konkoly (2:24.78). They will try and stop Soto from winning her second gold medal of the competition.
Soto's Paralympic champion teammate Michelle Alonso Morales will also be amongst the Spaniards aiming for their second medals. Morales (1:14.69) won a bronze on the opening day of competition and qualified fastest in the women's 100m breaststroke SB14 heat.
Great Britain's Bethany Firth (1:16.08) makes her much anticipated Championships debut after travel difficulties, and qualified second quickest.
"It was a tough one not being able to swim yesterday but I was so excited to come over here and swim for Great Britain and there's a great team and I'm proud to be part of it. I hope to go a lot faster but there's a lot of top competition. It's just good to be racing the girls."
Russia's Valeriia Shabalina (1:19.89) was third.
Men's 100m butterfly S8 Paralympic and world champion Charles Rozoy (1:03.15) of France eased into this evening's final as the fastest qualifier. His Russian rival, Worlds gold medallist Denis Tarasov (1:05.43), was second.
Russia continued their dominance of the pool, with two European champions amongst four swimmers to qualify fastest for the finals.
European champion Dmitrii Kokarev (2:09.08) is a double gold medallist already this week, and qualified fastest in the men's 100m backstroke S2 ahead of Ukraine's World Championships gold medallist Serhii Palarmarchuk (2:10.10).
European title holder Dmitry Grigoryev (58.47) led Ukraine's world champion Denys Dubrov (58.78) into the final of the men's 100m butterfly S10.
"It's not my best time but I think I can swim better in the evening," Grigoryev said.
Paralympic champion Andre Brasil will be hoping for a better day after losing the 50m freestyle on Tuesday (3 May) evening, and heads through fourth fastest.
World title holder Iurii Luchkin (1:31.83) leads Sweden's European gold medallist Karl Forsman (1:35.88) into the men's 100m breaststroke SB5 final.
Darya Stukalova (1:00.25) was the leader in the women's 100m freestyle S13.
Uzbekistan's Shokhsanamkhon Toshpulatova (1:00.67) set another Asian record, her fifth in four days, to qualify in second.
However there was a shock result as Russia's defending champion Anna Krivshina did not progress to the final.
Poland's European champion Oliwia Jablonska (1:11.36) trailled Spain's Isabel Yinghua Hernandez Santos (1:10.66) in the women's 100m butterfly S10.
Germany's Torben Schmidtke (1:24.89) was quickest in the men's 100m breaststroke SB6. The Paralympic and silver medallist beat Ukraine's Paralympic, world and European champion Yevheniy Bohodayko (1:25.50).
"It was a good race," Schmidtke said. "The Ukrainian boy [Bohodayko] is very strong although he didn't swim very fast in the heat. It could be a nice race."
Great Britain's Worlds and European silver medallist Charlotte Henshaw (1:37.86) qualified fastest in the women's 100m breaststroke SB6.
"Very happy with that. It was a controlled heat swim so looking forward to going to get a bit of a rest and see what happens later," Henshaw said.
Great Britain's Scott Quin (1:07.45) also progresses to this evening's finals as the fastest from the men's 100m breaststroke SB14 heat.
"That was quite a good solid morning swim," Quin said. "I'll sit down with my coaches and look at what I can do to be faster and we'll come up with a plan to work out what can be done in the finals."
Russia's Artem Pavlenko (1:09.15) and Dutch world and European gold medallist Marc Evers (1:09.61) were second and third respectively.
Three Ukrainian swimmers will hope to win medals this evening having put in solid qualifying performances.
Viktoriia Savtsova (1:39.19) won her 100m breaststroke SB5 heat ahead of compatriot Yelyzaveta Mereshko (1:40.75). Hungary's Fanni Illes (1:49.20) was third whilst Germany's world champion Verena Schott (1:54.27) was fourth.
Europeans podium finisher Kateryna Istomina (1:13.00) also stormed through fastest in the women's 100m butterfly S8. Russia's Kseniia Sogomonian (1:23.99) was second and British European champion Stephanie Slater (1:24.57) made her Championships debut in third.
Oksana Khrul (1:41.17) was quickest in the women's 100m breaststroke SB7 to round off the top Ukrainian hopefuls from the morning session.
Colombian world champion Carlos Serrano (1:20.65) leads Russia's Egor Efrosinin (1:22.66) into the final of the men's 100m breaststroke SB7. Serrano broke the world record at the Rio 2016 Test Event just last week.
Moises Fuentes Garcia (1:38.68) continued a great morning for Colombia, qualifying fastest in the men's 100m breaststroke SB4.
"I feel very content because I qualified first in a really good time," Fuentes Garcia said. The pool is very good and I think this afternoon you can see a great final."
Spain's European champion Ricardo Ten (1:39.71) was second followed by Greece's Antonios Tsapatakis (1:40.91) in his best event. Brazilian world and Paralympic champion Daniel Dias also qualified.
South Africa's Hendri Herbst is in pole position in the men's 50m freestyle S11 (27.37) as the fastest qualifier.
Live coverage and results will be available every day until 7 May at www.Funchal2016.com. Morning sessions begin at 9:00am (WET) and evening sessions at 5:00pm (WET) each day.
Live updates and behind the scenes coverage will be posted at @IPCSwimming and Facebook.com/IPCSwimming or search #Funchal2016.
Broadcast
For non-rights holders, the following material will be available:
Daily newsfeed x 1 (following News Access Rules)
Race clips (at cost)
For more information and for access to broadcast footage, please email sascha.beck@paralympic.org.
Photographs
A selection of rights-free images will be available for download from the heats and final every day at www.flickr.com/photos/paralympic/.
For high resolution versions, please email eva.werthmann@paralympic.org.
Contacts on site
Lucy Dominy, IPC Public Relations and Campaigns Manager, +49 151 29806543
Eva Werthmann, IPC Media Operations Senior Manager, +49 171 7433327
Sascha Beck, IPC Broadcast Manager, +49 151 5198174