Swimmers set themselves up for double gold
Aurelie Rivard, Elodie Lorandi, Darya Stukalova, Ihar Boki and Talisson Glock all head through fastest in the heats at the swimming Euros on Monday (2 May).
02 May 2016
Imagen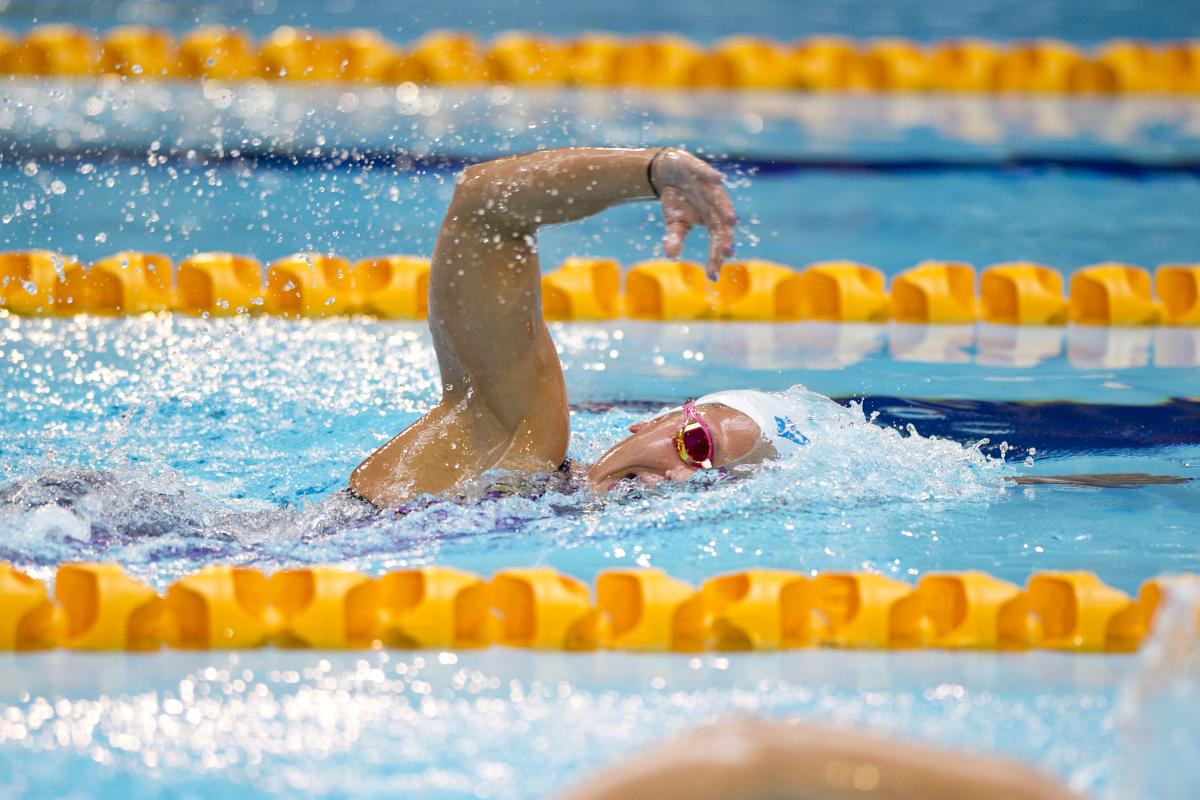 ⒸLuc Percival Photography. All rights reserved.
A series of swimmers are in pole position to take their second gold medal in as many days after qualifying fastest in the heats on day two (Monday, 2 May) at the 2016 IPC Swimming European Open Championships in Funchal, Portugal.
Norway's world and European champion Sarah Louise Rung (3:26.97) qualified fastest in the women's 200m individual medley SM5, but was not entirely satisfied with her swim.
"I'm happy with being first but so many things went wrong in that race! The good side is that I have a lot to improve for this evening races and I know I'll do better."
Rung will face Israel's Worlds silver medallist Inbal Pezaro (3:43.89) and Spain's Teresa Perales (3:47.58) in the final.
Belarusian Paralympic, world and European gold medallist Ihar Boki (23.58) picked up his first gold of the meet on Sunday (1 May), and will now go for the win as the quickest from the men's 50m freestyle S13 heats.
Canada's Aurelie Rivard (1:02.24), the Open gold medallist from the 400m freestyle S10 on Sunday, heads through to the 100m freestyle final fastest. Russia's Nina Ryabova (1:02.55) and French European champion Elodie Lorandi (1:02.60) were second and third respectively.
Russian 2014 champion Darya Stukalova (27.29) will go head-to-head with Great Britain's world gold medallist Hannah Russell (27.43) in the women's 50m freestyle S12 final.
"I was happy with my swim so hopefully I can go quicker tonight," Russell said. "Fingers crossed. I want to go much quicker than this morning and hopefully I can come back even stronger."
Brazilian World Championships podium finisher Talisson Glock (2:52.72) went quickest in the men's 200m individual medley SM6, ahead of Colombia's Nelson Crispin (2:53.00).
There was an Asian record for Uzbekistan's Shokhasanamkhon Toshpulatova (28.19) with her third place qualifying time in the women's 50m freestyle S13.
Hoping for her first gold is Ukraine's Anna Stetsenko (28.05), who was first ahead of Russia's world and European title holder Anna Krivshina (28.14).
Five other Ukrainian athletes went through as the fastest in their heats.
Paralympic, world and European champion and world record holder Maksym Veraksa (24.04) is the favourite for the men's 50m freestyle S12 as the fastest qualifier. Azerbaijan's Dzmitry Salei (24.32) will be hoping to improve on his silver medal from 2014 in second place alongside teammate Raman Salei (24.65) in third.
Ukrainian swimmers blocked out the three fastest spots in the men's 50m butterfly S7. European title holder Yevheniy Bohodayko (37.15), Andriy Kozlenko (32.75) and Marian Kvasnytsia (33.13) were the top finishers.
World and European title holder Dmytro Vynohradets (45.97) looks good to defend his gold from 2014 as the quickest in the men's 50m freestyle S3.
European and world silver medallist Yelyzaveta Mereshko (3:06.41) touched in first in the women's 200m individual medley SM6 ahead of German Paralympic silver medallist Verena Schott (3:18.49). Thirteen-year-old Nicole Turner (3:18.79) will head out as the third fastest qualifier for Ireland.
Rounding off an excellent performance from Ukraine was the women's 100m backstroke S11 bronze medallist from 2014, Maryna Piddubna (1:21.05). The 17-year-old leads Germany's Daniela Schulte (1:23.35) and Italian European champion Cecilia Camellini (1:24.65) into the final.
The men's 100m freestyle S10 will pit a series of Paralympic and major Championships podium finishers against each other. Brazil's London 2012 silver medallist Phelipe Rodrigues (55.38) leads Russia's European silver medallist Dmitri Bartasinski (55.84) and Ukraine's Dmytro Vanzenko (55.97) into the evening session.
"I'm quite happy," Rodrigues said. "It wasn't as fast as I wanted but I'm saving myself for the final."
Defending Russian European champion Dmitry Grigorev and Brazilian Paralympic title holder Andre Brasil also qualified.
Denmark's European champion Amalie Vinther (5:19.45) eased into the women's 400m freestyle S8 final.
Polish 18-year-old Patryk Biskup (1:05.53) put in a strong qualifying performance in the men's 100m backstroke S9. He will compete against Great Britain's European champion James Crisp (1:06.03) and Hungary's Tamas Toth (1:07.09) as the second and third fastest respectively.
"It was exciting. I am happy about being in the final and I think I can swim better," Biskup said. "I think I can win."
Biskup's teammate Wojciech Artur Makowski (1:10.50) went through quickest in the men's 100m backstroke S11.
After medalling in the 50m freestyle S9 on Sunday, Spain's Nuria Marques Soto (1:11.09) continued her good form in the women's 100m backstroke S9. British defending champion Stephanie Millward (1:13.96) was second quickest and Ireland's Ellen Keane (1:16.74) third.
"I loved that race because I was giggling before I got in and I'm still giggling after," Millward said. "I love being here in Madeira, it's wonderful. I'm having a fantastic Europeans."
Millward's teammate Susannah Rodgers (37.00) will defend her women's 50m butterfly S7 title as the fastest qualifier, as will another Brit Oliver Hynd (4:40.83) in the men's 400m freestyle S8.
"Obviously it's just about getting through to the final so I'll go back and prepare and hopefully I can swim better tonight," Hynd said. "I just wanted to stick to my own race plan and what I wanted to do going in, and I did that so I'm happy."
Live coverage and results will be available between 1-7 May at www.Funchal2016.com. Morning sessions begin at 9:00am (WET) and evening sessions at 5:00pm (WET) each day.
Live updates and behind the scenes coverage will be posted at @IPCSwimming and Facebook.com/IPCSwimming or search #Funchal2016.
Broadcast
For non-rights holders, the following material will be available:
Daily newsfeed x 1 (following News Access Rules)
Race clips (at cost)
For more information and for access to broadcast footage, please email sascha.beck@paralympic.org.
Photographs
A selection of rights-free images will be available for download from the heats and final every day at www.flickr.com/photos/paralympic/.
For high resolution versions, please email eva.werthmann@paralympic.org.
Contacts on site
Lucy Dominy, IPC Public Relations and Campaigns Manager, +49 151 29806543
Eva Werthmann, IPC Media Operations Senior Manager, +49 171 7433327
Sascha Beck, IPC Broadcast Manager, +49 151 5198174