Sydney 2018: Confident Cody Everson
New Zealand ready to take on world's best at wheelchair rugby Champs
31 Jul 2018
Imagen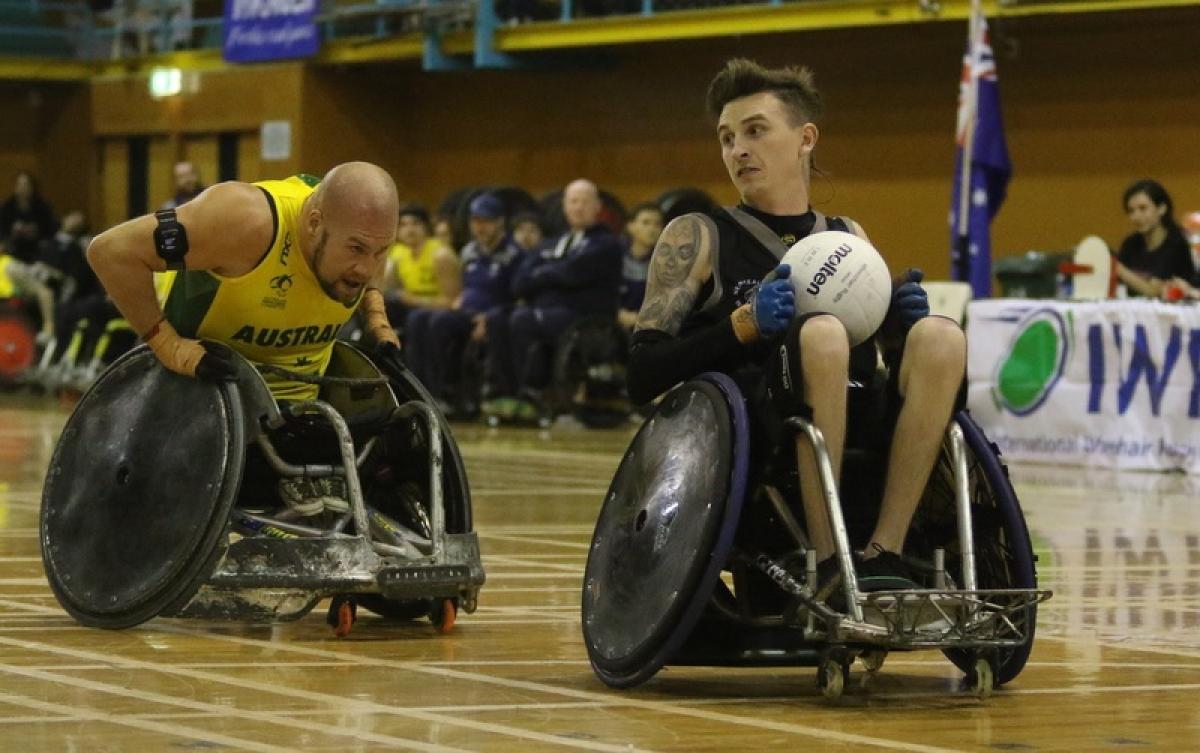 ⒸIWRF
By Beau Greenway | For the IPC
"We want to go into the competition confident and the goal is to beat every team we play and play in the final. That's what we want to set ourselves to achieve and fingers crossed we can go there and do that."
A life-changing accident playing rugby union as a 15-year-old has not stopped New Zealand's Cody Everson from representing his country. In fact, it has given him opportunities to travel the world and play the sport he has grown to love - wheelchair rugby.
The 22-year-old will represent the Wheel Blacks at the World Championship in Sydney, Australia, which gets underway on 5 August.
After narrowly missing selection in 2014, Everson is thrilled to be taking on the world's best so close to home.
New Zealand were runners-up in the qualification tournament for the Worlds in Nottwil, Switzerland, which allowed them to progress to the main event.
Everson carries a 1.0 classification and will feature heavily for the Wheel Blacks throughout the tournament.
"We want to go into the competition confident and the goal is to beat every team we play and play in the final," Everson said.
"That's what we want to set ourselves to achieve and fingers crossed we can go there and do that."
No pushover
There is no bigger challenge for New Zealand than facing the defending Paralympic and world champions Australia in the opening game of the tournament.
However, the Wheel Blacks did manage to topple Australia once during a five-match series last year and remain optimistic about their chances.
"It was pretty cool, I played in a couple of those games and one of them went to double-overtime and the next game we got a win," Everson said.
"We're hoping we can go there and give them a good challenge and let them know we're here to play and we're not going to be pushed over.
"Australia will be excited to be playing at home and in a way we're sort of playing at home too because we don't have to travel far at all."
Adapting his game
Everson has had to work on parts of his game to earn selection for New Zealand and has adapted to the role of inbounder.
"When I first came along I wasn't doing any inbounding," he said.
"We're actually running a lineup where we're half a point down, so usually a 1.5 would play in the lineup.
"Taking over as inbounder has been a big challenge for me trying to practice with the high-pointers on getting my passes right.
"I feel like it's coming along quite nicely."
Everson loves playing alongside his fellow Wheel Blacks, particularly the experienced Maia Amai-Marshall, who is one of the International Paralympic Committee's Ones to Watch in wheelchair rugby.
"Maia is a bit of a beast, she just doesn't stop, it's awesome," Everson said.
"You always know when she's on court that she's going to be there helping you out. People don't hold back on her because they know she's a threat. It's nice to have someone like that on your team."