Tatyana McFadden aims for first marathon world title in London
After winning marathon grand slams in 2013 and 2014, the US wheelchair racer is targeting her first marathon world title on Sunday.
25 Apr 2015
Imagen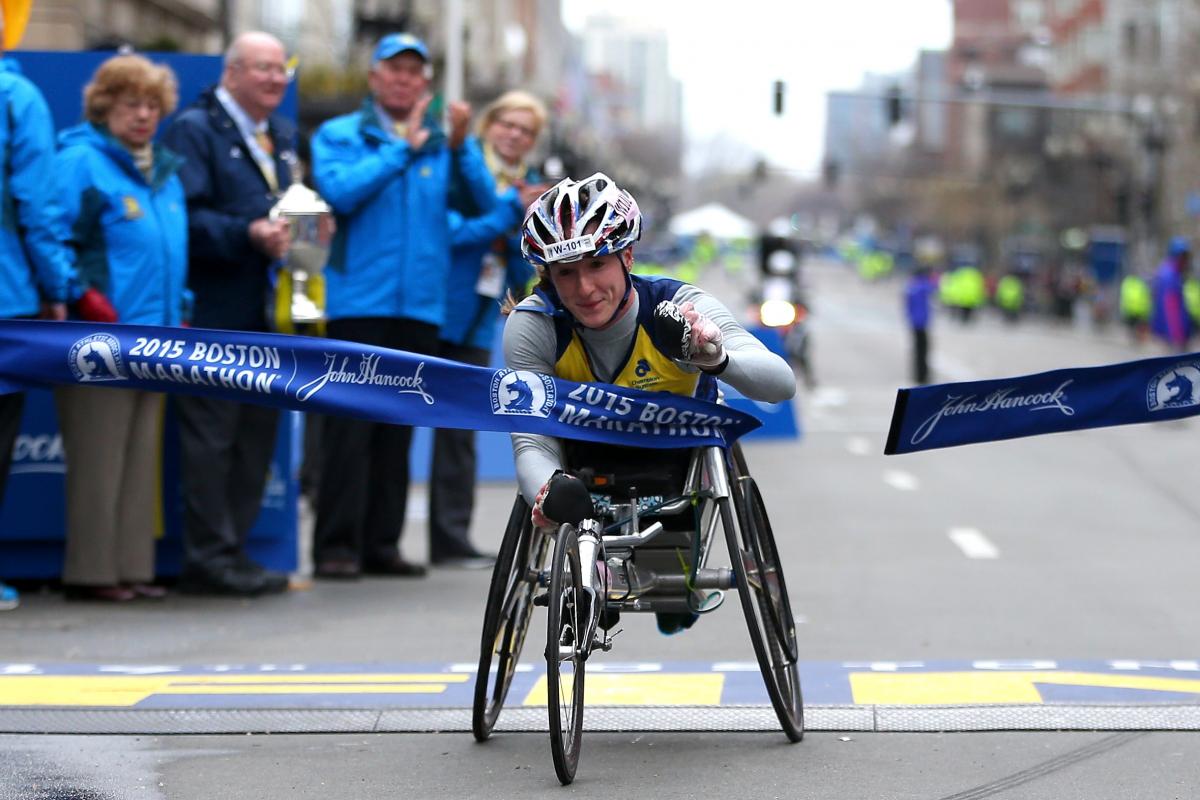 ⒸGetty Images
By IPC
"In racing it's all about giving a little bit more, then a bit more, then a bit more to the point that when you cross the finish line you shouldn't have anything left. I definitely felt that way in Boston."
There are a number of figures in recent years who have come to transcend their sport – think of Tiger Woods in golf, Roger Federer in tennis or Usain Bolt in athletics.
But surely, there cannot be a more dominant figure in any discipline than Tatyana McFadden in marathon wheelchair racing – and the American is aiming to demonstrate exactly why in this Sunday's (26 April) IPC Athletics World Marathon Championships, which takes place at the 2015 Virgin Money London Marathon in the British capital.
McFadden has a hold over the event in the last few years – and is an overwhelming favourite to win over the streets of London for the third successive time this weekend.
Yet McFadden says she has her limits – even though she is competing in London just six days after a gruelling experience in the Boston Marathon. Which, naturally she won.
"In racing it's all about giving a little bit more, then a bit more, then a bit more to the point that when you cross the finish line you shouldn't have anything left. I definitely felt that way in Boston," McFadden explained.
"The conditions in Boston, with the wind and rain, were really tough. So tough that a lot of the athletes were sick afterwards," she said.
Not that McFadden, who won a prestigious Laureus award last week, is expecting to struggle physically in London, despite such a short turnaround from the race in the USA.
She went on: "I've been tired this week but once you get to race day on Sunday you just go for it. When the race starts, the pain just shuts out. But it's been a hard adjustment this year from Boston to London and athletes are taking longer to recover this year."
Whichever way you look at it, McFadden is an odds-on favourite to win a third successive London title – her wins in 2013 and 2014 have both come in course record times and last year she finished almost a minute and a half ahead of the rest of the field.
Her stranglehold of the event is such that she became the first racer to complete the clean sweep of Boston, Chicago, London and New York Marathons in 2013.
Then for good measure, she did it again last year.
But on Sunday, McFadden, who won six track golds at the 2013 IPC Athletics World Championships, will be aiming to enter unknown territory as she has never won a World Championship marathon gold medal before – she did not take on the event in Lyon, France, when Switzerland's Manuela Schaer won.
And McFadden says she has not been helped in her bid for a first world marathon gold by the elements back in her home state of Illinois in the United States.
"We had a really long, hard winter in Illinois so it's been really hard to train and get outside. The temperatures hit as low as minus 35 so I'm not up to where I was with my training last year," she explained.
The IPC Athletics World Marathon Championships provides the opportunity for McFadden to fill in a rare hole in an otherwise medal-laden CV. But it also gives her – and other elite athletes a chance to measure their progress ahead of the Rio 2016 Paralympic Games.
"It's really early for athletes to be exactly where they want to be so it's all about sticking to my game plan at this stage," McFadden explained.
"But I like the competition, it's good for us all, it makes each of us a better person. Even if I get fourth place, if I'm in a sprint with the top three, that's good enough for me and shows me what I've got to work on for next year."
As well as winning medals, setting records and creating para-athletics history, McFadden's chief concern is providing an example to youngsters who may be inspired by her life story.
McFadden explains: "I want to write a book for children – before I write my own book. I think it's really important that at this time of my career to share my story.
"I'm someone who has had experience of so many areas of life – I'm adopted, have a disability, am a para-athlete, get to travel the world, being a student at the same time and get to live a normal life.
"I'm really excited and hope I can raise enough money to be able to write the book. Hopefully if it's successful, I can write a follow-up'" she said.
McFadden has already decided on the title of her book – Ya Sama! – which she is raising funds for through Kick Starter.
"Ya Sama is Russian for 'I Can Do It' – and that sums up my attitude as a young child in Russia. I didn't want any help to do anything. I was independent at a really young age," McFadden added.
And if there is one woman who can do it on Sunday, it is her.