Teenager Ferreira smashes 200m T47 world record at Sao Paulo Grand Prix
He only started competing in 2014, but the 18-year-old look a strong contender ahead of October's World Championships.
25 Apr 2015
Imagen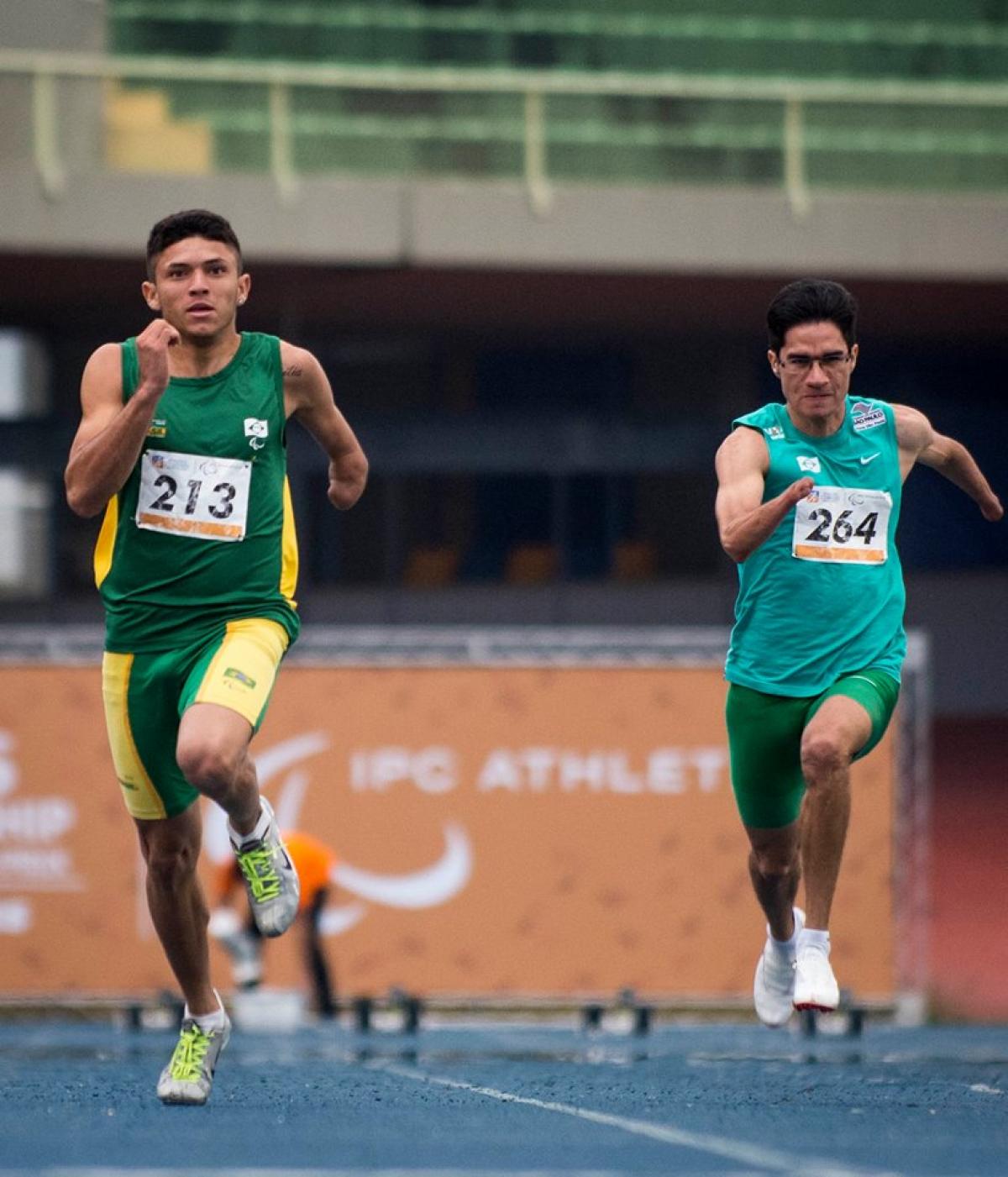 ⒸNPC Brazil
IPC
Brazil's Petrucio Ferreira dos Santos got the better of Paralympic and world champion Yohansson Nascimento as he set a new world record in the 200m T47 on day two (Friday 24 April) of competition at the IPC Athletics Grand Prix in São Paulo, Brazil.
The 18-year-old clocked 21.49, knocking 0.25 seconds off the previous T47 world record set by Australia's Heath Francis seven years ago, with Nascimento (T46) second in 22.51.
"I am really happy that I was able to break this world record. My race today was good," said Ferreira.
"I have been competing in athletics for just one and a half years, since the beginning of 2014. I did not expect to achieve something like this so quickly."
Images from the Sao Paulo Grand Prix can be found here.
Another Brazilian teenage sprinter showing impressive form is world champion Veronica Hipolito. Also just 18-year-old, Hipolito won the 200m T38 in 28.33.
Brazil's more experienced multiple Paralympic and world champion Terezhina Guilhermina meanwhile won the 200m T11 (25.06) as her young compatriot 17-year-old Thalita da Silva took second (25.65) ahead of Brazil's world silver and bronze medallists Jhulia Santos and Jerusa Santos.
Brazil's Paralympic champion Alan Fonteles Oliveira (T43) continued his impressive return to international competition as he crossed the line first in the men's 200m T42/44 in 22.63 to go top of the 2015 IPC Athletics world rankings.
"22.63 seconds is almost the same time I have achieved once in a tournament this year," he said. "I am feeling a little bit tired due to the events I ran yesterday. I felt my legs were a little beat up during today's race. But it is just a matter of keeping practicing from now on.
"I am working right now with my coach, increasing the workload in a timely manner. Right now, we are focusing on my start. I think I will be okay to go to the Parapan Games."
The hotly contested men's 200m T11 was won by Brazil's Paralympic champion Felipe Gomes in 22.91, with world champion Lucas Prado second and last year's winner in Sao Paulo, Daniel da Silva, third.
South Africa's Ilse Hayes, who just a day earlier set a new world record in the 100m T13 to become the world's fastest female para-athlete, notched up another win – this time with victory in the 200m T13 with a new African record of 24.70.
There was further joy for South Africa as Jonathan Ntutu and Hilton Langenhoven took first and second respectively in the men's 200m T12, with Ntutu clocking 22.52.
Then later in the morning Fanie van der Merwe topped the podium in the men's 200m T37, clocking 23.61, Dyan Buis won the men's 200m T38 over 1.5 seconds clear of the field in 23.26, and Anrune Liebenberg won the women's 200m T47 in 26.19.
Cuba's Omara Durand notched up her second win of the meeting, this time in the 200m T12 where she clocked a new Americas record of 24.61.
There was an Americas record too for Brazil's Rodrigo Parreira da Silva in the men's 200m T36, knocking 0.92 seconds off the mark he set in 2014 with a time of 25.53.
Ecuador's Darwin Castro saw off stiff competition in the men's 800m T11. The 21-year-old clocked 2:10.49 to finish ahead of Brazil's Anderson de Souza Coelho (2:10.75), with world 1,500m silver medallist Cristian Valenzuela of Chile third in 2:10.76.
Angola scored their win of the day through Alberto Lussasse in the men's 800m T46 (2:04.06), while Brazil's Ariosvaldo da Silva won the 800 T53 in 1:55.00. Venezuela's Juan Ramon Hernandez clocked an impressive 1:37.16 to win the 800m T54 and South Africa's Charl du Toit won the 800m T36/37 in 2:14.73.
Elsewhere there were wins for Venezuela's Dionny Ramirez in the men's javelin F11 (37.91m) and his countryman Edwars Valera who set a new Americas record in the javelin F37 (45.44m), while Brazil's Brendow de Souza won the F12 event (35.31m).
Jonas Ferreira set a new Americas record of 29.34m in the javelin F55, and Syria's Mohamad Mohamad (F57) continued his winning form after victory in the Dubai Grand Prix with a throw of 43.05m in Brazil. Argentina picked up their first win of the day through Daniel Gauna in the javelin F46 (36.17m).
Brazil's Roseane Ferreira dos Santos (F57) set a new Americas record as she threw 22.96m (626 points) in the discus F56/57, and her compatriot Paulo Moreira de Souza won the men's javelin F36 with 42.48m.
The IPC Athletics Grand Prix in São Paulo, which features 340 athletes from 20 countries, continues with the third and final day of competition on Saturday (25 April).