Three World Records in One Event at IPC Athletics World Champs
28 Jan 2011
Imagen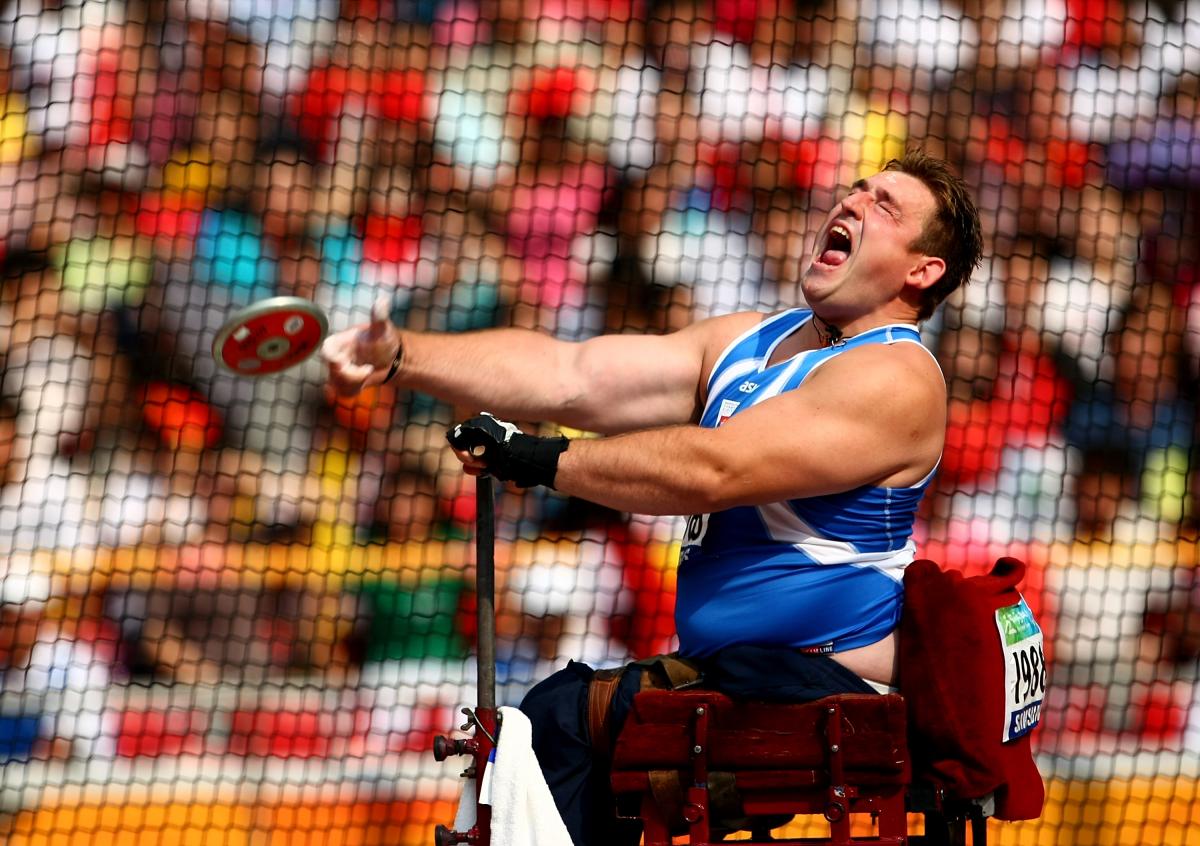 ⒸGetty Images
Bulgaria's Mustafa Yuseinov had the mortification to throw a world record in the men's F54/55/56 discus yet only take home bronze as Leonardo Diaz (Cuba) and Serbia's Drazenko Mitrovic put in superior performances at the IPC Athletics World Championships.
Diaz (F56) shattered his own world record by three metres in throwing 43.10m (1030pts). Mitrovic, F56, took the silver with a throw of 31.35m ((1027pts) while Yuseinov (F55) took the bronze (39.42m, 1002pts).
There were only two other world records on the day, the tally of five being the total for the championships to 47.
Birgit Kober (Germany) was the star single performer of the day. In setting a new world mark of 23.54m (1227) in the in the F33/34/52/53 javelin, she eclipsed the old record by an incredible nine metres. Lucyna Kornobys (Poland) 14.09m 988pts took silver and Louadjeda Benoumessad (Algeria) 16.79m 955 was third.
Ireland's Michael McKillop celebrated his 21st birthday in style with a gold medal and new world record in the men's 800m T37 in 1:58.90.
Having set a world record in the 1500m earlier, McKillop was only looking for the gold medal, but once he had kicked at the 400m the world record became a reality.
"In Beijing I waited to the 250m, but today I decided to go early and catch them out. It worked perfectly.
"Back in Ireland it is still my birthday (born January 27, 1990) so I have a wee bit of celebrating to do," he said.
The big surprise of the morning was the defeat of triple gold medal winner Michelle Stilwell, of Canada. She was upstaged in the T52 800m race by Kerry Morgan (USA) in 2:29.33secs. Lyudmyla Danylina of the Ukraine was third in 2:41.38secs.
Poland were first and second in the women's T20 1500m with Arleta Meloch winning in 4:39.33secs from Barbara Niewiedzial (4:41.78) with Ukraine's Lyudmyla Danylima (4:44.18) third.
Japan made a clean sweep of the 800m T52 with Ito Tomoya setting a new championship time of 2:01.05 from Hirokazu Ueyonabaru (2:02.04) and Toshido Takada (2:02.19sec).
The triple jump F46 went to Huseyn Hasanov of Azerbaijan with a new championship leap of 13.56m with Iraq's Fadhil Al-Dabbagh (13.31m) getting silver and Japan's Hiroyuki Yasui the bronze (13.11m).
Bulgaria's Ihar Fartunau took gold in the F13 high jump with a leap of 1.92m ahead of Ukraine's Ivan Kytsenko (1.89m) and Braedon Samuel Dolfo (1.83m).
Gold in the T13 800m went to Lukasx Wietecki (Poland) in 1:56.17secs from Morocco's Abdelillah Mame (1:57.05) and Venezuela's Jose Luis Sanchez in 1:58.92.
A new championship record was set by Artem Arefyev (Russia) in the 800m T36 in 2:11.42, just ahead of Great Britain's Paul Blake (2:11.88sec) and Spain's Jose Manuel Gonzalez (2:14.47sec) taking bronze.
The last three field events of the morning all produced new championship marks. Jackie Christiansen (Denmark) led the way in the F44/46 shot put with a throw of 17.79m (995pts) from Greece's Miltiadis Kyriakidis (14.12m 747) and Croatia's Josip Slivar (14.05m 740pts).
Azerbaijan got its second gold of the morning plus bronze in the F12 triple jump with Oleg Panyutin's leap of 15.09m. Ukraine's Ivan Kytsenko (14.88m) was second and Vladimir Zayets was third.
Poland's Pawel Piotrowski, with a throw of 38.65m (1004) was the gold medal winner in the F35/36 discus from Namibia's Reginald Benade (38.37m 997pts) and Volodymyr Zhaivoronok of Ukraine (38/09m 990 pts).
Nathan Stephens (Australia) kept the championship record theme going in the F57/58 javelin with a throw of 39.11m (884). Silver went to Mr El Attar (Egypt) (43.53m 850pts) with Thailand's Sakchai Yimbanchang (41.42m 796pts) 3.
Tatyana McFadden continued her good form in the women's 1500m T54 with a championship record of 3:36.20, just shading Canada's Diane Roy (3:36.3) and Japan's Wakako Tsuchida (3:36.75) in a blanket finish.
Another championship record also fell in the men's F40 javelin with Iraq taking the first two places. Kovan Abdulraheem took gold with a throw of 36.32m from Wildan Nukhailawi (34.98m) and Great Britain's Kyron Duke (32.64m).
Switzerland's Marcel Hug again found one better in winning his fourth silver medal of the games in the men's 400m T54. He was beaten by China's Chengming (47.95secs) with Germany's Marc Schuh (48.34) third.
Huzhao Li (China) continued his good form of the championships with a record in the T53 400m in 49.86, defeating the previous record holder Richard Colman, of Australia (49.93). Korea's Byunghoon Yoo (51.31) was third.
Ewa Durska (Poland) was a clear winner of the F20 women's shot put with a throw of 13.47m. Ukraine's Svitlana Kudelya (11.95m) took second and Ines Fernandes (Portugal) was the bronze medal winner (11.45m).
Australia was on the podium in the women's 200m T35 through Rachael Dodds (36.78sec) with Sophia Warner (Great Britain) taking silver in 37.04secs. Germany's Uta Streckert (38.13secs) was third.
Oleksandr (Ukraine) was the gold medallist in the F12 men's discus with a throw of 48.61m. Silver went to Russia's V Andryushchenko (43.96m) and Kim Lopez Gonzalez (43.63m) took the bronze.
Antonis Aresti won Cyprus's second gold medal of the championship with victory in the Men's 400m T46 event in a time of 49.44. Silver went to Austria's Guenther Matzinger (49.80) and Samuel Colmenares (Venezuela) took bronze in 50.26secs.
Brazil (Adria Rocha Santos, Ana Tercia Soares, Jerusa Geber Santos and Terezinha Guilhermina) in a time of 50.51secs was too slick for China (52.71secs) in the women's T12-13 4 X 100m relay.
In total 47 World records and 121 Championship records have been set over the five days.