#ThrowbackThursday: Esther Vergeer
Already firmly etched in the wheelchair tennis record books, the Dutch sensation is now making a business career for herself.
27 Aug 2015
Imagen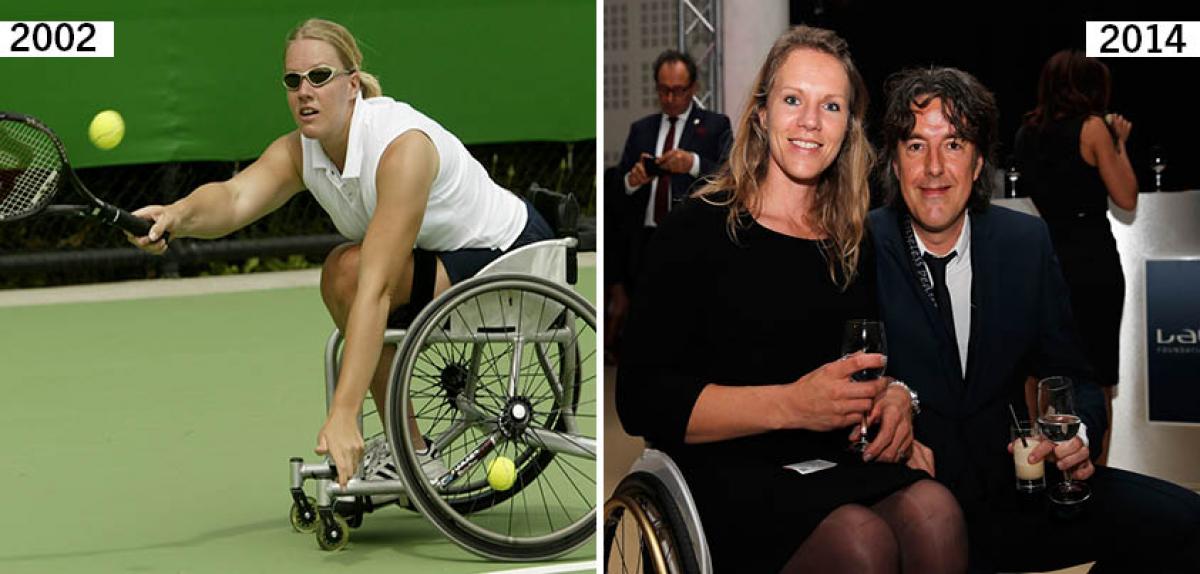 ⒸGetty Images
By Stuart Lieberman | For the IPC
"I now see the fun aspect of the game more and realise it's OK if I'm not as good as I used to be," Vergeer said. "It's OK if I have a bad hit or if I don't hit a serve 120km/hour over the net.
As the world's top wheelchair tennis players gear up for September's US Open – which is also a year out from the Rio 2016 Paralympic Games – the sport's all-time greatest player will watch the action from afar.
The Netherlands' Esther Vergeer – a seven-time Paralympic champion with 42 Grand Slam titles – is enjoying her first Paralympic cycle as a spectator.
Vergeer took a break from the court after the London 2012 Games, and decided to retire while she was at home watching the 2013 Australian Open. She closed her career on a winning streak of 470 matches and 668 straight weeks at world No. 1.
"The decision to retire was a tough decision," Vergeer said. "You have to have the guts to say goodbye to what's always been so comfortable. It took me a long time before I dared to speak up and say out loud that I wanted to retire.
"I wanted to have a little distance from the tennis court, tennis players and tennis world.
"But then the question is: What are you going to do?"
Since retiring, Vergeer said she has only played wheelchair tennis five times.
That's a drastic change for someone who had won 120 successive tournaments and beaten 73 different opponents in the final decade of her career alone – a decade in which she dropped just 18 sets of tennis.
Filling that schedule void, though, has been a piece of cake.
A new world of business opportunities has opened up for Vergeer, and they have been in the industry that matters to her the most.
"My heart is still there with Paralympic sports, and I still really enjoy being involved in that world," Vergeer said.
A full schedule
Atop Vergeer's current career responsibilities is running the Esther Vergeer Foundation, which aims to improve the position of youngsters with an impairment worldwide through sport.
The Foundation has been working since 2004 to get kids with an impairment involved in sports at a young age, with an emphasis on promoting the fun of the game.
"We are trying to close the gap between sporting clubs and kids with disabilities," Vergeer said.
"You can easily get a kid enthusiastic about a sport, but then the next step is to get them to be a member of a sporting club. We saw that was a difficult step to take for the kids and their parents, and we also noticed the clubs themselves have run into barriers before they eventually open their arms to welcome people with disabilities."
At this point in time, wheelchair tennis is the Foundation's main focus. But eventually Vergeer hopes to expand to other para-sports.
"I realise not everybody likes tennis as much as I do," joked Vergeer.
Vergeer also works as an external advisor for the Dutch Paralympic Committee, helping find new Paralympic-exclusive sponsors in the Netherlands and sharing her past experiences with Dutch athletes to help them prepare for Rio 2016.
She serves as the tournament director for the ABM AMRO Word Wheelchair Tennis Tournament in Rotterdam, Netherlands, a competition that runs alongside an able-bodied tennis event.
In addition, Vergeer has continued to promote her biography, "Fierce and Vulnerable," which was launched at the 2014 US Open. The book shares her life story, including views from everyone in her inner circle, as well as sports and business careers. Everyone from her parents and elementary school teacher, to her wheelchair tennis opponents and Roger Federer are quoted in the book.
Viewing pleasure
Vergeer said there are times when she misses the life of an athlete – traveling, being active all the time, maintaining a healthy diet and working toward a clear goal. But that on the other hand it is relaxing to not have every day of the next four years planned out for her.
Despite having remained physically distant from the court, Vergeer has continued to follow women's wheelchair tennis tournaments closely.
She believes her compatriot, three-time Paralympic medallist Jiske Griffioen, will be the top player to watch at next month's US Open (11-13 September) in New York, and next year's Paralympic Games.
Griffioen is currently ranked No. 1 in the world, having won both the Australian Open and Roland Garros women's singles titles this year.
"After London 2012, she really stepped up and put some extra efforts into her tennis game," Vergeer said. "She put some work into her wheelchair and her racquets to become a more complete player."
Vergeer added that Great Britain's world No. 5 Jordanne Whiley, a Paralympic bronze medallist in doubles, is a dark horse.
"I think she really has this fighter mentality, and I'm sure she has her eyes on the gold medal in Rio," Vergeer said. "I think in a year she's going to be even better. She's really aggressive. She never gives her opponent enough time to have a Plan B or recover on the court."
As for Vergeer, now that she has had time to distance herself from the pressures of competing, she is easing back onto the court.
"I now see the fun aspect of the game more and realise it's OK if I'm not as good as I used to be," Vergeer said. "It's OK if I have a bad hit or if I don't hit a serve 120km/hour over the net.
"I'm becoming friends with tennis again."