#ThrowbackThursday: Canada's Patrick Anderson
The all-time wheelchair basketball great is sitting on the sidelines making music … for now.
06 Aug 2015
Imagen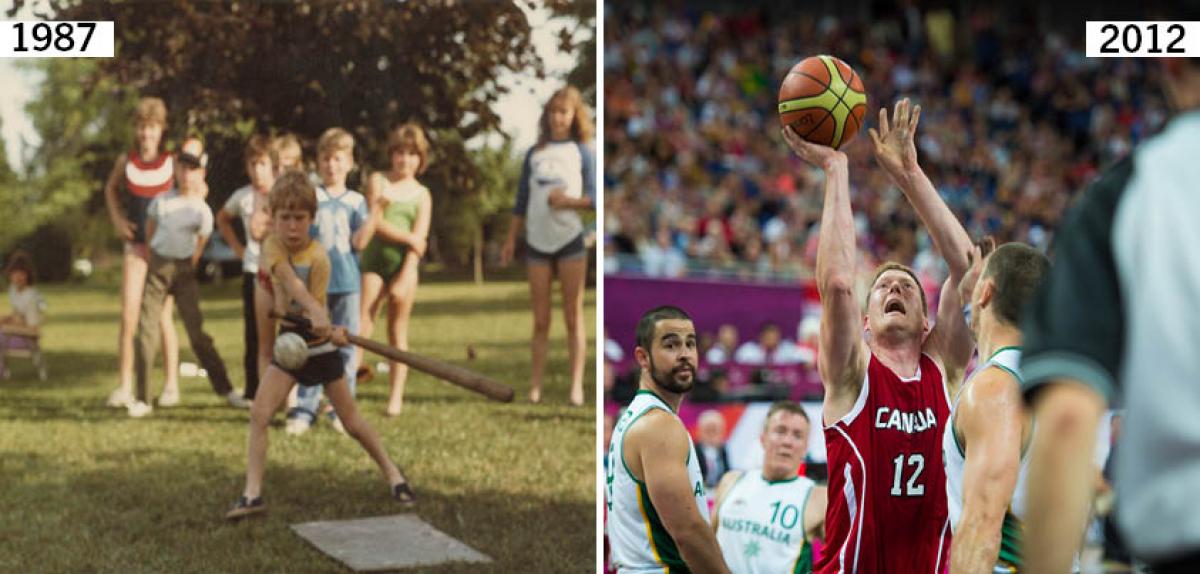 ⒸPatrick Anderson
By Stuart Lieberman | For the IPC
"So every day you have to wake up and say, 'There's this vision I have for what I want to do,' and put one foot ahead of the next."
Arguably the greatest able-bodied basketball player in history, Michael Jordan, made two comebacks before officially retiring from the NBA.
Could Patrick Anderson, arguably the greatest wheelchair basketball player in history, follow suit?
The three-time Paralympic gold medallist from Canada retired after the Beijing 2008 Games to enroll at Hunter College in New York City, USA, to fulfill his dream of becoming a professional musician. He came out of retirement in 2011 and proceeded to help Canada claim gold at the London 2012 Paralympics, dominating in the team's 64-58 final victory over Australia with 34 points.
Anderson, a 4.5-point player, has not competed with the Canadian national team since then, and thus will not be a part of the squad at the Toronto 2015 Parapan American Games, which begin Friday 7 August.
However, he has not officially retired, either.
"I'm not going to use that word this time around," Anderson said. "But I took myself out of the running for Rio 2016.
"I'm a little bit out of sight, out of mind. Whenever I get back with the guys on the court, it makes me want to come back and play. But when I get away doing other things with family and music, I realise my heart's in that just as much. The desire to play and be a part of the team comes and goes."
A new tune
Anderson and his wife, Anna Paddock, have been looking after their two-month old Stanley, as well as pursuing their music careers together. They just released their debut EP as a duo on 23 July and are already scheduled to play at a couple of festivals over the next few months.
"I'm a rookie all over again," Anderson said. "It's kind of like the Wild West, trying to figure out how the music industry works these days. It's all in flux with streaming, Spotify and everything else. We're wading in that chaos, trying to make a go of it. It's exciting and intimidating at the same time."
The couple, whose band is called "The Lay Awakes," worked with a music producer in Brooklyn, New York to record their independent EP.
"No one's going to confuse our music with summer jams," Anderson joked. "It's definitely not a Beach Boys, fun-and-games type of music. It's a little bit darker – the product of laying awake at night."
Still hooping
Anderson is also trying to keep one eye on his – we won't say 'former' just yet – team.
He regroups with Canada's national wheelchair basketball squad from time to time to catch up and help mentor some of the younger players.
With three starters gone from the London 2012 title team, the Canadians are lacking a veteran presence heading into Toronto 2015, which serves as a direct qualifier for Rio 2016.
But Anderson believes Vincent Dallaire or Nik Goncin could fill that role.
Dallaire, a 1.5-pointer, has an arm span of six feet, six inches, and great court smarts; he could become a leader for the next decade if he uses his body to his advantage, said Anderson.
Goncin, a 4.5-pointer, has incredible speed according to Anderson, but still needs to develop in other areas to make up for his small size.
Anderson, meanwhile, is still playing the game himself, albeit not with the national team. In 2013, he joined the New York Rollin Knicks, a club team in the NBA-affiliated National Wheelchair Basketball Association in the US. The Rollin Knicks, which also includes Canadian national team member and two-time Paralympic champion David Eng, won a national title in 2014.
More recently, Anderson and Eng have been trialling what they call "open-point style wheelchair basketball." They have organised several exhibition games that either integrate able-bodied athletes or consist of just 4.5-point players.
Although he remains involved in the game, Anderson insists slowly, but surely he is transitioning to music world.
And so far, it's been a "daunting, but exciting," transition.
"Being 35, that youthful, ignorant confidence is somewhat gone," Anderson said. "In wheelchair basketball, I always felt like I had a place and was needed for whatever team I was on. I don't have the same sense in the music world. It's hard to feel like what you're doing is needed because there are so many talented people doing the same thing.
"So every day you have to wake up and say, 'There's this vision I have for what I want to do,' and put one foot ahead of the next."