Tokyo 2020 Day 5: Ones to Watch
It's debut day for the unbeaten Brazilian football-5-a-side team and Mexican judoka Lenia Ruvalcaba
28 Aug 2021
Imagen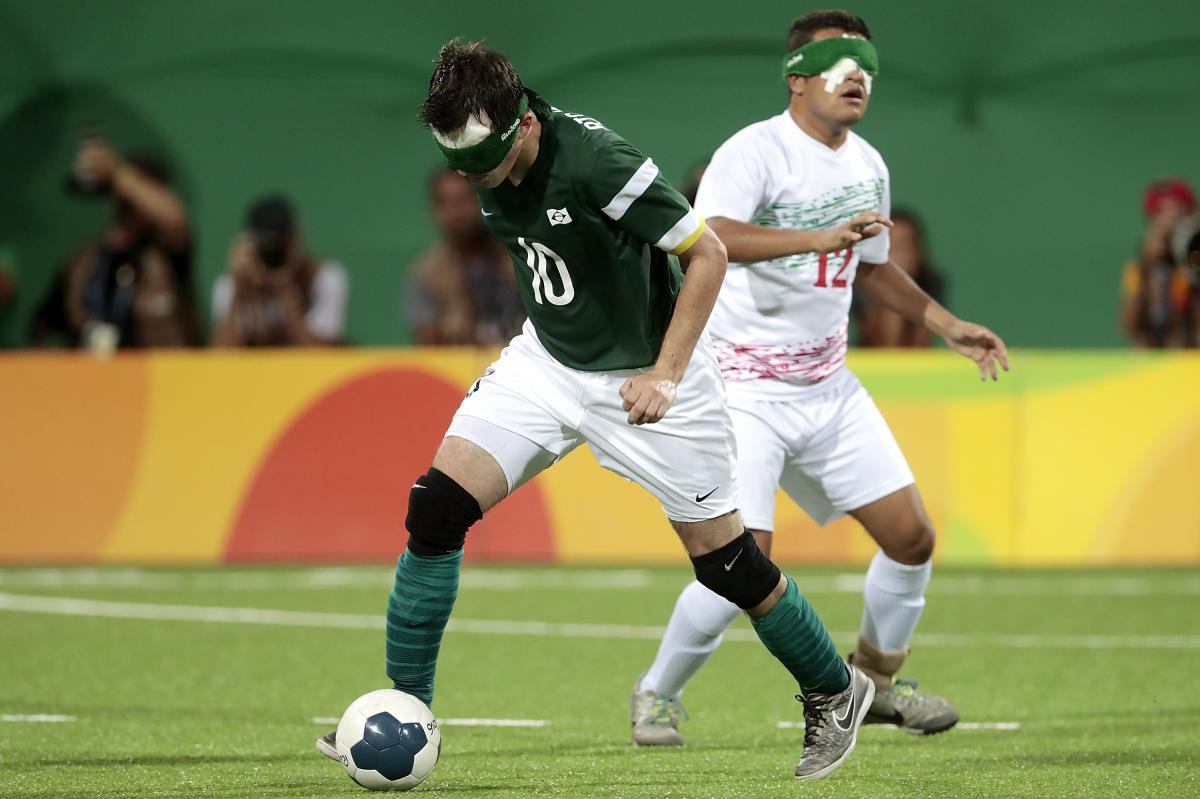 ⒸGetty Images
By IPC
There are not so many teams as dominant in the history of the Paralympic Games than the Brazilian football 5-a-side squad. Since the sport was introduced, at Athens 2004, they have won gold and reached an impressive 22-game unbeaten streak thanks to players such as captain Ricardinho and Jeferson Goncalves, known as Jefinho and called 'the Paralympic Pele'. They're some of the attractions of this fifth day at Tokyo 2020.
Another one to watch is Mexican Lenia Ruvalcaba, first female judoka from her country to win gold at an Olympics or Paralympics. She broke a thousand hearts at Rio 2016 by beating home favourite Alana Martins for gold in the women's up to 70kg. Their rivalry is one of the most compelling in sport and the pair have shared multiple podiums. 
Ricardinho (BRA)
It is hard to imagine a more iconic football 5-a-side player than the man known as Ricardo Alves, commonly known as Ricardinho. For more than a decade, he has been at the centre of a stunning Brazilian team that have claimed every Paralympic title and have taken the trophy at the last three World Championships. He captained the team to victory at their home Paralympics in 2016, walking out in front of 3,000 adoring home fans in the final against Iran and scoring the winning goal. But anyone that thinks Ricardinho has peaked can think again. He scored his 100th goal for his country at the 2017 Americas Championships, and in 2018 he was the top scorer at the Worlds, repeating his performance from 2014. Having lost his sight at the age of 8 along with what he thought were his hopes of becoming a professional footballer, Ricardinho's career is what dreams are made of.
Jefinho (BRA)
Although he has been part of the Brazilian football squad for 15 years, it was not until his home Paralympics that the world knew who the 'Paralympic Pele' really was. Jefferson Goncalves, more known as Jefinho, shot to global fame when his country hosted Rio 2016 and his team carried the hopes of one of world's greatest footballing nations on their shoulders. The Brazilian scored both goals in their 2-1 semi-final win over China before featuring heavily in their 1-0 victory over Iran for gold. Jefinho has been part of all but one of Brazil's Paralympic winning sides over the years. His reputation as one of the best footballers of his generation is no coincidence.  
Stefan Daniel (CAN) 
Daniel won his first World Championships medal in 2013 at 16 years old and has only gotten stronger. In 2014, he took silver, and then won his first World title in 2015 over German rival Martin Schulz to set up a thrilling showdown at the sport's Paralympic debut the following year. But it was not meant to be, as Schultz took the tape and gold medal. However, the Canadian went on to win the next three World Championships titles to put him in strong position for redemption in the PTS5 class at Tokyo 2020. Daniel in fact comes from a family of athletes. His father competed in Ironman competitions, his mother ran marathons, and his brother Christian swam for the Canadian Paralympic team.
Lenia Ruvalcaba (MEX)
Mexico's first female judoka to win gold at an Olympics or Paralympics, Ruvalcaba broke a thousand hearts at Rio 2016 by beating home favourite Alana Martins for gold in the women's up to 70kg. Their rivalry is one of the most compelling in sport and the pair have shared multiple podiums. In their three meetings since the last Paralympics, Ruvalcaba has won all bouts. The Mexican made her debut at the World Championships in 2006 and within two years was standing on the podium at Beijing 2008 with silver. In 2010, Ruvalcaba started her Worlds medal collection with silver and has since been a podium contender, claiming bronze medals in 2014 and 2018.
Simone Barlaam (ITA)
Barlaam and his Italian team are in good form, having finished top of the medal standings at May's European Championships in Madeira with 34 golds, including six world records in seven days.  Ahead of his Paralympic debut, the Italian made the podium six times in Madeira, including lowering his 100m freestyle S9 time on the way to winning his second gold. The seven-time world champion, who was born with an under-developed leg known as congenital hypoplasia of the femur, will hope his rich vein of form continues.
Lauren Parker (AUS)
Former Ironman competitor Parker will make her Paralympic debut in Tokyo. She was involved in a serious cycle accident in 2017, but that did not stop her from returning to sport as she discovered Para triathlon. Just months later, she won a bronze medal at the 2018 Commonwealth Games. She has since gone on to become the world No. 1 in the PTWC, and is the current world champion. The Maori phrase of indigenous Polynesian people 'Kia Kaha' is tattooed on her forearm, meaning 'Forever Strong.'
Frederic Villeroux (FRA)
Few players make scoring goals look as easy as French captain Frederic Villeroux. It is for this reason, and the fact that he has achieved a better scoring average, that the Frenchman has been compared to Lionel Messi. In the 2013/14 club season, Villeroux netted 102 goals in 42 games playing for FC Girondins de Bordeaux. He is also one of the only athletes still playing to have ran out at the debut of football 5-a-side at Athens 2004. Villeroux has been a constant throughout France's highs and lows in the sport. He captained them to silver at London 2012 before missing out on qualification at Rio 2016. Then in 2019 he was named player of the tournament as he helped return his country to the Paralympic stage with European silver. 
Hannah Cockroft (GBR)
Hurricane Hannah became a national star after taking two gold medals at her first Paralympic Games in London in 2012. Since then, she has added other three Paralympic golds to her tally in Rio. The class T34 wheelchair racer has tough competition at home with newcomer Kare Adenegan, but showed she is hungry for more following her two gold medals at the Dubai 2019 Worlds – and a new world record in the 100m T34. 
Carolina Costa (ITA)
A rival to Wang in the women's over 70kg, Costa channels Italian passions on the mat. Like Wang, Costa debuted at the 2018 Worlds and the pair faced-off in the final. The Italian missed out on gold but sent a clear message that day and has since gone on to claim European gold.
Maximiliano Espinillo (ARG)
The rivalry between Brazil and Argentina in football 5-a-side is as exciting as it is in the sighted game. Whilst Brazil have been the dominant force, players like Maximiliano Espinillo have emerged to shake those foundations in recent years. After joining the national team in 2013 'Maxi', as he is known, has been a core part of an Argentinian squad that have pushed Brazil harder and harder. At the 2014 Worlds, at which Maxi made his debut, Brazil needed a penalty strike to win gold. Then in 2017 he helped end their 57-match unbeaten run with a winning penalty in the final of the Americas Championships. That was Argentina's first regional title since 2005. With players like Maxi, Los Murcielagos – The Bats – have a promising future.
Fabio Torres (COL) 
Torres will be hoping to build on the two bronze medals he won at the 2017 and 2019 Worlds in the up to 97kg. He goes to Tokyo 202 with good momentum after back-to-back World Cup victories this year. Having lost the lower part of his left leg in 2008 while serving in the Colombian army, Torres' rehab journey to powerlifting glory has inspired a nation. 
Tomoki Sato (JPN)
Nicknamed Tomochan, Sato took on the sport inspired by the London 2012 Paralympics that he had watched on TV. Eight years later, he will be competing at home as one of Japan's biggest gold medal hopes. Sato left Rio 2016 with two silvers in the 400m T52 and 1,500m T52. But since then, he has taken gold in both events at the London 2017 and Dubai 2019 World Championships.