Tokyo 2020: Yuma Yamazaki's motherly mission
Para badminton player aims to make sons proud at Paralympics
22 Apr 2019
Imagen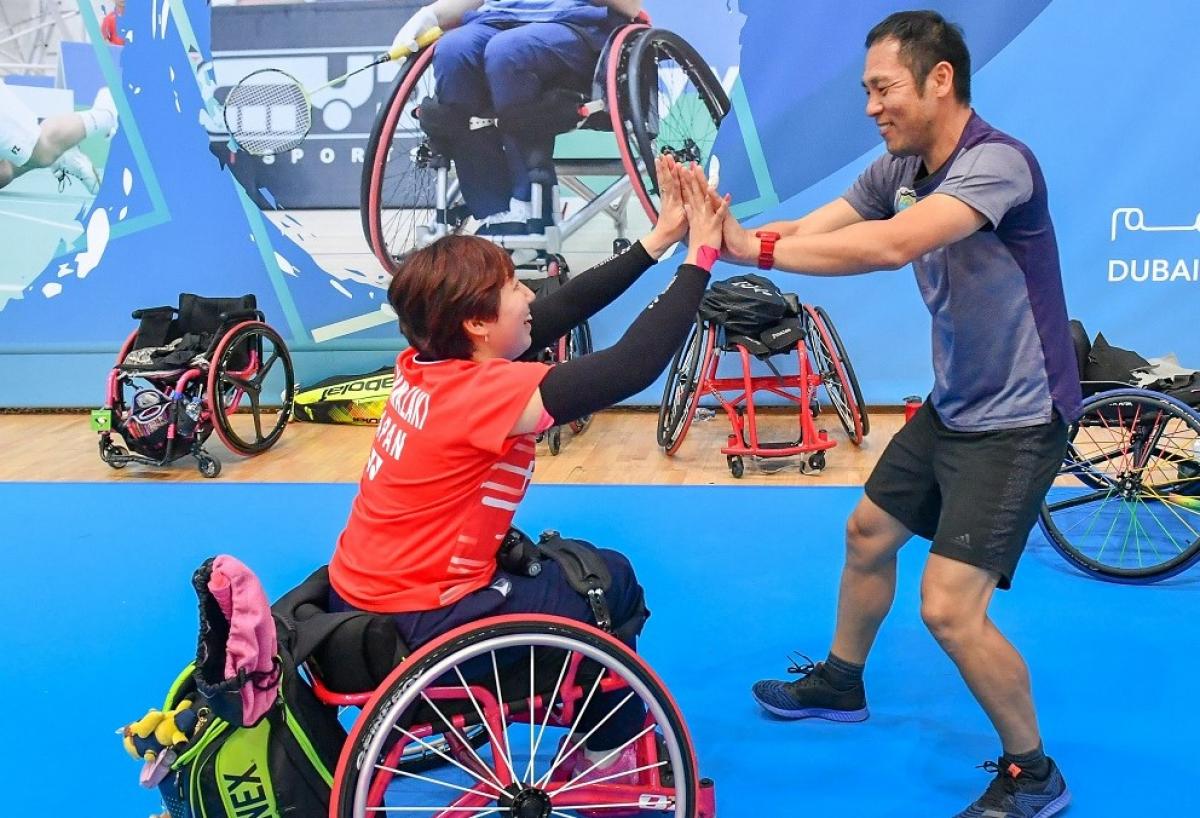 ⒸJames Varghese
By BWF and IPC
"My sons only understand if I win or lose. They are not aware of my medals so much. But I want the kids to see the hard work I put in when I'm playing."
Japanese Para badminton player Yuma Yamazaki has a new motivation to compete at her home Paralympic Games. Not only will she vie for the honour of becoming the first Paralympic champion in her event as the sport makes its debut at Tokyo 2020, but she will do it with her two sons watching.
"My sons only understand if I win or lose. They are not aware of my medals so much. But I want the kids to see the hard work I put in when I'm playing," Yamazaki said.
Yamazaki's road to success began as an able-bodied badminton athlete in her junior years. Now ranked second in the world in women's singles wheelchair (WH 2) category, the 31-year-old reflected on her transition.
"I was already playing badminton in high school as an able-bodied athlete. After an accident in high school, I was in a wheelchair and could no longer compete. But after seeing Para badminton at the National Sports Festival of Japan in 2013, that's when I first thought of playing," she explained.
"Now, I enjoy the sport so much. I don't feel like it's a job. I play because it is so much fun.
"It became more fun when I started winning, and now I get frustrated when I lose. But this motivates me to try and go back and experience that winning feeling again," she said.
Pressure on
With Tokyo 2020 on the horizon and the all-important qualifying period underway, Yamazaki knows she has to raise her game.
Most recently she reached the women's singles WH 2 semi-finals in both Turkey and Dubai, UAE, before winning gold in the women's doubles WH 1-WH 2 with Sarina Satomi at the Fazza-Dubai Para Badminton International earlier this month.
"I feel I still have plenty of improvements to make," Yamazaki said.
"When I observe the top Korean male players in the men's WH 1 and WH 2 categories, they have amazing accuracy in their shots.
"There's also several players in China who are better than me, too. There's one Chinese player who I've never defeated in singles. So, I know I have to work harder to win a medal in Tokyo.
"But that's the aim, to be the first gold medallist at my first Paralympics."
Beyond winning
As a proud Tokyo local, Yamazaki is also aware of the importance of badminton's debut at the Paralympics Games and the potential legacy it will leave in Japan and around the world.
"I am hoping that Para badminton will develop more after 2020," she said.
"When I go to lecture at schools, some of the students ask 'How can you play badminton in a wheelchair?'
"They are impressed to see I can do it. Children, especially, think that only the elderly people are in a wheelchair. I want to show them this is a sport and it is called Para badminton.
"Through the success of Tokyo 2020, I hope the number of Para badminton athletes increases. I want to play in more different types of matches against more opponents, so I really hope we can we can get a bigger population playing."