Shephard and Coombs: Teammates and rivals
Para badminton's British top two compete for Tokyo 2020 place
27 Mar 2019
Imagen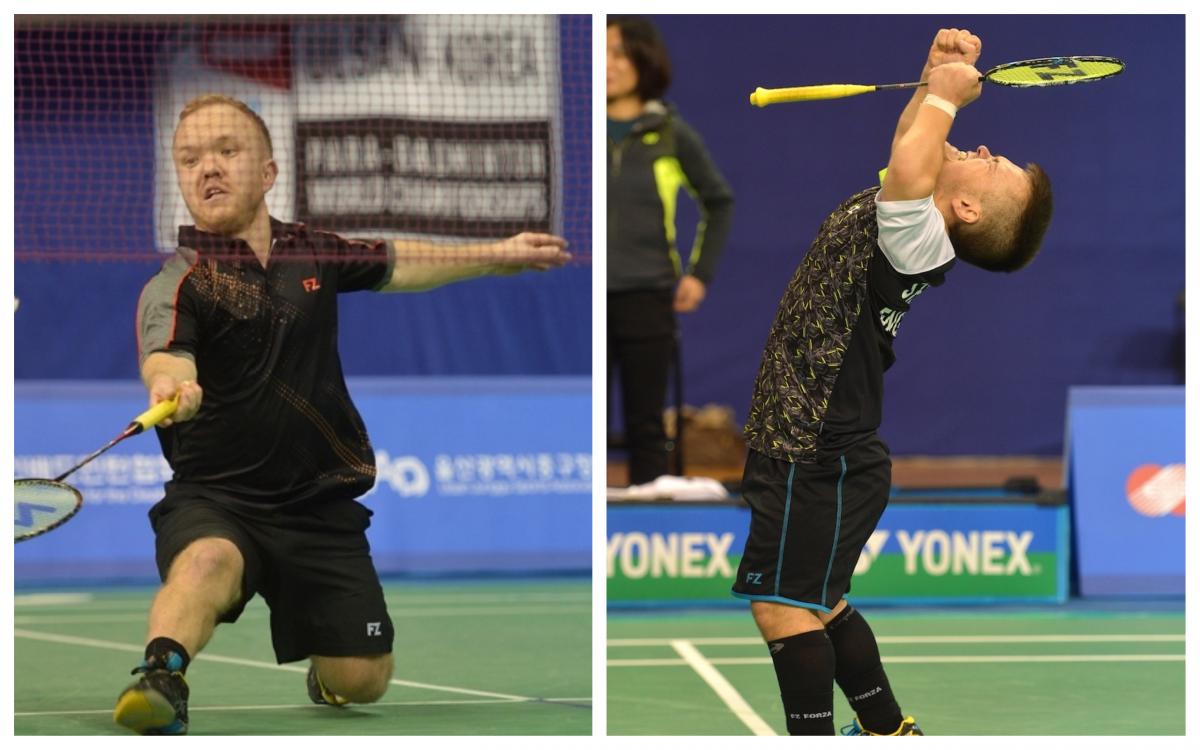 ⒸAlan Spinks
By Tim Norris | For the IPC
"The dream is to win it. Even just to go would be amazing. Badminton is big in Japan, one of their national sports, so there should be great coverage and a lot of interest. It's badminton's first time at a Paralympic Games so whoever wins it is creating history. It would be a dream come true to compete."
Jack Shephard and Krysten Coombs are Para badminton's world and British No. 1 and No. 2 in the men's singles SS6. But they know they may be battling for just one place when badminton makes its Paralympic debut at the Tokyo 2020 Games.
"There's only likely to be one of us going. We're competing against each other, as well as the rest of the world," Shephard explained.
"There's a slight chance we'd both go," added Coombs, "but we'd have to remain one and two in the world and hope others things go in our favour."
Advantage Britain
Despite one of them potentially missing out on Tokyo 2020, they both feel their rivalry is a good thing.
"We're the best in the world at the moment," said Coombs. "We're the top two. Consistently going at same level is the best thing ever really. Not every country has that."
Shephard agreed. "It's amazing to train with each other as one and two. We have really close matches in tournaments and training. Not many around the world get that."
The pair have known each other from a young age and are doubles partners, something that has helped them bond both on and off the court.
"We're really good friends and do a lot together off the court. When we face each other on the court there's always a bit of rivalry but whatever happens, we stay mates," said Coombs.
"We've always been mates and keep pushing each other on," added Shephard. "Whichever one of us gets there (to Tokyo) we'll be happy for the other."
Shephard is currently in pole position. The 21 year old won five tournaments in 2018, including the European Championships, and will look to defend his world title this year.
"Consistency will be key again," said Shephard. "Regaining the world championships would be great."
But Coombs, the European champion from 2014, will push Shephard all the way. "Qualifying for Tokyo is my main goal," he said. "Our best six tournaments count so getting a good start will be important."
No pressure
With qualification starting this season, there may be added pressure to perform. But Coombs had a different view.
"None of us have had the pressure of qualifying for a Paralympics, so no one has gone through qualification before. It will be interesting to see if anyone cracks under the pressure."
"There's no pressure yet," Shephard said. "I'm just excited to get started in the season. It's been such a long time since my last tournament in November, so I'm excited to see what other competitors have been doing within training."
Same dream
Whoever gets to go to Tokyo, they both have the same dream.
Coombs said, "The dream is to win it. Even just to go would be amazing. Badminton is big in Japan, one of their national sports, so there should be great coverage and a lot of interest."
"The dream is to go," agreed Shephard. "Like Krysten said, it's badminton's first time at a Paralympic Games so whoever wins it is creating history. It would be a dream come true to compete."