Tokyo Marathon: Swiss double victory
Marcel Hug and Manuela Schaer triumphant in first major marathon of 2019
03 Mar 2019
Imagen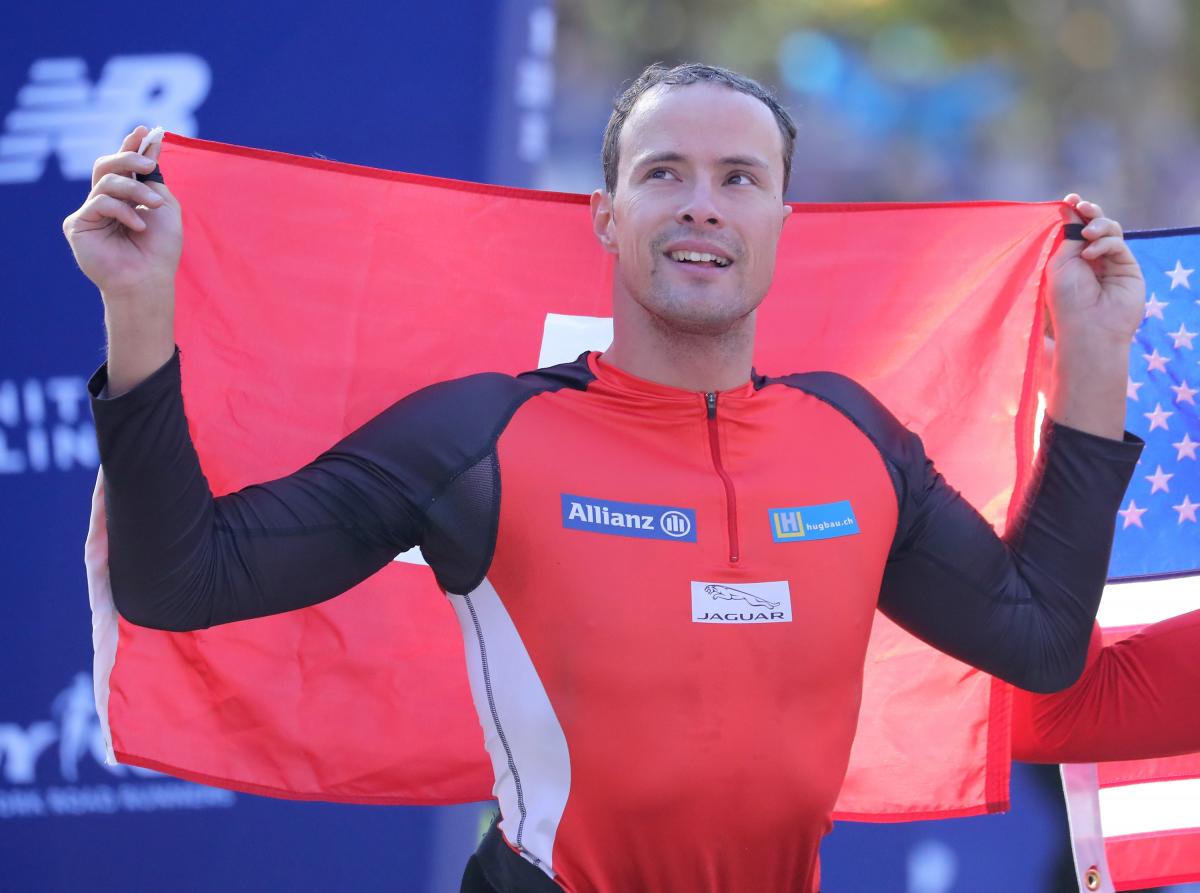 ⒸGetty Images
By World Para Athletics
Marcel Hug and Manuela Schaer claimed a Swiss double in the first major marathon of the year in Tokyo, Japan on Sunday (3 March).
Men's race
Hug dominated in cold and rainy conditions to claim his first major marathon win since April 2018, when he won in Boston, USA.
The 33-year-old was joined by USA's Daniel Romanchuk and South Africa's Ernst van Dyk in the early stages of the race but it wasn't long before he broke clear, establishing a 30-second lead by the 25-kilometre mark.
The Swiss Paralympic champion also claimed the extra Abbott World Marathon Majors bonus points available for a 1.3-kilometre sprint section along the way.
"It feels amazing. It's brilliant to start the season with the victory. It was great," said Hug, who finished in 1:30:44.
"It was tough because the weather conditions were really tough, it was pretty cold and rainy. But I was lucky because I had good rain settings so I had good grip. I'm really happy with my performance today."
Rising star Romanchuk, who won in Chicago and New York last year, came through for second place in 1:34:26 on his Tokyo Marathon debut – and was awarded his 'Sixth Star Finish' medal too, having now completed all six major marathons. Van Dyk was third in 1:34:41.
Victory for Hug meant maximum points in the Abbott WMM series XII which began in Berlin, Germany, last year and the chance to catch up on Series leader Romanchuk with three more races to go.
Romanchuk currently sits top of the leaderboard with 83 points, with Hug just two points behind.
"Marcel ran a very good race, he kept on surging and urging until everyone dropped off. But I'm very happy with my performance today and I am honoured to receive my sixth star," said Romanchuk.
"To have raced in six different races, it's such a unique experience. They are all unique places but united by the love of running."
It was a disappointing race for Canada's Brent Lakatos, winner in Berlin five months ago, who struggled with the wintery conditions, clocking 1:50:50 for twelfth place.
"This marathon was the hardest race I have ever done. I was too cold from the start to keep up, and it only got worse from there. Sorry for the poor showing. I will take away from this lots of tough lessons," he tweeted afterwards.
Women's race
In-form Schaer meanwhile extended her substantial lead at the top of the women's Abbott WMM Series XII leaderboard with her fourth consecutive major marathon win.
"This means so much to me, it was a hard fight today, although I was more comfortable because I knew I had three wins already for the series." said Schaer, who finished in 1:46:57, nearly two minutes ahead of 2017 Series winner Tatyana McFadden.
The 34-year-old, who won Series XI last year, claimed the bonus points too and now sits 76 points clear of her Series XII rivals with a total of 116 points.
"Of course it makes me feel a lot more comfortable going into Boston and London especially, when London is the World Championships. I can focus on the title and I don't need to worry about points," added Schaer.
McFadden crossed the line in 1:48:54 with fellow Illinois racer Susannah Scaroni third in 1:54:32.
The wintery conditions also got the better of Australia's Commonwealth marathon champion Madison de Rozario who failed to finish the race.
"I am a v (very) small Australian who is not built for the cold," de Rozario later posted on social media.
There was good news however for Dutch racer Margriet van den Broek who finished in fourth place and, like Romanchuk, also picked up her 'Sixth Star Finisher' medal.
"I think this will get a special place in my apartment, I've done them all now!" said a delighted van den Broek.