Marathons in 2019: Daniel Romanchuk on the rise
Young US racer could win 'Sixth Star Finishers' prize at Tokyo marathon
02 Mar 2019
Imagen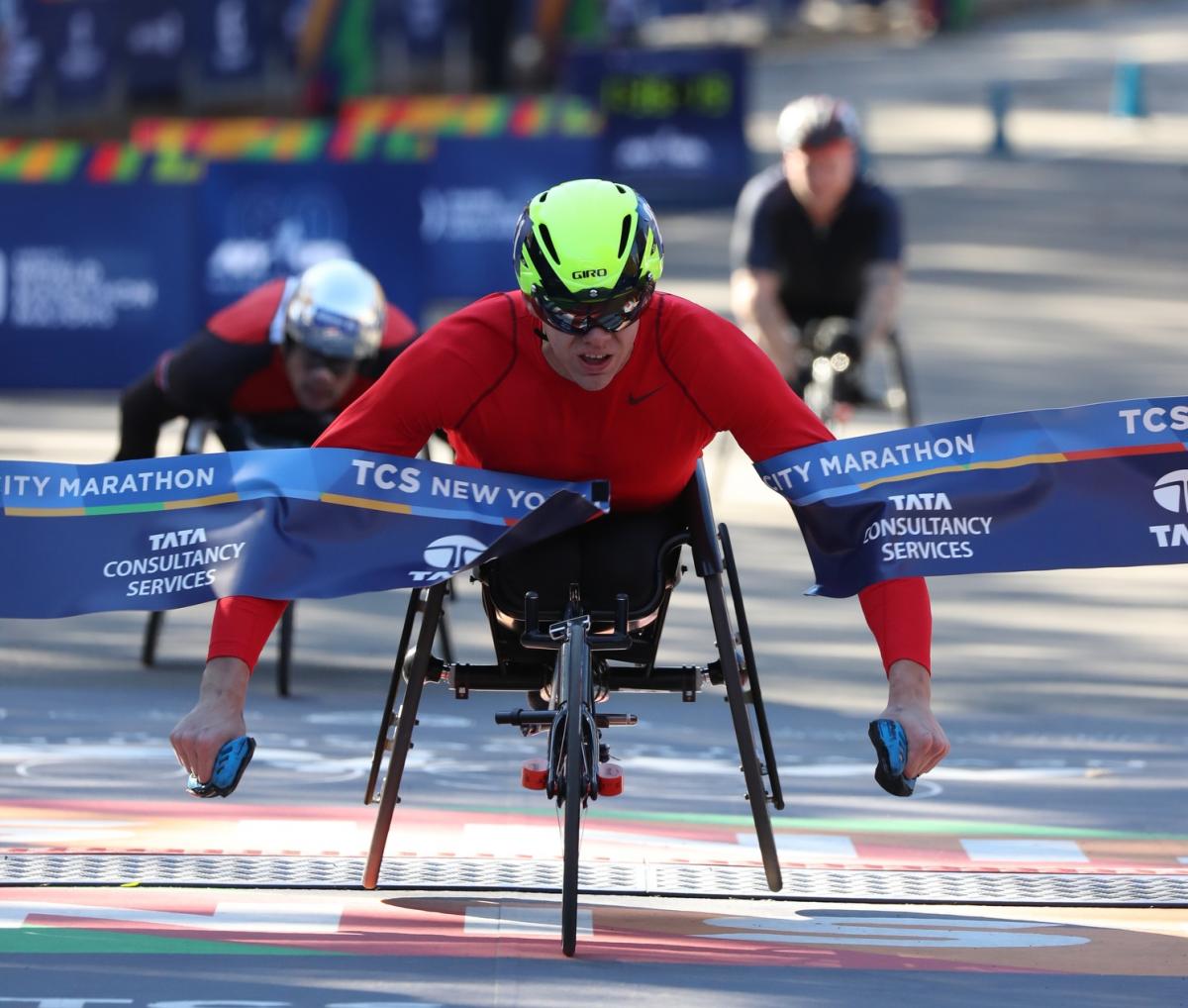 ⒸNYRR
By World Para Athletics
"No! Last year I had a goal to podium at a world major and to be where I am this year, I would never have expected to be here within this time frame"
US wheelchair racer Daniel Romanchuk believes he has what it takes to notch up a third consecutive major marathon win on Sunday (3 March) when he makes his debut on the streets of Tokyo, Japan.
"I'm pretty confident," said Romanchuk, who has spent the winter training with his Illinois-based teammates under the watchful eye of top coach Adam Bleakney.
"It's going to be a challenging course, very technical, with turns and U-turns but I feel pretty confident in my training."
The quietly spoken 20-year-old quickly made a name for himself on the roads last year, finishing third in Boston (USA) and London (Great Britain) in April before going on to win in Chicago (USA) and New York (USA) towards the end of the year.
Impressive sprint finishes in both races left Romanchuk's rivals in his wake, a skill he puts down to the hours he also spends on the track.
"I like to finish every race as strong as I can. We do train a lot on the track and a strong finish is one of the things we train for, so I think that's kind of come over on to the roads," explained Romanchuk, who also smashed the previous 800m and 5,000m T54 world records last year.
Romanchuk's rise
When it comes to T54 wheelchair racing there is no doubt Romanchuk is now a key contender, both on the track and on the roads. Rivals, fans and the media all expect him to perform; his wins last year have helped him adapt mentally to his new-found status.
"I feel more confident compared to a few years ago," he explained. "It's been a gradual progression of, OK, let's stay with the pack for a few miles. Then the next time it would be, let's stay with the pack for half the race.
"Now I'm able to stay with the pack and concentrate on more. I'm able to keep track of everyone else a lot easier; I'm able to concentrate on staying with the pack, who is where, what's going on, keeping track of breakaway attempts and things like that."
But despite his recent winning form, the young US racer is still mindful of the high calibre of athletes he is up against. Swiss Paralympic champion Marcel Hug has won the last two Abbott WMM series and is at 33-years-old has plenty of experience – and plenty of major marathon wins - under his belt.
Not 'over 'til it's over'
"I have a huge amount of respect for Marcel as a racer and a person," added Romanchuk.
"He has done some incredible things on the track and on the road. I don't like to make any assumptions. The series isn't over 'til it's over so we will wait and see.
"Tokyo is the first (major marathon) of the year; I'm coming off of a roller season where others may have come off the road, so in that case it's a little bit of the unknown. I felt good over the winter but that sometimes doesn't mean a lot," he laughed.
Romanchuk has an added incentive to excel in Tokyo. As well as strengthening his hold at the top of the Abbott WMM leaderboard, he has the prospect of collecting his 'Sixth Star Finishers' medal awarded to those who complete the set of Tokyo, Boston, London, Berlin, Chicago and New York.
This time last year would he have believed he would have achieved so much?
"No! Last year I had a goal to podium at a world major and to be where I am this year, I would never have expected to be here within this time frame," he admitted.
"Some of the racers I've been racing with in the series I've watched them for the past few years on the world stage. It's incredible to be able to race with them.
"It'll be a huge honour to be able to collect my sixth star at such a young age. A few years ago I would never have imagined I would be here doing that."