Marathons in 2019: What you need to know
Abbott Majors series and World Champs highlight year
01 Mar 2019
Imagen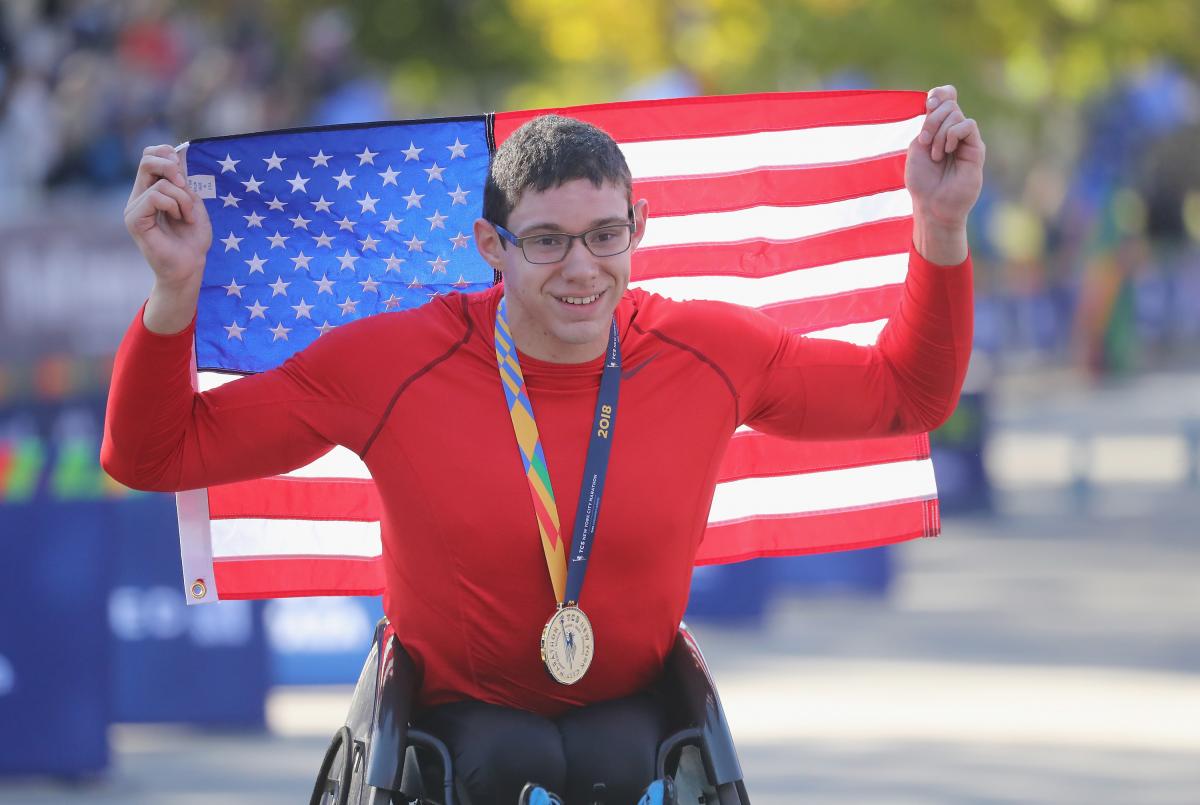 ⒸGetty Images
By World Para Athletics
The 2019 major marathon season gets underway in Tokyo, Japan, on Sunday. Here is a rundown of the year ahead:
What is happening this year?
Plenty! There are six major marathons taking place around the world in 2019 which are part of the Abbott World Marathon Majors series. First up is Tokyo, Japan; the wheelchair races were won last year by home favourite Hiroyuki Yamamoto and Swiss Manuela Schaer.
There are global titles going this year too. The 2019 World Para Athletics Marathon Championships takes place in London, Great Britain, on April 28 in conjunction with the Virgin Money London Marathon.
What is the Abbott World Marathon Majors series?
The series, now in its third season, is made up of six of the largest and most prestigious marathons in the world. The top five finishers in the men's and women's wheelchair races score points and at the end of the year-long series the top three male and female racers win prize money.
Series XII started in Berlin, Germany, last year then moved on to Chicago and New York in the USA. This year it continues in Tokyo, returns to the USA with Boston, then visits London before finishing back in Berlin in September.
Points from an athlete's best four races (best five during years where there is a Paralympic Games or World Championships) go towards their total.
Points system:
1st – 25 points
2nd – 16 points
3rd – 9 points
4th – 4 points
5th – 1 point
Eight further bonus points are also available from a sprint contest during each race.
Who are the current leaders?
Schaer, the defending Abbott series champion, heads up the women's leaderboard with 83 points, having won all of the last three marathons – Berlin, Chicago and New York.
The USA's Tatyana McFadden – the first athlete to win the Grand Slam (four major marathons in one year) back in 2013 (a feat she repeated in 2014 and 2015) – won the first Abbott WMM series in 2017. She currently sits fourth (24 points) behind Susannah Scaroni (25 points) and Madison de Rozario (24 points).
Fellow US racer Daniel Romanchuk leads the men's series XII with 67 points, with two-time Abbott series champion Marcel Hug of Switzerland second (48 points), Canada's Brent Lakatos third (33 points) and Briton David Weir in fourth (18 points).
What medals are up for grabs at the 2019 World Para Athletics Marathon Championships?
There are five medal events at the 2019 Marathon World Championships:
Men's and women's T12 (classes T11/12);
Men's T46 (T45/46 athletes);
Men's and women's T54 (T52/53/54 athletes).
What happened last time?
The last Marathon World Championships took place in 2015 – also in London – with three world records falling. The gold medallists were:
Morocco's El Amin Chentouf (T11/12)
Brazil's Antonio dos Santos (T13)
Spain's Abderrahman Ait Khamouch (T44/46)
Russia's* Elena Pautova (women's T11/12)
US trio Tatyana McFadden (women's T53/54), Josh George (T53/54) and Ray Martin (T51/52).
*Editor's note: The International Paralympic Committee suspended the Russian Paralympic Committee on 7 August 2016 for its inability to fulfil its IPC membership responsibilities and obligations, in particular its obligation to comply with the IPC Anti-Doping Code and the World Anti-Doping Code (to which it is also a signatory). As a result of the suspension, Russian athletes cannot enter IPC sanctioned events or competitions, including the Paralympic Games.