2018 in Review: Magnificent marathons
World record performances and a rising star highlight year
07 Dec 2018
Imagen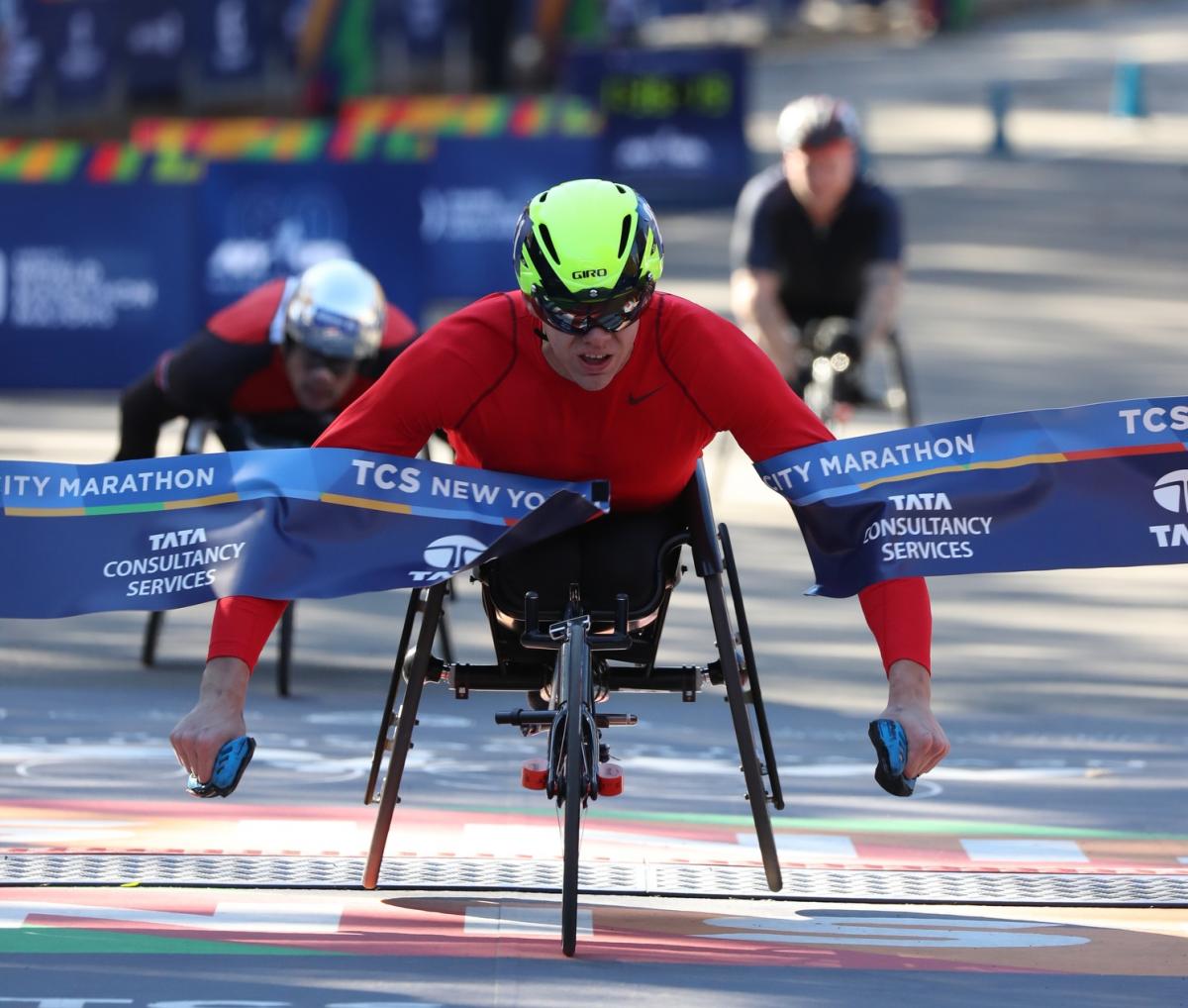 ⒸNYRR
By World Para Athletics
As we continue our lookback at the year's biggest Para athletics events, let's turn our attention to the longest race distance in the 2018 programme: the marathon.
Both experience and youth shone on the roads this year as Swiss Manuela Schaer claimed four out of six marathon victories as well as a new world record in the women's division and 20-year-old American Daniel Romanchuk won in Chicago and New York.
For Schaer, success in 2018 not only meant a continuation of the form that saw her win four major marathons in 2017, it also meant she claimed her first Abbott World Marathon Majors crown.
The 33-year-old former marathon world champion kicked off 2018 with an emphatic win in Tokyo, Japan, in February ahead of US racer Tatyana McFadden.
Schaer's victory gave her an unassailable lead in the Abbott WMM series XI with just Boston and London to go.
It was just as well for Schaer that she had the series tied up, as the pouring rain and biting cold winds in Boston proved too much.
The Swiss retired mid-way through the race, leaving McFadden out in front to claim her fifth Boston marathon title and a phenomenal 22nd major marathon win less than a year after significant blood clots in her legs had threatened her athletics career.
De Rozario double
While many battled through the grim conditions Stateside, Australian Madison de Rozario was already basking in the sunshine and glory of her first marathon win at the Gold Coast Commonwealth Games a day earlier.
De Rozario didn't stop there however – one week later she took the top spot in the London Marathon, beating the likes of McFadden and defending champion Schaer in only her second race in the British capital.
Sensational Schaer
September's Berlin Marathon marked the start of the Abbott WMM series XII – and the first of three consecutive wins for Schaer, who went on to win in Chicago in October, and New York four weeks after that.
Schaer's winning time of 1:36:53 in the German capital was one minute faster than the previous world record time she shared with Japan's Wakako Tsuchida, set back in 2013.
Going in to 2019, Schaer sits top of the current Abbott WMM leaderboard with 83 points; USA's Susannah Scaroni – who claimed four podium places this year – is second (25 points) and de Rozario lies third (24 points).
Series X winner McFadden – who was forced to compete in a borrowed chair for the last three races of the year after her own broke in the build-up to Berlin – sits fourth (24 points).
New kid on the block
There is however an American at the top of the men's Abbott WMM leaderboard.
Romanchuk became the youngest – and first American male – wheelchair racer to win November's New York Marathon four weeks after winning in Chicago.
The Maryland-born racer's rise to the top this year threatens Marcel Hug's recent domination of men's T54 wheelchair racing which saw the 32-year-old Swiss star win six consecutive major marathons in 2016 and four in 2017; this year he has had four second place finishes, with just one win in Boston.
Hug did however claim his second consecutive Abbott WMM title in 2018 – whether he can claim a third is yet to be decided with Romanchuk 19 points ahead on 67 points, Hug second with 48 points and Canadian Brent Lakatos third on 33 points - thanks to his win in Berlin.
There were victories too this year for Hiroyuki Yamamoto on home soil in Tokyo, while Briton David Weir clinched an historic eighth London Marathon title. Local crowds were also celebrating in Australia as Kurt Fearnley claimed the Commonwealth marathon crown in his last race in the green and gold vest.