Toni Piispanen sits up to target 400m gold in Swansea
Finnish wheelchair racer Toni Piispanen will enter August's IPC Athletics European Championships as the Paralympic champion and world-record holder in the 100m T51 sprint, but has arguably made as many adjustments to his training this season as any other racer on the track.
07 Jul 2014
Imagen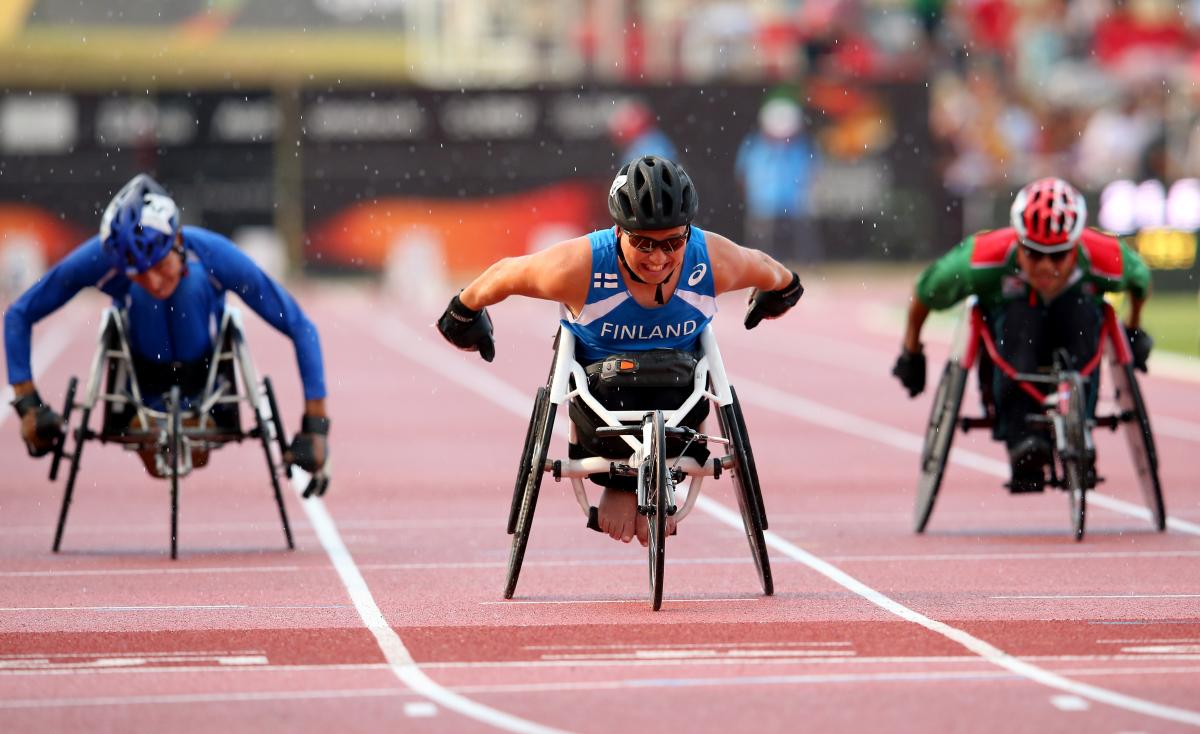 ⒸGetty Images
By Stuart Lieberman | for the IPC
"The biggest question mark was the 400m, but so far, at this moment, it's gone really well and I'm anticipating the European Championships.
Since winning gold at last year's World Championships in Lyon, France, the 38-year-old has added the 400m to his programme on the road to Rio 2016 and switched coaches for the first time in his career.
"The biggest question mark was the 400m, but so far, at this moment, it's gone really well and I'm anticipating the European Championships," Piispanen said.
As someone who holds a master's degree in sport science and works at the Finnish Society of Sport Sciences, Piispanen explained the adjustment to the longer distance was due to having to reposition himself in his racing chair.
"T51 racers have a high impairment, so it's difficult to breathe at such a low position," he said. "It took me about two years to learn how to breathe properly in a low position. After 100m, it's hard to keep breathing in that position, so we moved my position higher for the 400m, and I've had to get used to it."
With his former coach moving to the other side of Finland and having "given everything he had," Piispanen picked up a newer, younger coach who is more into the power training and technological and scientific aspects of wheelchair racing.
Thus, the easy transition to the higher sitting position over 400m.
Training with a group of four other elite international wheelchair racers in Finland – including four-time Paralympic champion Leo Pekka-Tahti – certainly does not hurt.
Piispanen's just about ready now for the IPC Athletics European Championships, which will take place from 18-23 August in Swansea, Great Britain, where around 600 athletes from 40 countries will compete.
The Helsinki native will treat the Swansea University track like a boxing ring, as he takes after Finnish boxing hero Amin Asikainen at major competitions.
"When he loses his fight it doesn't matter because he's ready to fight again," Piispanen, a former karate fighter, said. "He never gives up, and I guess that's my motto, too."
Also a former wheelchair rugby player of 15 years, Piispanen is the world-record holder over 100m (21.11) and has raced the distance faster than anyone else this season, clocking a 21.42 at May's IPC Athletics Grand Prix event in Nottwil, Switzerland. In Nottwil, he finished just ahead of two other former wheelchair rugby stars in Great Britain's Stephen Osborne and Belgium's Peter Genyn, who are also second and third, respectively, in the 400m world rankings this season.
"I was a little bit surprised by how fast Stephen Osborne was in Switzerland," Piispanen said. "He had very good technique.
"But, I guess I'm still the favourite for Swansea," Piispanen added. "Of all the races I've done in the last two years, I've won about 80 per cent of them, and I'm in top shape, satisfied and confident right now. So, Stephen has to beat me."
Piispanen will be one of 600 athletes from 40 countries competing at the Swansea 2014 IPC Athletics European Championships between 18-23 August.