Top 50 Moments of 2017: No. 30 – First Para Swimming World Series
Monica Boggioni and Daniel Dias claim inaugural women's and men's titles
02 Dec 2017
Imagen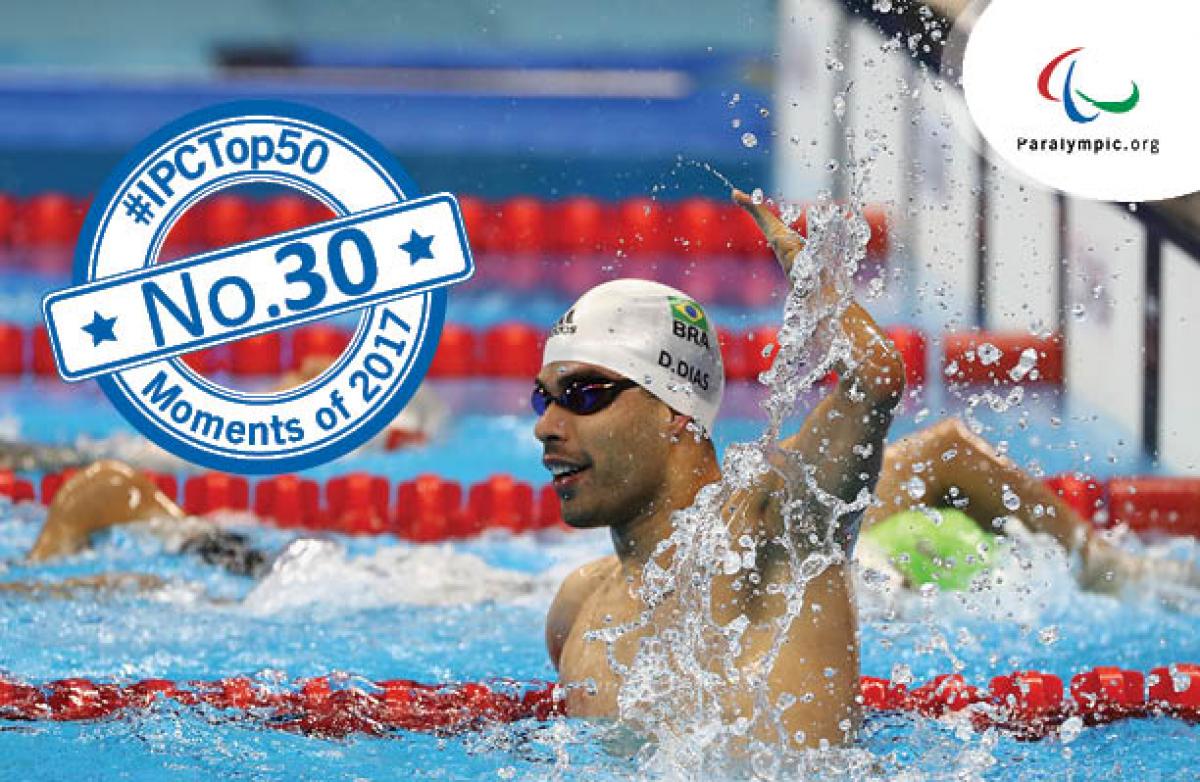 By IPC
The year 2017 saw World Para Swimming break new ground in the sport. The first World Series took place, spanning five countries across Europe and the Americas. The event brought together some of the world's best competitors between March and July, offering them chance to participate in a dedicated circuit for the first time.
Italian rising star Monica Boggioni won the women's individual title, while Brazil's most decorated Paralympian in history Daniel Dias secured the men's equivalent.
The inaugural World Series makes it to No.30 in the International Paralympic Committee's (IPC) Top 50 Moments of 2017.
The World Series kicked off in Copenhagen, Denmark, between 11 and 12 March, before moving to Sao Paulo, Brazil, from 21-23 April. Sheffield, Great Britain, staged the third between 27 and 30 April.
Indianapolis, USA, was the host city of the penultimate from 9-11 June, while the last was held in Berlin, Germany, between 6 and 9 July.
The overall rankings are calculated using a points system which considers each swimmer's best performance at a single World Series event.
Dias finished top of the men's rankings with 2,034 points which he gained at the fourth World Series meeting in Indianapolis. Boggioni topped the women´s rankings after an outstanding performance at the final World Series event in Berlin, collecting 2,113 points.
Chile's Alberto Abarza and Kazakhstan's Zulfiya Gabidullina ended top of the S/SB 1-3 High Support Needs men's and women's rankings, respectively. The junior titles were also decided, with Australia's Lakeisha Patterson (2,037) and Great Britain's Jordan Catchpole (1,910) taking top honours.
The National Paralympic Committees' title went to the British team, which secured 8,122 to finish ahead of the Netherlands (7,906) and Italy (7,814).
The World Series also enable National Paralympic Committees (NPCs) and National Federations (NFs) to better plan and develop their own programmes, by having access to competitions where rules and regulations are applied consistently.
In terms of education, the circuit is used as an access point for professional volunteer development by the NPCs, NFs and World Para Swimming. The aim is to grow the pool and standard of international and national technical officials.
It is also used as a platform for carrying out technical and classification research, which was previously mainly carried out at regional or World Championships level.
The 2018 edition was announced in October 2017, with the number of host cities increasing to six.
The full rundown of the Top 50 Moments will continue until 31 December.