Top 50 Moments of 2017: No. 45 – Five world records in 10 days for both Lakatos and Cockroft
Paralympic champions enjoy highly successful Swiss series in Arbon and Nottwil
17 Nov 2017
Imagen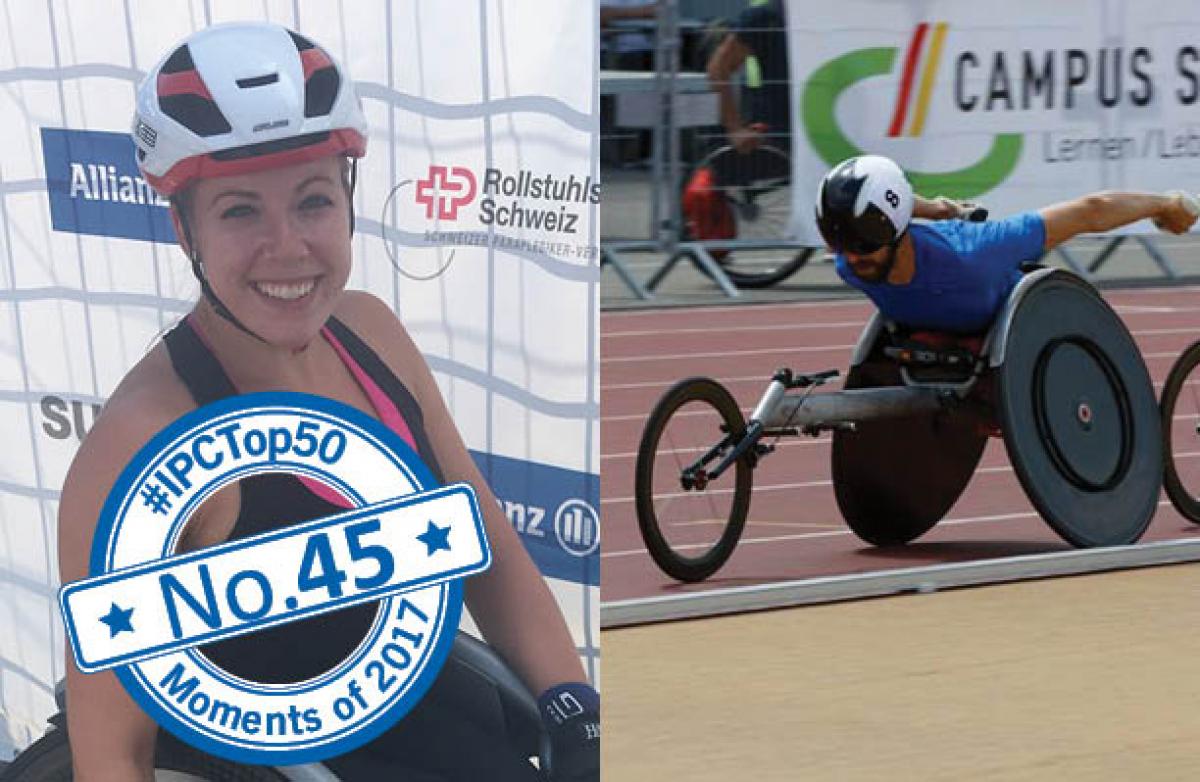 By IPC
Paralympic champions Brent Lakatos and Hannah Cockroft enjoyed glittering 10 days in Switzerland as they broke five world records each at the Daniel Jutzeler Memorial meeting in Arbon and the Nottwil Grand Prix.
Their outstanding performances combined make it to No.45 in the International Paralympic Committee's (IPC) Top 50 Moments of 2017.
In Arbon, the Canadian (14.15) lowered his own men's 100m T53 world record knocking 0.02 seconds off his previous best from three years ago. Two days later, he made it 14.10. Lakatos also took 0.23 seconds off the 200m mark he set in nearby Nottwil three years ago with a time of 25.04.
In the 800m T53, the 37-year-old set a world record time of 1:31.91 to lower the mark previously set by the USA's Josh George in Arbon in 2015.
As for Cockroft, she first won the women's 100m T34 with a time of 17.28 in Arbon, knocking 0.03 seconds off the record she had set in Nottwil three years before. In the 800m T34, the British wheelchair racer obliterated the mark she set last year in the run up to the Rio Games with a time of 1:55.73.
The five-time Paralympic champion also excelled in the 400m T34, taking 0.92 seconds off her previous best set at Rio 2016 with a new world record time of 57.86 before making it 57.73 two days later.
Only a week later, both Lakatos and Cockroft broke a fifth world record each at the World Para Athletics Grand Prix in Nottwil.
Lakatos had a phenomenal performance in the men's 1,500m T53/54, crossing the line in 2:51.84 to take more than two seconds off the mark set by Switzerland's double Paralympic champion Marcel Hug's in 2010.
"It was just perfect team work that got that record – Kenny van Weeghel, Richard Chiassaro and I, we just went out for a fast time and it just happened," said Lakatos, modest as ever.
"It's great – I had no idea coming in to this weekend that I would be anywhere near this kind of shape, it's just completely unexpected and I couldn't be happier about it."
Cockroft smashed the women's 1,500m T34 world record with a time of 3:50.22, more than 11 seconds quicker than the previous time set by compatriot Melissa Nicolls three years ago.
The full rundown of the Top 50 Moments will continue until 31 December.