Toronto 2015: wheelchair rugby recap
USA and Canada maintained their 100 per cent record after three games.
11 Aug 2015
Imagen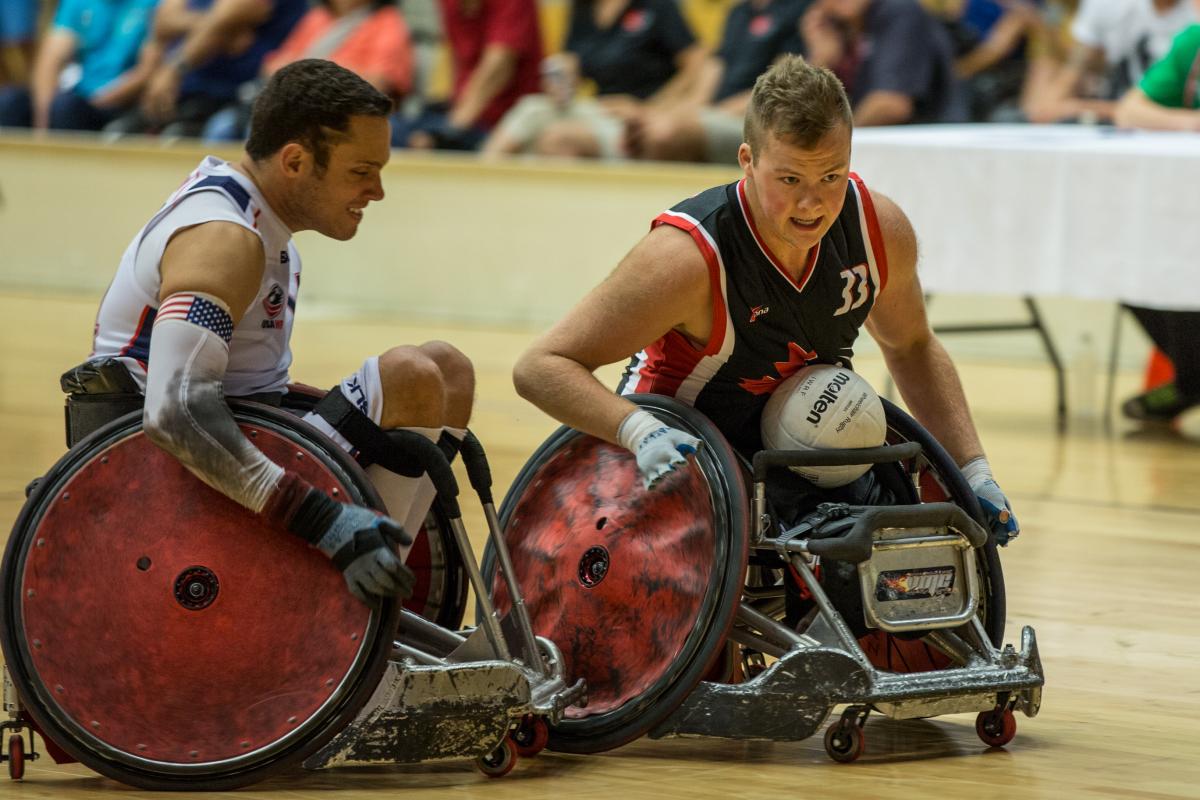 ⒸBrian Mouridsen
By Nathan Bragg for IWRF
Monday's (11 August) action at the Toronto 2015 Parapan American Games saw Canada and the United States continue their dominant ways, while Brazil kept their medal hopes alive with a crucial win against Colombia in an exciting and very physical game.
Canada 73 Argentina 26
The Canadians had another strong performance as they cruised past Argentina with a variety of different lines. Fabien Lavoie and Mike Whitehead were a strong combination along with Patrice Dagenais and Trevor Hirschfield on a hi-lo line-up that caused multiple problems for Argentina. The lower ranked side does not have the speed to match Canada yet but did not appear discouraged after the game. Argentina's Juan Herrera said he was pleased with his team's energy and improvement despite the loss and he had several plays that got the crowd going. Argentina will look to regroup against longtime rival Brazil on Tuesday. Canada will take newcomer Chile in what should be an easy win before they face the United States on Wednesday. Canadian Mike Whitehead expressed his appreciation for the fans: "Love the crowd, love the energy of the crowd," he said. Canada have the most goals of any team in the tournament so far with 214 and the duo of Zak Madell and Fabien Lavoie have combined for 107 goals.
United States 54 Chile 11
The United States showcased their key defence in a rout of Chile, where everybody saw the floor. The Americans blanked Chile on the scoreboard in the first quarter taking a 15-0 lead into the intermission. Chile started to find the gaps in the American defence in the second half and finished with 11 goals. American newcomer Clayton Brackett led all scorers with 14 goals. A former basketball player, he is making his international debut in Toronto and says his nerves are starting to settle: "I get a little nervous, a little hyped in the beginning, he said. "I'm working on taking that energy and channeling it on court. "
Through three games the United States have five athletes with over 20 goals and have only committed seven turnovers as a team, which is a great sign moving forward.
Brazil 53 Colombia 41
In the closest match of the Parapan Am Games so far, Brazil prevailed over Colombia and improved their chances of making the medal round. In the opening frame, both teams traded goals and it was a very physical battle as multiple bodies hit the floor and tires popped. Late in the first quarter Colombia's Jhon Orozco spun Moises Batista on a breakaway leading to a flagrant foul that gave Brazil the momentum they needed. As the game when on Brazil's depth wore down Colombia and the turnovers added up leaving Brazil with a comfortable victory. Colombian Uriel Rodriguez Diaz had a great game for his team as he consistently found a way to get open deep and provide his team with an outlet from the number three role.
After the game Brazil's captain Alexandre Taniguchi talked about each game helps them build towards not just the medal rounds, but also next year's Paralympics:
"We're trying to develop in a short time, we're doing the best we can to be competitive with the best teams," he said. When asked out Monday's victory he said, "it's just a step."
Colombia comes away from this game knowing that they've improved a lot since their lopsided loss to Brazil in 2014 and still have a shot at their first international medal.