Tousignant ready to break new grounds
Canadian star eager to bring other female players along with her raising awareness at the Women's World Challenge presented by Citi
02 Aug 2022
Imagen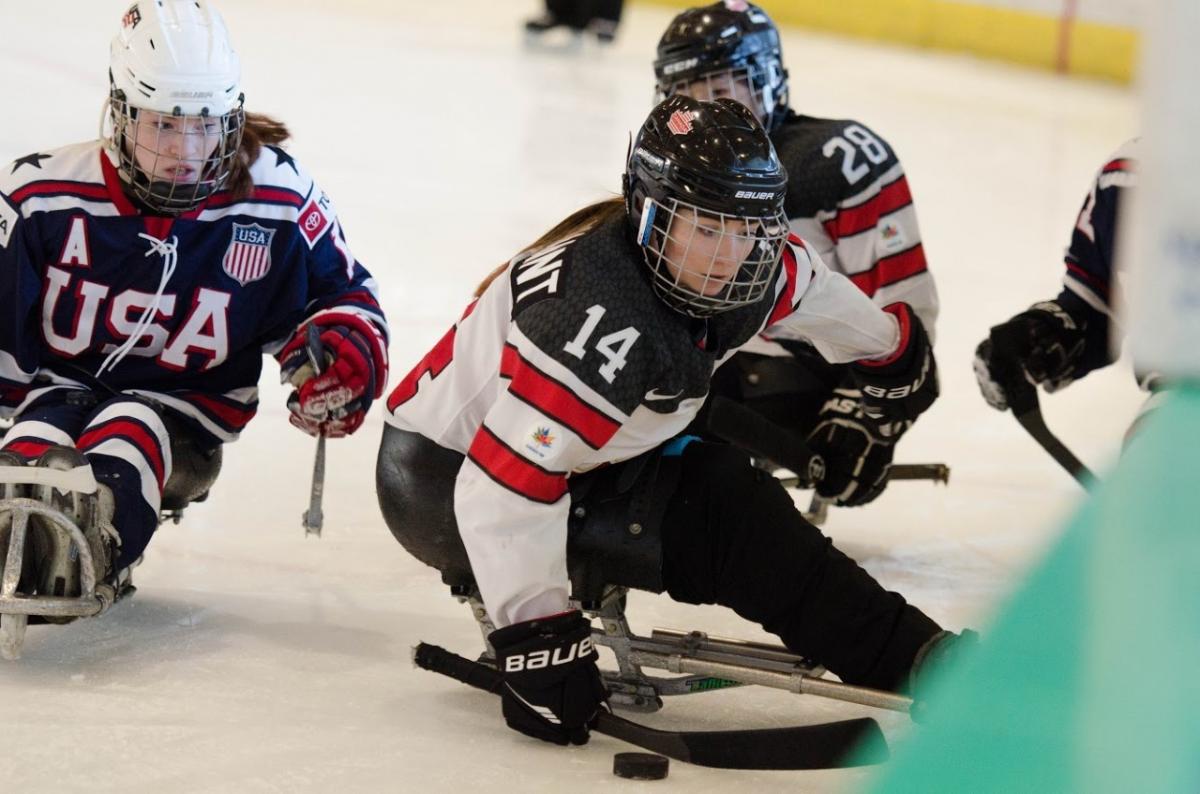 Ⓒ Jean-Baptiste Benavent/Defi Sport AlterGo
By Stuart Lieberman | For World Para Ice Hockey
Quebec's Raphaelle Tousignant was the first woman in Canada to break the gender barrier and play in their national Para ice hockey programme.
In 2019, she earned a tryout and went on to cement a spot in the national development team, becoming the first Canadian woman to play alongside men at the national level.
Now, Tousignant is focused on her next goal – putting women's Para ice hockey on the Paralympic Winter Games programme. 
And the first step towards it will be raising awareness for the first-ever Para Ice Hockey Women's World Challenge, where Tousignant will represent Team Canada from 26-28 August in Green Bay, Wisconsin, United States.
"I've seen a lot of progress in the last few years, and this is very exciting," Tousignant said. "We've worked so hard for this to happen. Now, we have the opportunity to build an opportunity to go to the Paralympic Games for us and for all the women after us."
Sponsored by Citi, the event in Green Bay will also include teams from Great Britain, USA and a Team World.
"Having a sponsor will be life-changing for the women in this sport," Tousignant said. "The last Paralympic Games rekindled the fire in me and reminded me that we were not there but all the men from our national team were there. We want the same opportunity for women."
Grew as a player
Tousignant, who has been part of the Canada's women's national team since she was 14, was diagnosed with bone cancer at the age of nine. It was an accident while playing ringette – a Canadian winter sport using ice hockey skates – that left her with a hip injury. 
After three months of chemotherapy, her leg was amputated. 
Six months later, Tousignant was on a para ice hockey sledge after her father introduced her to the sport. "The feeling of being back on ice was incredible and I was grateful for the opportunity to move," she said.
Tousignant, 20, is now one of the key players in the Canada women's team and also recently won gold at nationals with the men's provincial team. "Playing with the men team made me grow as a player," she said. "In two weeks, I probably learned more than in my entire career."
Lifeline during Pandemic
For Tousignant, Para ice hockey also served as lifeline during the Pandemic – she found the silver lining when the world was at its worst, utilising the time to improve her game and build on her strength. 
 
"The Covid-19 Pandemic was probably good for me because I was then training seven days a week, which was crazy," she said. 
While Tousignant has had stellar success breaking down barriers and earning herself a rightful spot in the men's team, she is now eager to bring other women along with her to create equality within the sport. And the work begins with the Women's World Challenge. 
"We work just as hard as the men and deserve it just as much as they do," Tousignant said. "We probably work even harder than men because we are fighting just to be there."