Training Thursdays: Greece's Pavlos Mamalos
Aiming for a first Paralympic medal Mamalos shares his training schedule and nutrition.
01 Sep 2016
Imagen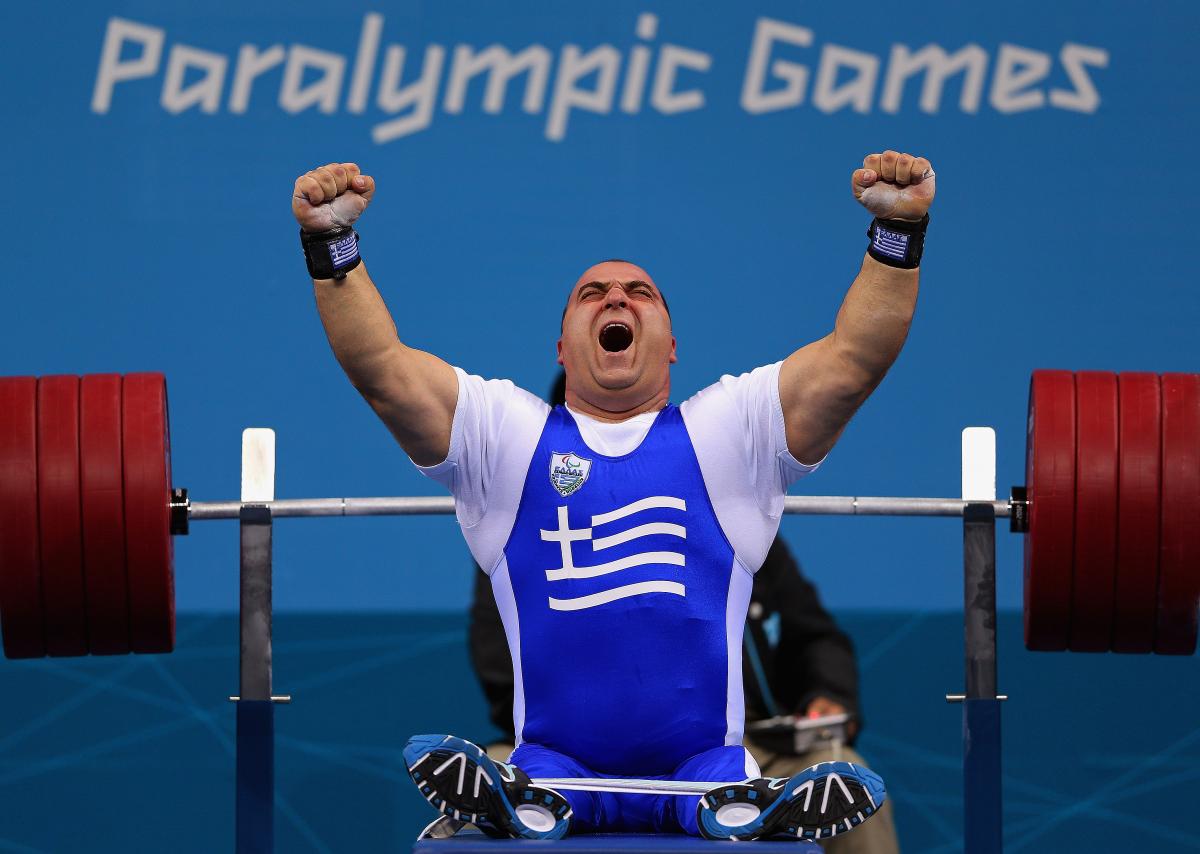 ⒸGetty Images
By Ivan Pasquariello | For the IPC
Amongst the favourites in the Rio 2016 Paralympic powerlifting men's up to 107kg is London 2012 bronze medallist, Greece's Pavlos Mamalos.
The champion from the 2015 IPC Powerlifting European Open Championships, Mamalos is aiming for gold at the Rio 2016 Paralympic Games.
Here is how he is preparing to achieve his goal, including what he plans to eat after competition ends.
A typical week, the intensity grows
As the Paralympics draw closer, Mamalos reveals how the intensity of his training sessions has increased:
''The closer we get to the Paralympic Games the more intense the training gets. Right now we are training eight times a week. There is certainly more intensity right now in our training regime but we also must be careful to avoid injuries since we are very close to the Games.''
A typical training week for Mamalos means every day is taken up by putting in the hard yards.
''We are training eight times a week. In the morning sessions we usually train 1.30 hours and in the afternoon sessions two hours each time," He said. "We mostly do weight training. We focus on completion moves and we also do supplementary exercises again with weights''.
It is not just the intensity that increases approaching Rio, but also the weight Mamalos attempts to lift in a quest to achieve personal records.
His best lift was registered in 2012 in Dubai, United Arab Emirates, when the Greek lifted 244kg. Getting back to those numbers would mean a great chance to conquer a medal in Rio.
''Based on my personal records we are doing exercises according to these weights. So the training programme is adapted to different intensity and repetitions. The closer we come to the Games the higher the weights'' confirmed Mamlos.
Giving up on ice cream and burgers
In order to compete at his best, Mamalos has had to make some sacrifices, especially related to his favourite meals.
An ice cream and burger lover, Mamalos joked that his few failures to keep up with a good regime have been frustrating his coach.
''I am very careful with my nutrition so that I can be in the optimal weight of my weight category," he said. "I eat mostly food rich in protein and avoid fats. However, I always like to have an ice cream every now and then, even if my coach gets angry.
"The most important is to eat on a regular basis and always be careful about what you eat.
"I am waiting for the day of my competition. Right after, I will have as many burgers as I can eat.''
The first Paralympic gold medal dream
A silver medallist in 2008 in Beijing in the up to 82.5kg category and a bronze in the up to 90kg category at London 2012, Mamalos will be bidding to claim his first Paralympic gold medal in Brazil.
The preparations are almost complete, and everything feels right. Mamalos admits he is dreaming big:
''I am very happy so far. I am in a good condition and I will try to be at my best in September in Rio. I have many and very good athletes in my category. I will do my best and will try to lift as much as I can. If this is enough for a gold medal I will be happy.
"So far I have a bronze and a silver Paralympic medal. A gold one would be most welcome.''
__
Sport fans from around the world can now buy their Paralympic tickets for Rio 2016 from authorised ticket resellers (ATRs)
The IPC's Global ATR is Jet Set Sports, and Rio 2016 tickets and packages can be purchased on the CoSport website.
Residents of Brazil can buy 2016 Paralympics tickets directly from the Rio 2016 website.
Visa International is the exclusive payment card and the official payment system for the Paralympic Games.