Training Tuesday with Brazil's Petruccio Ferreira
The teenage sprint sensation and 200m T47 world record holders talks us through his training regime.
31 May 2016
Imagen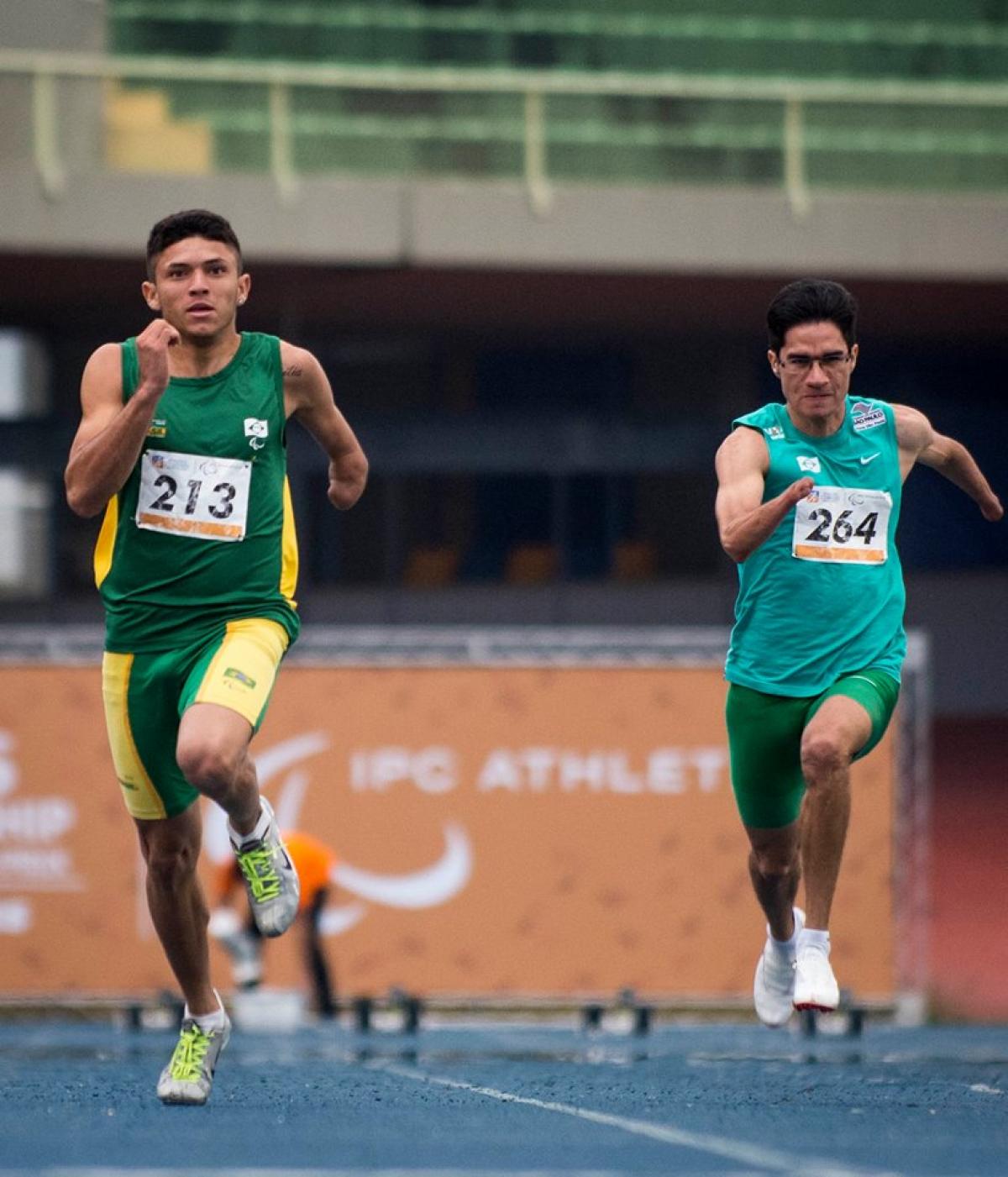 ⒸNPC Brazil
By Rafael Mendosa | for the IPC
Every athlete knows what to do if they want to be part of the world elite: train hard, eat healthy, rest well.
Brazil's Petruccio Ferreira only started competing in 2013 – the 19-year-old has already shown great promise for September's Paralympic Games having won double sprint gold at the 2015 Parapan Am Games against a strong field including fellow Brazilian, the Paralympic champion Yohansson Nascimento.
Here the T47 Para athlete talks us through a typical training day.
Training Tuesday - Petruccio Ferreira
There is no secret to be successful. Every athlete knows what to do if they want to be part of the world elite: train hard, eat healthy, rest well. However, for me the most important things are to enjoy and love all the things you do. Today, I can say that I enjoy and I'm in love with everything professional athletes do.
Now, the training complex has become my second home. Whenever I step out on the track and start running, I feel great. I feel that I'm spreading happiness and that I can be an example for many people.
Two years ago I was running behind a football with all my friends in High School; now I cannot believe that in a few months I will be running and wearing the Brazilian colours in probably one of the greatest sport events ever - Rio 2016.
Being able to represent my country in sport was my dream since I was a child, but representing my country in the Paralympic Games here in Brazil, was something I couldn't even ever imagine.
My days have changed since I decided to become a professional athlete. Normally I wake up at 07:00 to get my breakfast and then go off to my training complex. For breakfast I eat Macaxeira, eggs and fruit. My diet changed since I started a program with my nutritionist, now I am not allowed to eat what I used to eat in the mornings when I wasn't an athlete because I have to follow a very strict nutritional regime.
During the week I have three morning sessions at the weight room, three morning sessions with the physiotherapist and, in the afternoons, I train at the track from Monday to Saturday. I train with able bodied athletes; they make me push myself a little bit further while we are running. I can say that they have helped me improve my times and my development as a Para athlete.
My favorite part of the routine is when we start running sprints at 80 or 90 per cent of our total power. Along with the sprints, my coach has many good exercises for us to improve our technique. As I said, I love everything a professional athlete does, but there is actually one part of the workout routine that I don't like, which is to stretch. I am not flexible at all and for me stretching is really painful; however I need to keep working on my flexibility, because this can prevent injuries.
On Mondays, Wednesdays and Fridays I go to the physiotherapist. The kind of exercises I do with him are mainly to prevent injuries; for me, this is extremely important because a year ago, two days before the start of Doha 2015 I got a hamstring injury which took me out of my first IPC Athletics World Championships. It was really annoying and I don't want that to happen again.
Finally, when my two training sessions finish, I go straight to my house. Once I'm home I start with the activities I do before I go to bed which are to eat and relax. First I start with my dinner, as I said my nutritionist is very strict and he doesn't allow me to eat my favorite dishes, now I always eat salad which is not my favorite; In fact, I really miss eating typical Brazilian food, mainly Churrasco which is my favorite meat. While eating, I like to watch 'The Simpsons' and sports programmes on television, however I don't really understand many disciplines like tennis and volleyball, and I just try to focus on athletics and football.
After a long productive day, I just want to go to my bed and get enough rest for the upcoming workout and with the next Paralympic Games in my dreams.
___
Sport fans from around the world can now buy their Paralympic tickets for Rio 2016 from authorised ticket resellers (ATRs)
The IPC's Global ATR is Jet Set Sports, and Rio 2016 tickets and packages can be purchased on the CoSport website.
Residents of Brazil can buy 2016 Paralympics tickets directly from the Rio 2016 website.