Training Tuesdays: Nazmiye Muratli
The Turkish Paralympic champion reveals her training regimen ahead of the IPC Powerlifting European Open Championships from 24-28 November.
17 Nov 2015
Imagen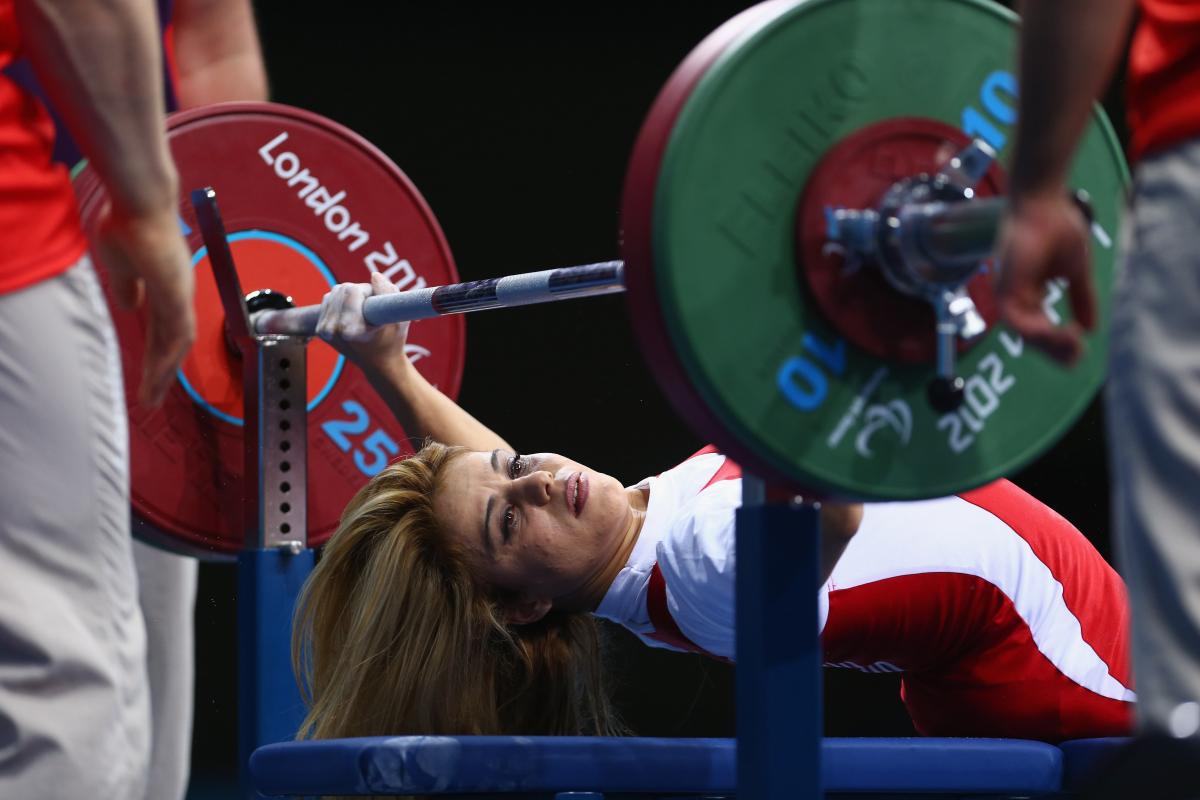 ⒸTurkey
By IPC
"Working hard and becoming stronger are more important. You can only achieve your goals with hard work. It's important to be fair to yourself and to others."
As the defending world, European and Paralympic powerlifting champion in the women's up to 41kg class, Turkey's Nazmiye Muratli (nee Muslu) has her training regimen nearly perfected.
The two-time Paralympian has been at the top of her category for years, managing time and again to hit her peak performance when it matters most on the world stage.
Still, she knows there is always room for improvement – especially after losing her world record to China's Zhe Cui earlier this summer. Cui bested Muratli's mark of 103kg by 0.5kg at the IPC Powerlifting Asian Open Championships in Kazhakstan, a competition in which Muratli did not compete.
The Turkish standout will aim to reclaim that record at the European Open Championships in Eger, Hungary, between 24-28 November, or next summer at the Rio 2016 Paralympic Games.
Working hard when it matters
Muratli's coaches, Semih Ceylan and Ali Gokgoz, carefully plan her training cycle so that she is pushing her limits when she has the biggest opportunity for improvement.
"I have very hard periods of training," Muratli said. "It depends on the competition season – it's getting harder if the competition is closer. The training makes me stronger."
She enjoys the challenge of hard training blocks, knowing her efforts will pay off with increased strength in the long run.
"I find it very exciting to be at training camp," Muratli said. "My coaches decide my lifting schedule, and I am fully concentrated on my regular and disciplined trainings."
Muratli backs off of her training slightly before major international competitions, giving her body adequate time to rest and recover before attempting an historic lift.
She also pays close attention to her nutrition and prefers to avoid processed foods as much as possible. Though Muratli does not work directly with a dietician, she is well practiced in making food choices that will best fuel her training.
"I have vitamins and natural ergogenic products, but mostly I only eat natural foods," Muratli said.
Finding the motivation
Muratli believes her strong support system, made up of family, friends and coaches, is one of the biggest keys to her success.
"Firstly, my husband and my family are the strongest supporters of my career, and then of course my coaches," she said. "They are always motivating me in a positive way, and they always make me smile."
In addition, because she is a role model for so many – including the young, people with impairments and aspiring female athletes – she is committed to setting a good example by competing clean.
"In my opinion, using dope is only lying to yourself," Muratli said. "Working hard and becoming stronger are more important. You can only achieve your goals with hard work. It's important to be fair to yourself and to others."
Muratli will look for her disciplined training to pay off at the 2015 European Open and then further to Rio 2016.
"My career is very important to me," Muslu said. "To raise my flag at the Paralympic Games is an indescribable feeling of pride."
Around 230 athletes from 44 countries will line-up for the 2015 IPC Powerlifting European Open Championships between 24-28 November.
Live coverage and live results will be available at IPC Powerlifting's website.