Tuinfort aiming for new personal best in 2017
The Dutch Paralympic powerlifting bronze medallist will open her season in Dubai, United Arab Emirates, at a World Cup.
21 Feb 2017
Imagen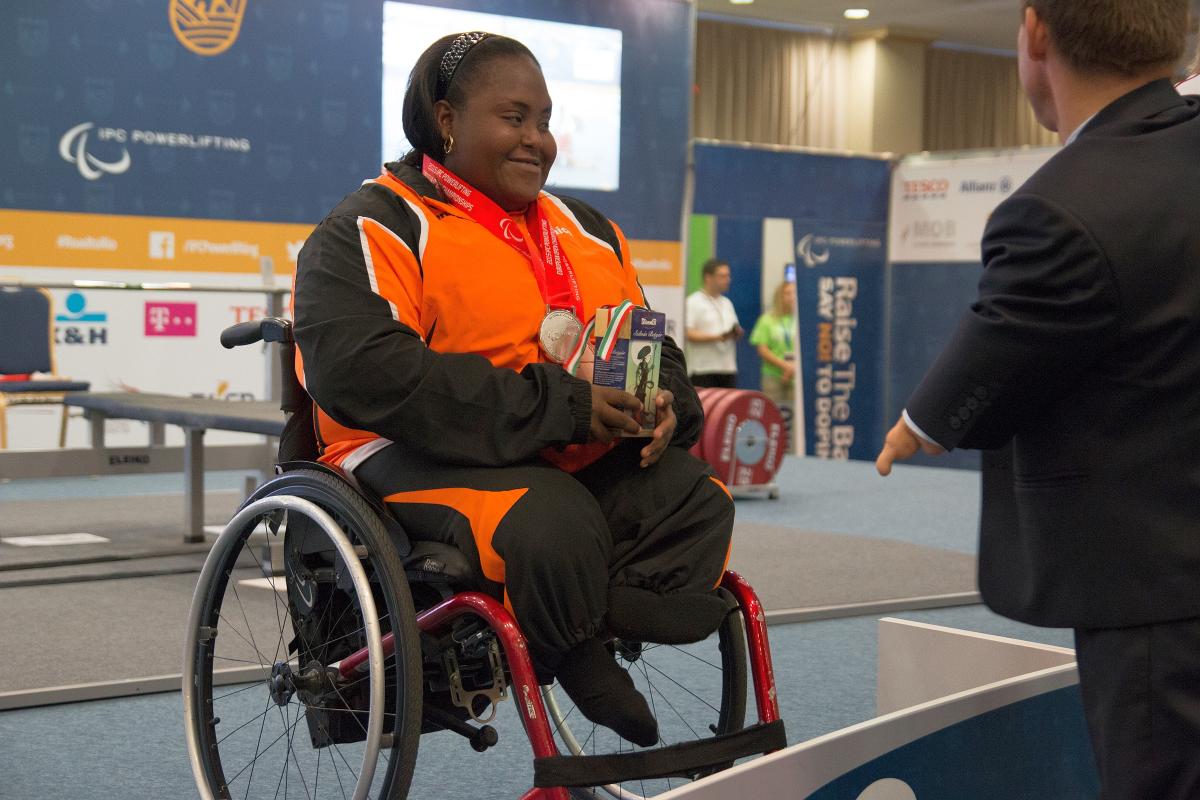 ⒸVizual&Web Media
By IPC
The Netherlands' Melaica Tuinfort is a long way from taking a rest in 2017 following her medal winning performance at Rio 2016.
The women's over 86kg bronze medallist is currently preparing for the opening World Para Powerlifting World Cup, which gets underway in Dubai, United Arab Emirates, on 27 February.
Her aim for the new season, which will feature the World Championships in Mexico City, is to improve her personal best.
"That's the focus. I want a personal record in Mexico," Tuinfort said. "Then I can feel good, and I can also say I'm going forward. Otherwise it's no good. So I think I will go higher."
Tuinfort said she is lifting 135kg in training, 5kg more than her best lift from Rio 2016.
"If I lift 132, 133 then I'm happy. Maybe 135 but maybe that's a little too high. In Mexico I want to be between 130-135."
The 26-year-old is hoping to use the upcoming World Cup as a way of assessing her competition form after switching her focus back to her schooling following the Paralympics.
"I want to see where I am right now, because I'm really focusing on the World Championships in Mexico. In Dubai, it's just to see where I am at now, and to see how athletes are doing also. I hope I will get a medal. I don't know but I will try my best."
Tuinfort was born in Suriname but moved to the Netherlands when she was 14. She began her Para sport career on the athletics field, competing for Suriname in shot put at Athens 2004.
But a glimpse of other athletes doing the bench press opened her eyes to other opportunities, and she made her debut for the Dutch in powerlifting in 2008.
"It's very silly but it's because at one time I had to choose, and shot put is outside. In the winter here, it's cold outside!" Tuinfort joked. "So that's why I chose powerlifting. I also didn't like training for shot put indoors."
Her podium in Rio has made her famous, not just in the Netherlands but also in the country of her birth. Suriname media followed her journey to Brazil and various reports were featured in the national press.
"Before I was a teenager it was difficult," Tuinfort said of her early childhood. "But when I was older than 10, I began to do some sports going to school, that kind of thing. It was getting better. But the kind of opportunities I have in the Netherlands, I wouldn't have that in Suriname.
"In Suriname you don't see many people in wheelchairs in the street, and they don't do sport.
"They saw it and thought yes, that's good! It's also inspiring for the other kids and women in Suriname that have impairments. It inspires them through sport also. For the community in Suriname, they can say 'yes we can also do that'."
Tuinfort reflected on the nerve-wracking moment she won bronze in Rio:
"Let's just say I was happy, but nervous because after me someone had to lift and they could have beaten me. So I was very nervous and when it was there that I had the medal, I was happy, I was screaming.
"I don't know how to describe it. I couldn't believe it. My first Paralympic Games in powerlifting and I got a bronze medal. Then I thought to myself, all the training was worth it."
The 2017 World Para Powerlifting World Cup begins on 27 February and runs until 4 March.
The 2017 World Para Powerlifting World Championships open on 30 September. Around 360 powerlifters from 65 countries are expected to compete.