Twelve Athletes of Christmas: Part One
New Year's Resolutions and a lookback at 2017 with some of Para athletics' biggest stars
18 Dec 2017
Imagen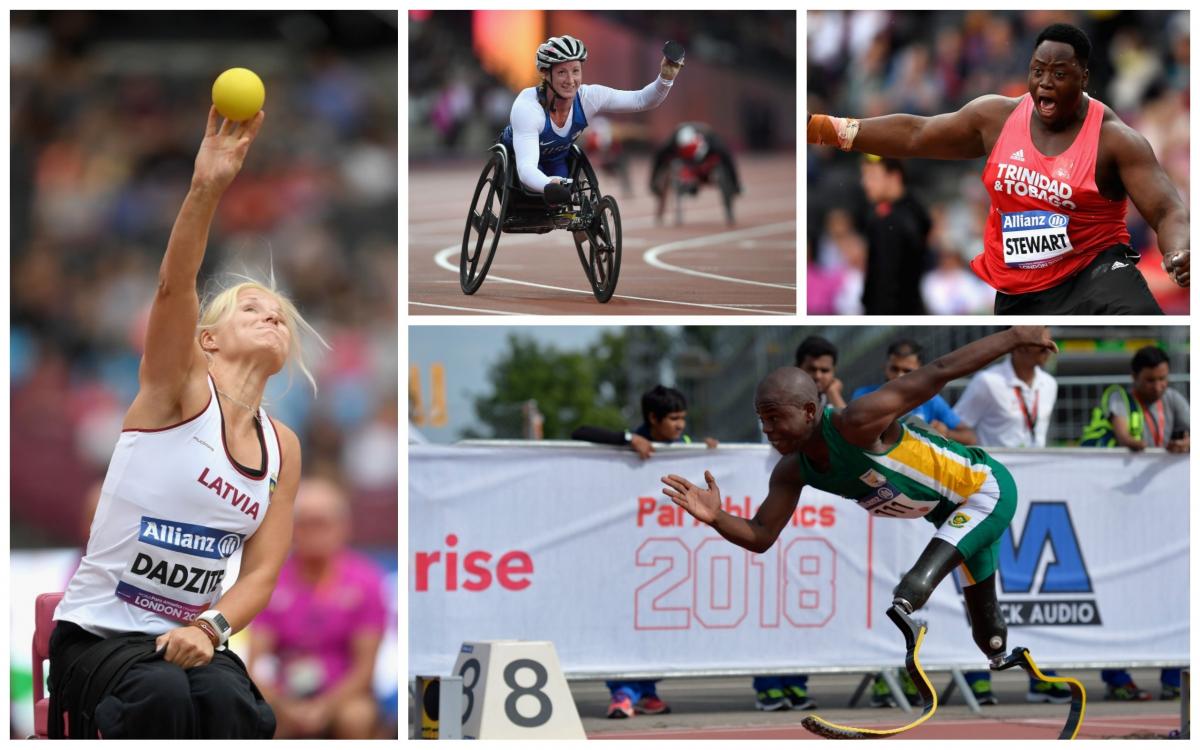 By IPC
It's nearly the end of 2017 - and what a year it has been. The World Para Athletics Championships, the World Para Athletics Junior Championships, the Abbott World Marathon Majors series, nine Grand Prix and over 100 world records throughout an action-packed season.
We asked 12 top stars from around the world to look back on the year – and look forward to the next.
In the first of a three-part series, the USA's six-time Paralympic champion Tatyana McFadden (T54), South African multiple world junior champion Ntando Mahlangu (T42), Latvia's triple world champion Diana Dadzite (F55) and Trinidad and Tobago's world and Paralympic javelin champion Akeem Stewart (F44) reveal all.
What are you doing in the off season before 2018 gets underway?
Tatyana McFadden (TMcF): During that time it's about family time, so we are going to be going to Mexico for Christmas as a family. My cousins and my aunt and uncle will be there too. We've had a lot of things going on this year and quite a busy schedule. Because next year is not so busy I'll get to enjoy the holiday a bit more and try to grab that opportunity with family and friends – maybe an internship sometime next year; more speaking – just trying to focus on myself overall as a whole.
Diana Dadzite (DD): I had only a few weeks free after London, then I was working every day in the gym, maybe sometimes just with the weekend off. Winter is a really important time to work in the gym to increase my power. Then when it is getting warmer it is about technique and going out and throwing. Every day I work hard; I never stop. That is my goal – to be stronger not only in my hands but also in my mind.
Ntando Mahlangu (NM): Right now school and exams are taking most of my time and energy. It's off season for me so I am only doing some basic training to keep fit. I'm looking forward to the holidays and spending time with friends and family and just being a teenager.
Akeem Stewart (AS): I'm still training very hard because I'm trying to qualify for the Commonwealth Games in Gold coast next year to compete against the able-bodied guys.
What are you most proud of in 2017?
TM: I think what I'm most proud of is coming off of an injury and not being scared to come back. Lots of people will take a whole year off and not try to come back. But I really wanted to, so I'm really proud of myself for that. It was hard; it was definitely a journey.
DD: I'm proud that I reached the top step of the podium and heard my Latvian anthem, because we are a small country and I want to show everyone where we are from.
NM: Breaking the 100m T42 world record was the outstanding moment of 2017 for me. It's the first time a double above knee has held the record and it was one of my career goals. I'm really proud I was able to achieve it.
AS: I'm very proud of my shot put performance because it's the first time competing on the international stage as a Para athlete and I also broke the 21-year-old world record by 4.87 metres to win gold.
Which Para athlete impressed you this season?
TMcF: Sammi Kinghorn from Great Britain really impressed me this year. She hasn't been racing that long at all and she did incredibly at the World Championships. She came and trained with us for about a week before the Chicago marathon and to do the Chicago marathon is amazing. I think she's going to do great things.
DD: My inspiration is [fellow Latvian] Aigars Apinis, he is almost my athletic father - and he shows everyone how hard you need to fight until your dreams come true.
NM: I think Johannes Floors from Germany had a great season and showed his class.
AS: It's hard to make a pick, I was truly amazed by all these athletes with different disabilities.
What would you like to receive in your Christmas stocking?
TMcF: That's a good question. I love food gift cards. Anything food related, I just love it! Or coffee gift cards.
DD: For my Christmas, my family - because they are the most important people in my life. I don't need presents - I'm happy when I'm with my family.
NM: I love music and like to DJ in my spare time, so if Santa was being generous I'd like to find some DJ decks in my stocking. It's Christmas though so if I find an empty stocking, but get to spend the time with my family and friends, that's cool too.
AS: A letter from the IPC saying that it will be having shot put F43/44 in Tokyo 2020 - that will the best Christmas present ever!
What is your New Year's resolution for 2018?
TMcF: That would be the year to focus on marathons and on me as a person. I think continuing to focus on getting back on to marathon mode, visit schools, speaking – just staying a busy lady.
DD: I still want to push forward and I hope to make Para athletics more popular in my country and around the world.
NM: I don't really have a resolution, but I do have goals for 2018. The athletics goal I am focused on is to qualify for the junior Olympics in the 400m and 800m. Education wise I'd like to improve my school marks and make my school proud of my achievements.
AS: I guess compete more often internationally.