Twelve Athletes of Christmas: Part Two
New Year's Resolutions and a lookback at 2017 with some of Para athletics' biggest stars
20 Dec 2017
Imagen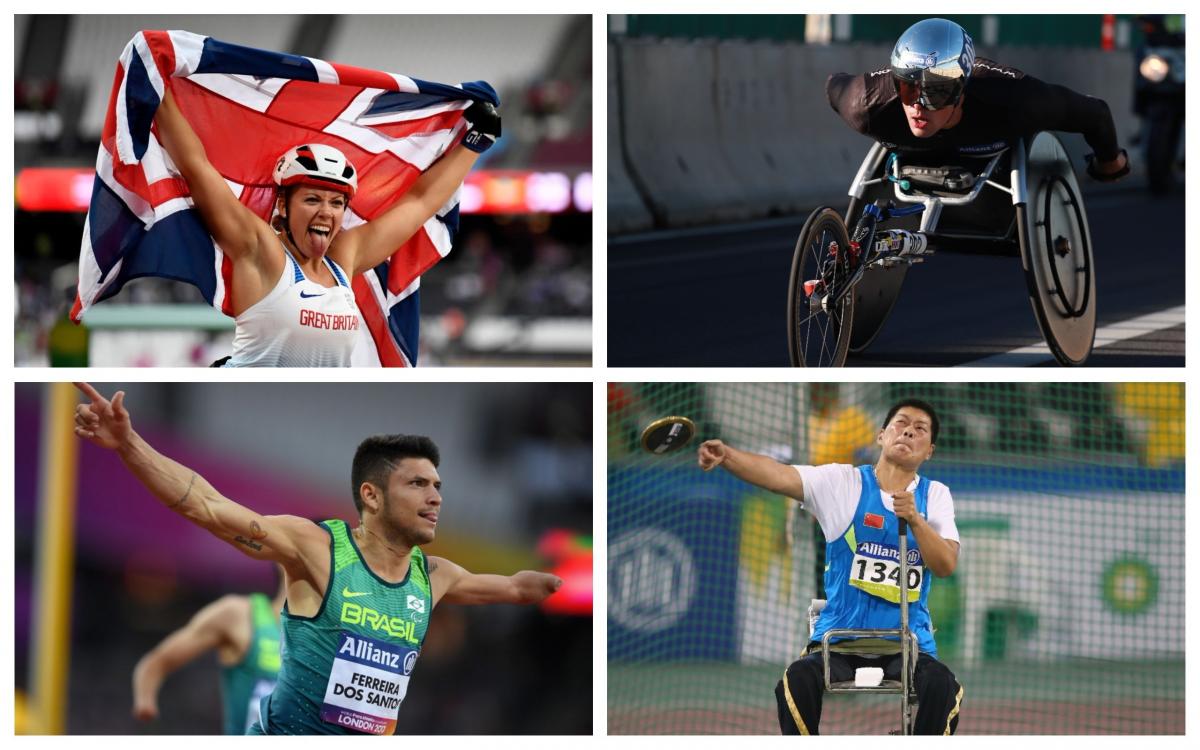 ⒸGetty Images
By IPC
In the second of our end of year Question & Answer session we asked Brazil's 100m T47 world and Paralympic champion Petrucio Ferreira, Great Britain's multiple Paralympic and world champion Hannah Cockroft (T34), China's javelin and shot put F54 world champion Yang Liwan and Switzerland's star of both the track and roads Marcel Hug (T54) to share their thoughts.
What are you doing in the off season before 2018 gets underway?
Petrucio Ferreira (PF): I took the whole month of November off with my parents, just relaxing in the countryside. Obviously it is difficult, but I will try not to stop training completely. The plan is for me to lightly practice three times a week.
Hannah Cockroft (HC): Did the season ever stop being busy?! As soon as competition season ends its back to winter training and of course, right now is awards season which requires lots of travelling and late nights. It's wonderful to be recognised and to get invited to a lot of the events but it's always hard to find the balance between the fun stuff and the hard winter miles. Training is really full on at the moment but I'm really happy with how it's going, so I don't want to sacrifice the gains being made for anything right now. That being said, I went to New Zealand for three weeks with my Mum to meet some family out there after the World Championships and I'm spending Christmas in Lapland with my brother, who lives in Finland.
Yang Liwan (YL): I'd like to spend more time with my family when I have spare time. I've been far away from home since I was a child and rarely stay at home. My family contributed a lot to me when I got injured. Now my parents become old as the time passes by. I feel sorry for them so I want to devote more time to them from now on. In addition, I'd like to eat hot pot, play Mahjong and hang out with my friends, classmates and neighbours, to deepen our affection.
Marcel Hug (MH): I just had some holiday and gave my body and mind some rest from training and racing. Now my training starts again. I am really looking forward to the new season!
What are you most proud of in 2017?
PF: Oh, definitely the fact that I was able to improve my times. That was something I really had in mind and it was great to achieve.
HC: I'm most proud of my solo 1:55.73 minutes over 800m, pushed in May in Switzerland. I'm still not a fan of the 800m, even though I've been working hard on it with my coach Jenni and my training group. It felt so good to see a time on the clock that I never believed I could push, especially alone; to see all the hard work was paying off and mostly to push a two second PB! Ten years into a career, you celebrate a 0.02 PB, a whole two seconds is practically unheard of!
YL: My proudest thing in 2017 is that my hometown, Quanzhou Jinjiang city, has got the right to host the 18th World Middle School Games in 2020 successfully. This is not only the honour of my hometown, but also the honour of our athletes.
MH: I am most proud of my world best time in the Marathon from Boston (USA) and of my
successful World Championships.
Which Para athlete impressed you this season?
PF: Oh, it is hard to choose just one, because 2017 was such a great year in terms of breakthrough performances. A lot of athletes impressed me for their dedication and strength this year.
HC: I think there have been so many incredible performances by Para athletes this year, from Tatyana McFadden coming back to win multiple golds in London after illness that would have wiped most of us out for the season, to seeing Sophie Hahn win her first ever 200m gold! But my answer is probably obvious. My most impressive performance was Sammi Kinghorn winning two golds and a bronze at the World Championships, breaking her first world record (very quickly followed by her second and third) and quickly turning her hand from sprints to a marathon, whilst carrying an injury.
YL: My most impressive Paralympian is racing-wheelchair athlete Hongzhuan Zhou.
MH: Seeing Tatyana McFadden winning the Chicago Marathon after a long time of rest because of surgery was impressive.
What would you like to receive in your Christmas stocking?
PF: My biggest present this Christmas would be being able to help all the poor families that live here and provide them with a lot of food for their Christmas dinner.
HC: Can I have Anthony Joshua, RJ Mitte, or Channing Tatum please? I'll settle for a husky sleigh ride if they can't find me in Lapland though and l'll collect them when I get home…
YL: I wish to own a magical wheelchair, which can help me to walk freely, and climb the slopes and stairs without other people's help.
MH: My only wish is that my entourage and I can be healthy.
What is your New Year's resolution for 2018?
PF: Well, 2018 is a year without a major international competition (for me), so I have to look forward to building a solid base in terms of training, competing at the right times and making the proper adjustments in order to be ready for 2019 and 2020.
HC: My resolution this year is to just not lose focus. With the European Championships being the major Championships this year, it means my main 'rival' (Alexa Halko of the USA) won't be there. I've missed the Europeans since 2014 so it'll be nice to be able to hold every title available to me again so that's what I aim to do. I would also like to spend a bit more time at home. The last few years, if I've spent more than a couple of days in a row at home, it's been a good week! I don't actually think I've seen my bedroom floor in about three years so it would be nice to have the time to empty it of suitcase contents and feel a little more in control of my life!
YL: I hope everybody can stay safe and healthy in 2018. Good health is the foundation of a career. In addition, I hope I can continue to break through and become the champion in the next Asian Para Games.
MH: I plan to finally start some guitar lessons next year which is a wish I've been wanting to try for many years.