Two new world records for Russia on day two in Berlin
Russian long jumpers Margarita Goncharova and Evgenii Torsunov rewrite history books at IPC Athletics Grand Prix.
21 Jun 2015
Imagen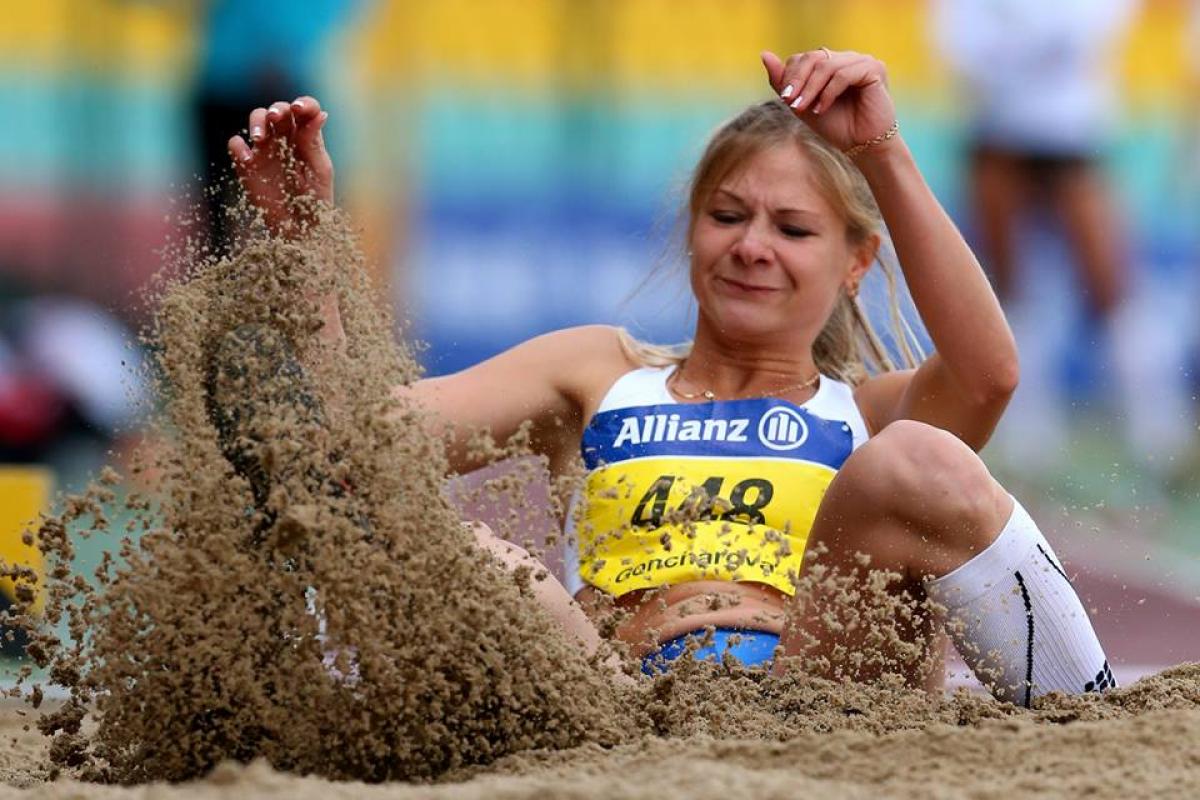 ⒸGetty Images
By IPC
There was joy for Russia on the second day of competition (Saturday 20 June) in Berlin as Margarita Goncharova and Evgenii Torsunov both leapt to new world record marks at the IPC Athletics Grand Prix in the German capital.
A selection of the best images from the event can be found here.
Goncharova – the world, Paralympic and European long jump T38 champion – first leapt 5.10m then bettered that with a phenomenal 5.22m jump at the Allianz sponsored meeting, adding 26 centimetres on to the world record mark set by Ukraine's Inna Stryzhak three years ago.
The 24-year-old had earlier looked in terrific form in the 100m sprints at the city's Friedrich Ludwig Jahn Sportpark where she got the better of her Brazilian track rival Veronica Hipolito, crossing the line in 13.51.
"I feel very happy about this result and my performance," said Goncharova. "It is good preparation ahead of the World Championships in October but still I have some months for preparation so I need to do even more work on my results. But I feel very positive."
Competing in his first ever Grand Prix and his first time in the Russian vest, Torsunov broke the men's long jump T36 world record three times on his way to victory.
The 24-year-old added 13 centimetres on to the previous mark set by Brazil's Rodrigo Parreira da Silva just two months ago at the Sao Paulo Grand Prix, reaching 5.66m with his fifth jump. He was understandably delighted with his performance:
"I'm so pleased and satisfied with my results. I feel very comfortable, I knew I was ready to jump well, but I was surprised to break the record three times, I had expected just once. It gives me hope and confidence for the future," he said.
Not to be outdone, Germany's Franzis Liebhardt broke the world record in the shot put F37 with a throw of 12.22m – two centimetres further than China's Mi Na managed at the London 2012 Paralympic Games.
The men's 100m T12 followed the formbook as South African Jonathan Ntutu took the tape in 11.30, but there was upset in the men's 100m T36 as Great Britain's Graeme Ballard finally got the better of his Russian rival Evgenii Shvetcov.
A delighted Ballard, who won Paralympic and European silver behind Shvetcov, looked in terrific form as he sped out the blocks to cross the line in 12.49.
"I'm absolutely chuffed," he exclaimed. "It's my first win over Shvetcov ever. I expected it as I've been doing well in training. It's the big one now - bring on the Worlds!"
Russia enjoyed plenty of other sprint success however, courtesy of Chermen Kobesov (11.72) in the 100m T37, Andrey Koptev (11.97) in the T11/35, Anton Prokhorov (13.12) in the T42, Alexandra Moguchaya (13.26) in the T46/47, Elena Sviridova (14.80) in the T36/42 and in the 100m T13 Alexander Zverev clocked 11.40 for the win.
Germany's Felix Streng dominated the men's 100m T43/44, clocking 11.20 in blustery and damp weather to take first place ahead of teammate Johannes Floors.
"The time was okay as we had quite hard conditions – we had a head wind and it was freezing cold so I am happy about the 11.20. I need some more races, I need to fix my knee and my ankle and then we'll see more," he said.
South Africa's T13 world record holder Ilse Hayes clocked 12.43 to notch up yet another Grand Prix victory having won in Grosseto last week, and Briton Maria Lyle stormed home to win the 100m T35, clocking 14.73 despite the damp conditions. Italy's in-form world record holder Martina Caironi (15.29) finished ahead of her German T42 rival Vanessa Low (16.26).
There were further victories for Russia over 400m from the likes of European champion Egor Sharov who also won the 800m T11-13/36 in 1:59.11. Germany's David Scherer notched up multiple wins including the 400m T54 which he finished in 56.48.
In the women's 800m T11/12 Mexico's Daniela Velasco Maldonado raced home well clear of the field in 2:17.91, a new world lead for the T12 para-athlete.
There was plenty to watch out in the field too.
Poland's Bartosz Tyskowski threw a new F41 world lead with a massive 44.36m in his final attempt in the men's discus F41/46/48. The F37 was won by Denmark's Ronni Jensen who also saved his best until last with a throw of 44.26m; gold in the T11/12 event went to the Netherlands' Albert van der Mee (34.95m) and Great Britain's world champion Aled Davies (47.76m) won the F42-44.
Finland's Marjaan Heikkinen won the women's shot put F32-34 thanks to her sixth and final throw of 6.36m – Germany's Frances Herrmann had to settle for second place once more, having finished runner-up to Heikkinen in Friday's javelin.
There were also wins for Germany's Daniel Scheil (10.72m) in the shot put F33 and his compatriots Ilke Wyludda (10.66m) in the F56/57 and Maria Buggenhagen (7.68m) in the F53-55; Russia's Sofia Oksem (11.81m) won the F11-12/20 and her compatriot Aida Bronskaia (8.05m) the F35/36/40/41; Ireland's Noelle Lenihan (10.34m) took the F38/44-48; the UAE's Abdullah Hayayei (8.99m) won the F34; Brazil's Andre Rocha (9.14m) won the F54, and Lithuania's Ramun Verbavicius (9.12m) won the F55.
In the javelin events, Russia's Aleksandr Lyashchenko finished nearly 10 metres clear of his rivals with a best of 44.75m in the F36/37; Germany's Mathias Mester (38.33m) took the top spot in the F40/41 class and Mathias Schulze (42.16m) won the F46; South Africa's Reinhardt Hamman (45.82m) won the F11-13/38 while Lithuania's Jonas Spudis (47.61) won the F42/44.
Russia's Vladislav Frolov (34.14m) won the men's club throw F32/51 with a new world lead and Great Britain's Gemma Prescott won the women's event (20.18m).
South Africa's Hilton Langenhoven leapt 6.63m to win the long jump T11/12 – his compatriot Andrea Dalle Ave (5.51m) won the T37; Denmark's Daniel Jorgensen opened his long jump T42/44 competition with 6.36m which proved enough to secure victory ahead of Dutchman Ronald Hertog.
Vanessa Low won the women's long jump T42-44 with 4.30m. There were victories too for Russia's Zhanna Fekolina (4.86m) in the T37 and Alexandra Moguchaya (5.40m) in the T46; and a double win for Belarus through Anna Kaniuk (5.15m) in the T11-13 and Ihar Fartunau (6.19) in the F13/36/38/47.
In the high jump events Russia's Ivan Botvich cleared 1.75m in the F45-47; Japan's Toru Suzuki managed 1.96m to win the F44.
The third and final day of competition is on Sunday 21 June with the Grand Prix Final taking place in London, Great Britain, on 26 July.