Two world records fall at Dubai Grand Prix
Records fall in the 800m T44 and discus F45
14 Mar 2018
Imagen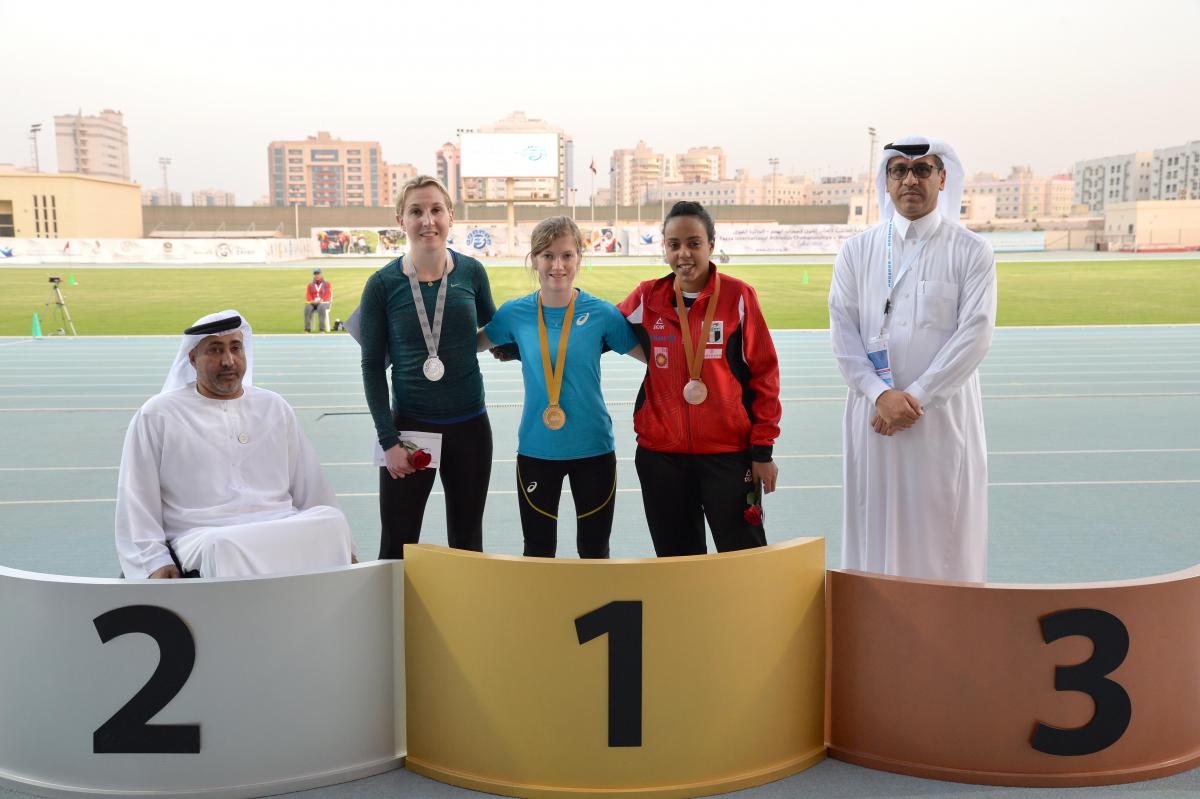 Reigning world and Paralympic champions Walid Ktila, Sophie Hahn and Garrah Tnaiash were among the winners as two world records fell on Tuesday (13 March), day one of the season-opening World Para Athletics Grand Prix in Dubai, United Arab Emirates.
Saudi Arabia's T44 middle-distance man Nour Alsana knocked a further 0.51 seconds off his previous 800m best, clocking 2:02.65 over two laps at the Dubai Club for the Disabled track.
There was a new world record in the women's discus F45 too, as Khazakstan's Irina Tychshenko threw a massive 20.09m.
It was no surprise as Tunisia's 12-time world champion Ktila (27.73) crossed the line first in the men's 200m T34. The 32-year-old, who broke his own 200m world record last year, finished ahead of Switzerland's Bojan Mitic (30.71) before going on to win the 800m T34/53 later in the day in 1:57.82.
Briton Hahn opened her outdoor season with a convincing win in the 200m T35/36/37/38.
The 21-year-old, who won over 60m indoors in Glasgow, Great Britain, last month, clocked 26.96 as she finished ahead of teammate and T37 Paralympic and world champion Georgie Hermitage (28.41).
Hahn heads to Australia's Gold Coast next month, aiming to add the Commonwealth title to her already extensive medal collection.
Iraq's Paralympic and world champion shot put F40 champion Tnaiash (23.67m) saw off his compatriot Ahmed Naas (23.23m) to win the discus F40; Germany's Sebastian Dietz, the Paralympic and world shot put champion in the F36 class, finished in third place (Raza points system) with a best of 42.80m – just 16cm short of the current world record held by China's Li Cuiqing.
Two more gold medals went Iraq's way courtesy of F52 thrower Qahtan Gumar (13.17m) in the men's discus F33/52 and Omar Al-Doori (7.92m) in the shot put F34.
Tunisia's multiple Paralympic champion Raoua Tlili remains the one to beat in the women's discus F41. The six-time world champion managed a best of 32.06m, just 23cm shy of her winning throw at London 2017.
Another Rio 2016 gold medallist in action was Latvia's Aigars Apinis (19.64m), who took the top spot in the men's discus F33/52. Saudi Arabia's Hani Alnakhli (28.15m) was the best of the F33 throwers.
Back on the track and results also went to form in the men's 200m T33/51/52 as Kuwait's Paralympic and world gold medallist Ahmad Almutairi (31.04) finished nearly two seconds clear of the field.
London 2017 double gold medallist Yassine Gharbi (25.02) got the better of Swiss star Marcel Hug in the men's 200m T54 while fellow Tunisian Abbes Saidi (2:06.40) won the T37/38 race. Gharbi (1:39.30) notched up his second win later in the day, defeating Paralympic and world 800m T54 champion Hug (1:39.96) over two laps.
A strong field lined up in the men's 200m T37, and it was Saudi Arabia's 17-year-old Ali Alnakhli who took the win, crossing the line in 24.79, with Egypt's Paralympic silver medallist Mostafa Mohamed (24.89) 0.1 seconds behind.
India's Para athletes were in superb form - Avnil Kumar (23.54) the best of the T13 sprinters; his compatriot Sandeep Singh (23.21) won the men's T46/47 event and T44 Para teammate Manoj Baskar (24.50) finished first in the men's 200m T44/63/64.
There was a win too for Greece's T62 sprinter Stylianos Malakopoulos (26.41) while Briton Jordan Howe (27.00) was the first T35 Para athlete over the line and Malaysia's 100m T36 Paralympic champion Mohamad Mohamad Puzi clocked 29.49.
Germany's Janne Engeleiter (27.90) won the women's 200m T13, Japan's Yurika Yasukawa (34.54) won the 200m T53/54, Turkey's Mehmet Tunc (22.11) came out on top in the men's 200m T11/12 and Kuwaiti Hamad Aladwani (27.99) won the T53 event.
In the day's other 800m races, there were wins for Turkey's T12 Para athlete Oguz Akbulut (2:00:04) in the men's 800m T11/12/13/20 and Great Britain's T20 Para athlete Hannah Taunton (2:23.83) in the women's equivalent.
Briton Andrew Small (2:15.09), who clinched 100m T33 bronze at London 2017, won the 800m T33/51/52 while Japan's Kazumi Nakayama (2:03.80) won the women's 800m T54.
Back to the field and Algeria's Asmahane Boudjadar, who set a new javelin F33 world record in Dubai twelve months ago. She couldn't improve on that mark this time, but still took gold in the javelin F33/34 with a best of 11.63m.
Former Paralympic and world champion Stephen Miller showed he's still got what it takes with a win in the men's club throw F32. The Briton recorded a third-round throw of 30.11m – further than his world bronze medal-winning throw in London last year.
The men's shot put F11/12 was won by Iranian Mahdi Olad. The 31-year-old set a new Asian record of 12.82m with his second attempt of the day and finished more than three metres clear of his rivals.
Olad's teammate Hamed Amiri (11.20m), a Paralympic silver medallist at Rio 2016, saw off the likes of Greek thrower Manolis Stefanoudakis (8.07m) to win the men's shot put F54.
India's Sundar Singh Gurjar claimed his first world title in the javelin F46 last year and he underlined why he remains the man to beat with a massive 59.98m throw to take the win.
His teammates Neeraj Yadav, Manoj Baskar and Ramya Nagaranai Shanmugam also enjoyed success out in the field.
Yadav (8.85m) won the shot put F55 - just 4cm ahead of his nearest rival, Iranian Zafar Zaker (8.81m); T44 Para athlete Baskar leapt 5.71m to win the long jump T44/62//62/63 and F46 thrower Shanmugam won the women's discus F11/13/45/46 with a best of 31.47m.
Egypt's Raed Salem (F57) took gold in the javelin F56/57 with his opening round effort of 38.18m and his teammate Ibrahim Abdelwareth (14.64m) won the men's shot put F44.
The women's discus F53/54/55 was won by Bahrain's Rooba Alomari thanks to her fourth-round throw of 19.91m and Emirati Ali Hussain (6.70m) won the men's shot put F34.
Full results can be found here with competition continuing daily until Friday (16 March).