Ukraine's Roman Polianskyi opens season strong
Gavirate Para rowing regatta in Italy tests new boat classes
15 May 2018
Imagen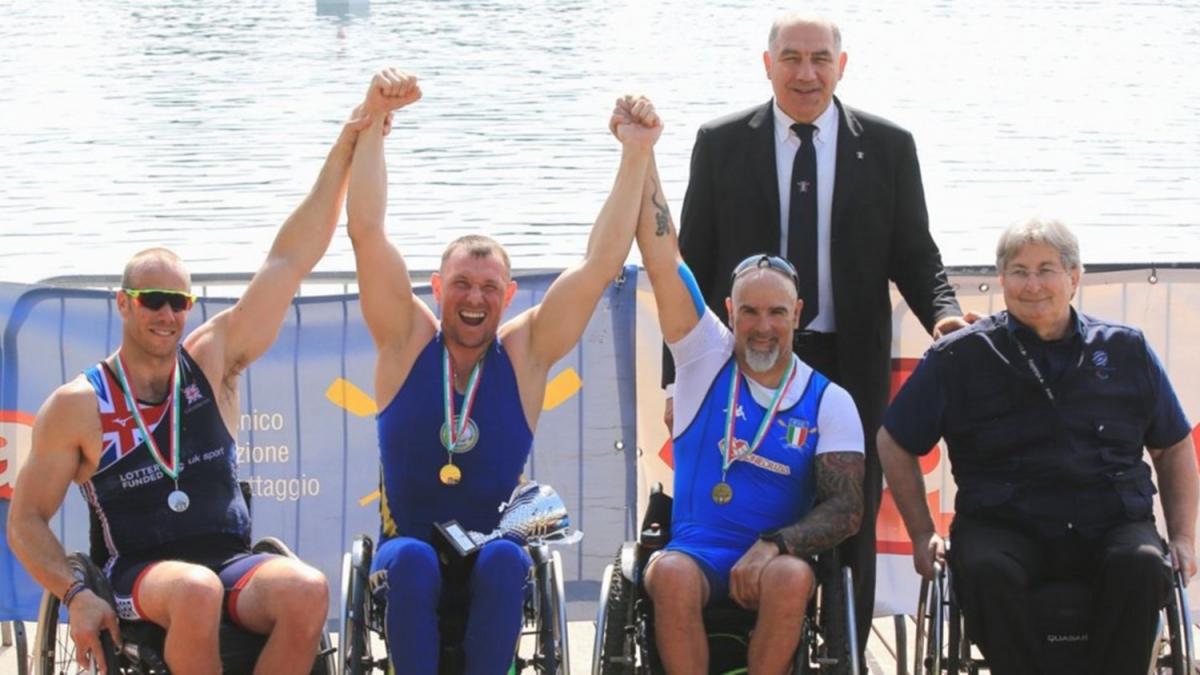 ⒸCecchin/Gavirate 2018
By Louise Wood for the IPC and World Rowing
"It is good to take on new challenges because you have to keep working. It's one thing to go to the top, but it's a whole other thing to stay on top."
Paralympic champion Roman Polianskyi had a strong start to the year at the season-opening International Para Rowing Regatta in Gavirate, on Lago di Varese in Italy. The regatta took place over three days (11-13 May) with two sets of heats and finals, giving athletes the opportunity to race in different lineups and race plans.
The first set of heats and finals saw 115 athletes race in 62 boats, while the second set had 127 athletes in 64 boats. Racing was over 2000m – as the standard became a year ago.
The Ukrainian 2017 Worlds silver medallist won both his races in the PR1M1x. He beat Great Britain's Andrew Houghton into second place by five seconds, and home rower Fabrizio Caselli finished in third place, 29 seconds behind the winner.
The results were repeated in Sunday's final (13 May), with Polianskyi just .26 seconds off his time from the previous day, as he showed off his form ahead of the 2018 World Rowing Championships in September.
The victory in the women's equivalent PR1W1x went to Germany's Silvia Pille-Steppart, who won by a margin of 20 seconds from her nearest rival Italy's Anila Hoxha. There was more success for the Ukraine with Anna Sheremet finishing in third place.
The podium was the same in the second final on Sunday, although Pille-Steppart's time was five seconds slower that her first win on Saturday.
France took double victory in the PR3Mix4+ races. The team of Guylaine Marchand, Elodie Lorandi, Remy Taranto, Antoine Jesel and cox Robin Le Barreau managed to improve their winning time by two seconds from Saturday to Sunday. Taking second place in both finals was the Israeli team of Shay-Lee Mizrachi, Michal Feinblat, Barak Hatzor, Achiya Klein and cox Marlaina Miller.
Ukraine took the final spot on the podium in both races with a team of Stanislav Samoliuk, Yelyzateva Korolenko, Dmytro Herez, Oleksandra Yankova and cox Marharyta Moskalets.
New Para rowing boat classes tested
Many teams used the opportunity to try the new Para rowing boat classes that have been added for 2018. Paralympic and world champion Perle Bouge from France raced in the new category, the PR2 women's singles sculls (PR2W1X). Dutch reigning world champions Annika van der Meer and Corne de Koning raced in the PR2 mixed double sculls (PR2Mix2X) in the first set of races, but both raced the PR2W1X in the second set.
"By allowing the single you can develop more athletes and then more athletes can eventually go into the double," van der Meer said. "For us, the single is an extra challenge. It is good to take on new challenges because you have to keep working. It's one thing to go to the top, but it's a whole other thing to stay on top."
Over the weekend, Ukraine topped the medals table with three golds, two silvers and four bronze medals. Eleven nations won medals on the final day of racing.
Complete results from the International Para Rowing Regatta can be found online http://canottaggioservice.canottaggio.net/menu_reg.php?manif=002244&&k1=C.
Next up is the World Cup I in Belgrade, Serbia from 1-3 June.