USA beat top-seeded Canada, advance to play Russia for gold
The defending Paralympic champions will now take on the host nation for ice sledge hockey gold in Sochi.
13 Mar 2014
Imagen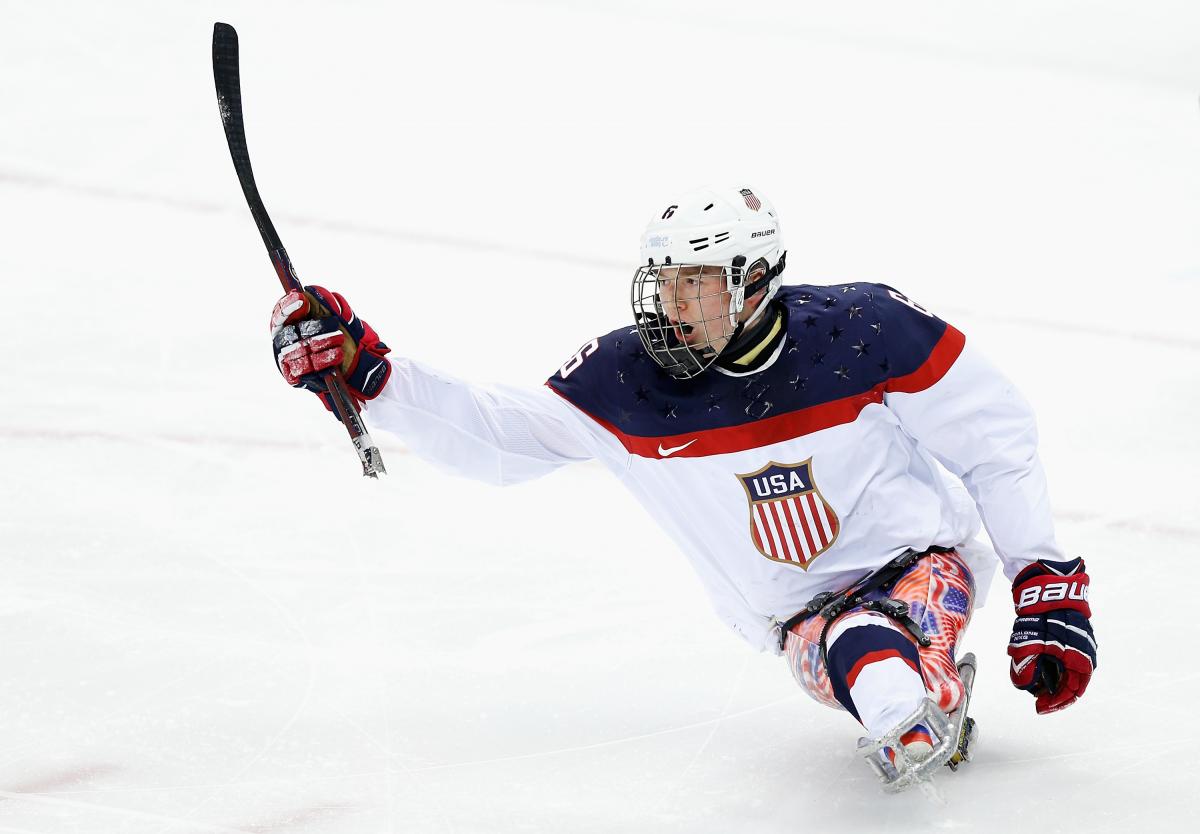 ⒸGetty Images
By Ryan McKenna | For the IPC
The USA will now have a chance to defend their Paralympic gold medal from Vancouver 2010 and could be the first-ever nation to repeat as champions.
The gold-medal game in ice sledge hockey at the Sochi 2014 Paralympic Winter Games is set, with No. 2 USA facing host nation No. 3 Russia after both teams won their semi-final games on Thursday (13 March) at Shayba Arena.
On the strength of a three-point performance by 16-year-old Declan Farmer, the USA ousted rival and world champions Canada, 3-0, on Day 6 of the Games.
"I would say it's fair to say that he's (Farmer) really just an unbelievable hockey player both ways, both offensively and defensively," USA captain Andy Yohe said. "He's amazing to practice against and he's just such a great kid that he's going to be maybe the greatest ... by PyeongChang (2018). I wouldn't want to play against him, I'll tell you that much."
The USA will now have a chance to defend their Paralympic gold medal from Vancouver 2010 and could be the first-ever nation to repeat as champions.
Farmer got the scoring started for the USA at the 9:12 mark of the first period when he got a shot past Canadian goaltender Corbin Watson.
"I saw a lane. I think either Brody (Roybal) or Josh (Pauls) drove the net. I was just trying to be as patient as I could to wait for a shooting lane and I was lucky enough to get it through Watson."
Five minutes later it was Farmer again, this time launching a shot from the face-off circle to the right of Watson and to push the lead to 2-0 before the first intermission. Just moments before that, Canada's Billy Bridges went in on a breakaway and missed before USA came back the other way and scored.
"I mean I wouldn't like to think that was the (momentum shift), but … it's a two goal swing at that point," Bridges said. "The goal on my stick comes back around and they score so all of a sudden instead of being up one, we're down one and it's tough to come back from but we knew as a team that we had to score one of two any, way and so we just couldn't do it."
Almost five minutes into the second period, Josh Pauls banged one home in front of the net to put the USA up 3-0. Farmer would assist on the goal and finish the night with three points.
That would be all the offence that the USA would need as they played steady defence in the third period to hang on for the win.
Russia scored twice in the first period and dominated throughout to book their ticket to Saturday's (15 March) big game with a 4-0 win over Norway in the other semi-final.
"Four years ago, when the guys got into the sledge, when they had the sticks and pucks in their hands, it was Vadim Selyukin who told me, 'We will do everything we can. We will play at our best and be very hard-working guys,'" head coach Sergey Samoylov said.
"He told me, 'We will compete at the Winter Paralympics, not just as hosts, we are going to do much more. We are going to win. We are going to win a medal.'"
Russia started their scoring almost six minutes into the game when captain Dmitry Lisov got the Russian faithful at Shayba on their feet scoring to make it 1-0.
Just before the period ended, Russia's Alexey Amosov would get a nice pass in front of the net and would not make a mistake, putting Russia up 2-0 before the end of the period.
The second period was a lot quieter but Russia still outshot Norway 6-2.
Four minutes into the third period, 17-year-old Nikolay Terentyev scored his first ever Paralympic goal to put the host nation up 3-0.
Russia would add an empty-net goal to finish out the scoring. Vladimir Kamantcev made six saves for his second shutout at Sochi 2014.
"We were not expecting a bronze," Lisov said. "We expected not to perform worse than before. But after the loss to Korea we thought that even a bronze would be great. However, after today's game and the one against USA, our appetite is growing."