China, Great Britain advance to wheelchair curling semi-finals
The two teams will join Russia and Canada as they try to earn a medal at Sochi 2014.
13 Mar 2014
Imagen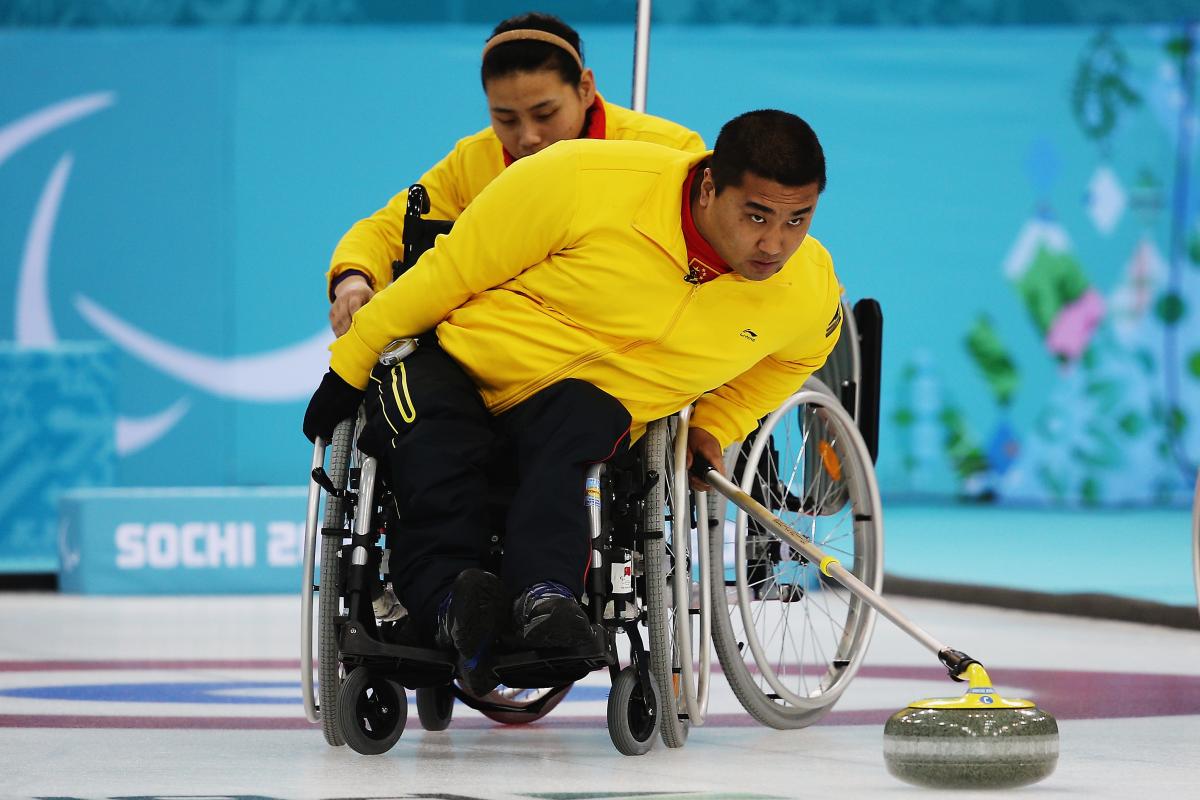 ⒸGetty Images
By World Curling
Russia will play Great Britain in the one semi-final, while Canada will play China in the other semi-final on Saturday (15 March).
China and Great Britain joined Russia and Canada in qualifying for the semi-finals following the lastl day of round-robin play in the Sochi 2014 Paralympic Winter Games wheelchair curling competition.
The semi-finals were decided following Thursday's (13 March) final session of round-robin play, the two most significant results being Russia's win against Slovakia and China's victory over Great Britain.
Those results guaranteed the top four teams in the standings were Russia in first position; Canada second; China in third and Great Britain fourth.
As a result, Russia will play Great Britain in the one semi-final, while Canada will play China in the other semi-final on Saturday (15 March).
China, skipped by Haitao Wang, created their own history today as they became the first Chinese team to reach the semi-finals of the Paralympic Winter Games wheelchair curling competition, having only made their debut in the competition this year.
Their game against Great Britain was tight until Great Britain missed two take-out shots in the fourth end to give China skip Haitao Wang the opportunity to draw into an open house to score three points and take a 5-1 lead.
China then stole another point in the fifth end and although Great Britain picked up two points in the sixth and seventh ends, they conceded after seven ends of play with the final score 6-3.
Afterwards, China skip Haitao Wang looked towards the semi-finals. He said: "We are much more excited now. Not as nervous, but excited. We were more nervous today than we were yesterday, but we are excited now because we are in the semi-finals."
On reaching the semi-finals, Great Britain skip Aileen Neilson said: "It's really exciting. When we started the round-robin, our aim was to get through to the play-offs and we've managed to win enough games to do that, so we are absolutely delighted."
Russia guaranteed China and Great Britain's place in the semi-finals by defeating Slovakia, who were still chasing a semi-final spot of their own, winning 7-4.
On the back of an earlier record win, against Slovakia, Canada lost their final game of the round-robin to Finland, 12-1.
Sweden, meanwhile, finished off their round-robin campaign with a 13-3 win against South Korea, and earlier in the day beat Norway 11-1 and Canada defeated Slovakia 16-0.
The two other morning session games were a lot closer, with only one point splitting the teams.
Great Britain staged a late comeback against USA as they defeated them after an extra end.
Although USA were up 5-1 at the fourth end break, the key turning point for Great Britain came in the seventh end.
USA missed six shots in a row which gave Great Britain skip Aileen Neilson an open draw into the house to score five points and take a 7-6 lead.
After levelling the game in the eighth end with one point, USA skip Patrick McDonald was heavy with his last stone in the extra end which handed Great Britain their 8-7 victory.
South Korea meanwhile played out a tight game against Finland, only drawing level at 5-5 after six ends.
Korea then won the game in the eighth and final end when skip Jong-Pan Kim made a draw through a port to the four foot ring to score two points and win by 7-6.
The semi-finals begin at 9:30 (MSK) on Saturday followed by the medal games which will be played at 15:30 (MSK).
Standings
1. Russia 8-1 (to play Great Britain in 1v4 semi-final)
2. Canada 7-2 (to play China in 2v3 semi-final)
3. China 5-4 (to play Canada in 2v3 semi-final)
4. Great Britain 5-4 (to play Russia in 1v4 semi-final)
5. USA 4-5
6. Slovakia 4-5
7. Sweden 4-5
8. Norway 3-6
9. Korea 3-6
10. Finland 2-7