Wallace believes 100m world record will go before Rio 2016
The US T44 sprinter thinks Richard Browne's mark of 10.61 seconds could be lowered before September's Paralympic Games.
06 May 2016
Imagen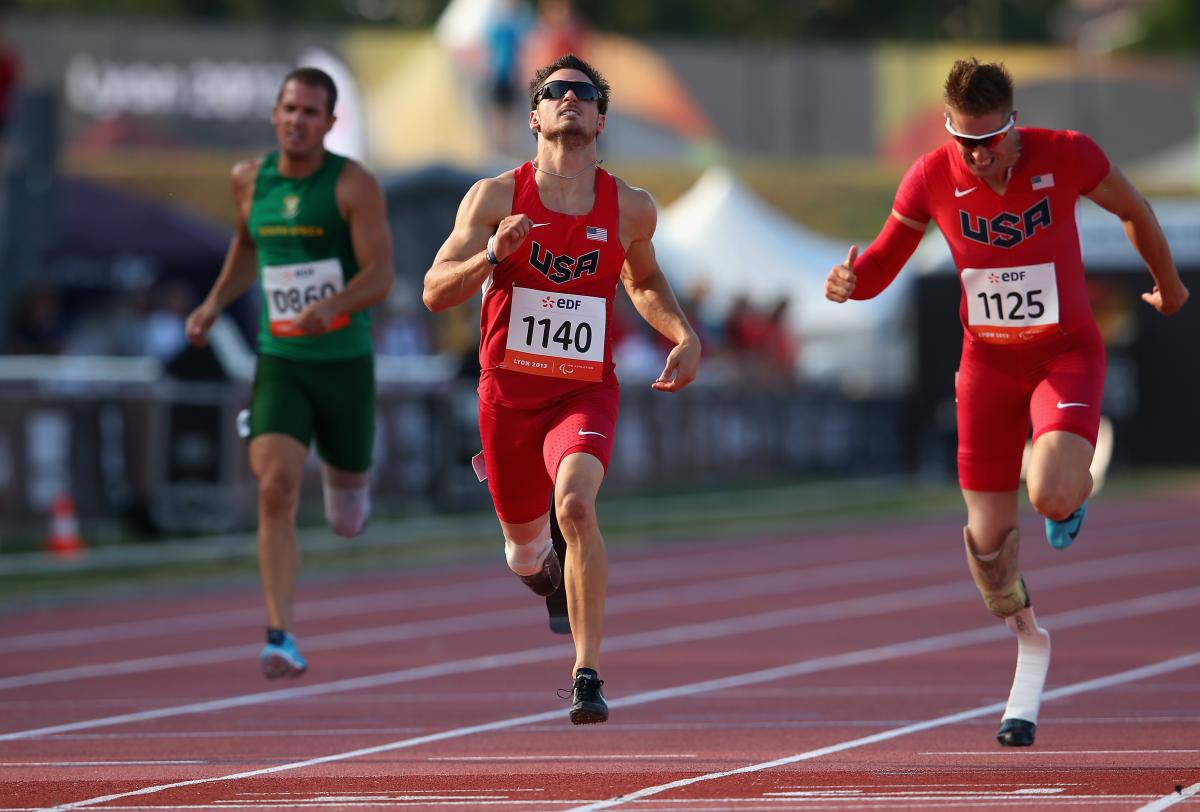 ⒸGetty
By IPC
"There are lots of fast tracks out there that we are running on this year – if we get some good weather, and as long as everybody's healthy, I think that it could definitely happen."
US sprinter Jarryd Wallace says he means business at the Rio 2016 Paralympic Games and that means the 100m world record could well fall even before he gets to Brazil.
Last August Wallace smashed the world record when he took 100m T44 gold at the Toronto 2015 Parapan Am Games in Canada, clocking 10.71.
But just two months later he was sat at home watching the television as his team-mate Richard Browne – who had not raced in Toronto - reclaimed the honour on his way to global gold in Qatar.
"I was with my fiancée at the time, and as soon as I saw [Browne] run the 200m I turned to her and said 'He's going to shatter this world record in the 100m,'" explained Wallace.
"She was like 'No…' but I was like 'He looks super strong, he looks really well – he's going to do it.'"
Browne did – in emphatic style, knocking a further 0.1 seconds off Wallace's mark as he crossed the line in 10.61. Not that it upset Wallace too much.
"That didn't bother me at all – it was a world record I held at the time, it's not mine by any means, it's a world record that's there and every record is meant to be broken by the next great athlete.
"I was proud of Richard; obviously we'll be gunning for it again this year and by all means we'll be planning on breaking it a couple of times as prep for Rio, but I've got expectations of other athletes with the same mind set - that's what makes the sport fun, and continues to push us to get faster and train harder and be better."
As for the record falling before the Games in September, Wallace is in no doubt.
"There are lots of fast tracks out there that we are running on this year – if we get some good weather, and as long as everybody's healthy, I think that it could definitely happen," he said.
In fact, Wallace has already made clear his intentions for 2016.
In early April the 25-year-old gave a thrilling indication of what is to come with a 10.57 race at the Spec Towns Invitational in Georgia, USA.
A strong tailwind meant no record was set – for now. Seven days later he clocked 10.66 in the Bahamas; earlier this week (2 May) he won in Japan in 10.83.
Next week Wallace heads to the IPC Athletics Grand Prix in Arizona, USA (13–14 May), where he will be hoping to repeat the winning form that saw him top the podium at the same meeting a year ago.
Then, Wallace won the 100m in 10.92; sub-11 seconds certainly seems second nature to him now.
One change Wallace has made is with his coach. The former 200m world champion now trains under two-time Olympian Ken Harnden, who took up the post of associate head coach of Georgia University's track and field teams last summer.
Wallace had been working with head coach Petros Kyprianou, but after talking with Kyprianou, he made the switch.
"He brought me in to his office and basically said 'I can keep you running fast but this guy is going to help you win gold medals,'" explained Wallace.
"When you get a guy that you've just broken a world record and won a gold medal under, and he tells you that this guy is going to take you to the next level, you've got to take his word for it.
"So far it's been a great switch, he's a brilliant coach and we click really well. He's a great teacher and he's been there. He understands where my mind is and he understands the sport very well both inside and out. He's definitely going to take me to that next level."
For Wallace, that next level does not just mean world records, it means Paralympic gold.
Four years ago he finished sixth in the 400m T44 on his Paralympic debut; this time around he has set his sights a lot higher; as he puts it, "the wow factor is out of the way."
"You don't win gold unless you think you can, so I'm going to Rio to win two gold medals – the 100m and 4x100m.
"I know what to expect now I'm not the rookie. I can go to the track and know that I belong there; I have the confidence that I didn't have in London.
"In London I kind of had the tourist look on my face which meant I was looking up at the stands and gazing at all the people. It's going to be more of a business trip in Rio."
More than 270 athletes from 14 countries will compete in the sixth IPC Athletics Grand Prix between 13-14 May.