Wallace breaks 100m T44 world record at Toronto 2015
The US sprinter retained his Parapan title with a time of 10.71 seconds.
12 Aug 2015
Imagen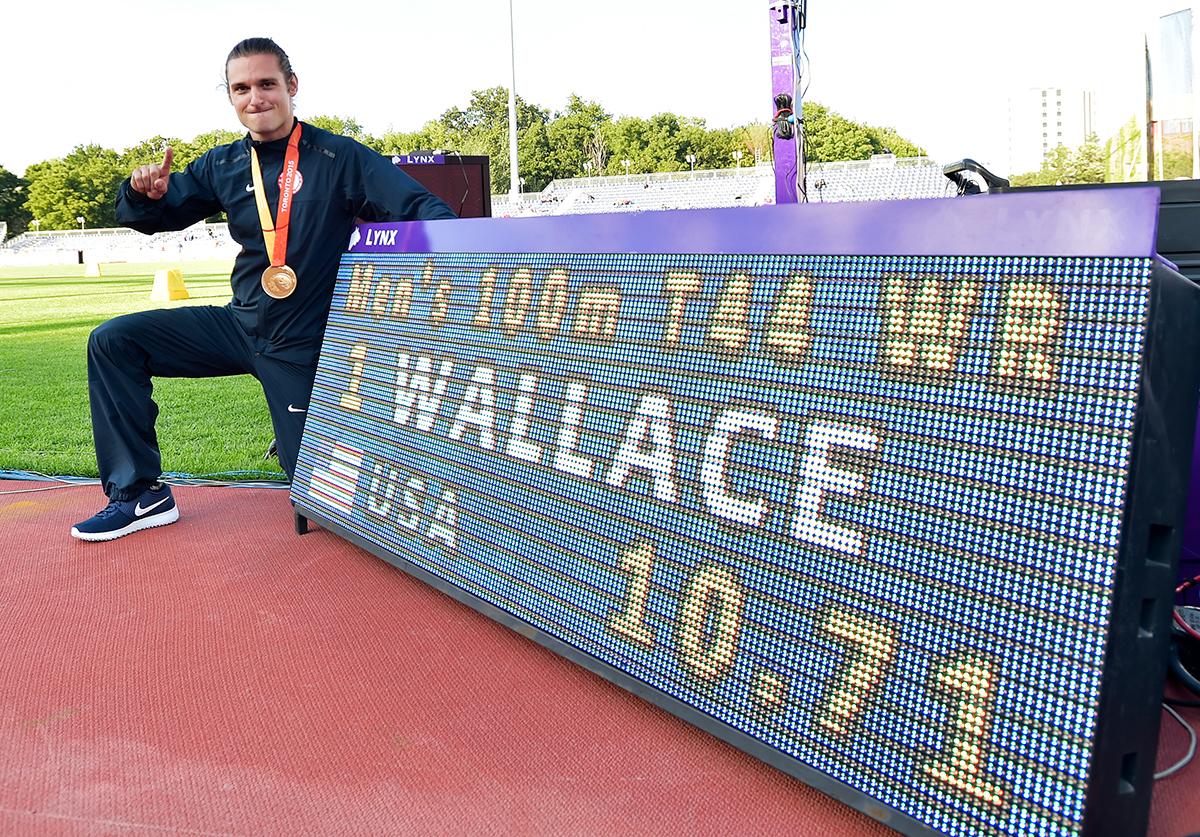 ⒸCourtesy Canadian Press
By IPC
"I was praying the wind was legal. I was excited and elated when I saw the time and my first thought when I saw it was 'please be legal'."
The USA's Jarryd Wallace beat Brazil's Alan Oliveira and broke the world record in a sensational 100m T43/44 final at the Toronto 2015 Parapan American Games on Tuesday (11 August) evening.
In the lead-up to the race, the 25-year-old predicted a world record would be needed to retain the gold he won four years ago in Guadalajara, Mexico. He was right as he stormed to victory in 10.71 seconds to lower the previous best held by compatriot Richard Browne by 0.04 seconds.
Alan Oliveiera (10.98) took silver with his teammate Andre de Oliveira (12.33) the bronze.
"I was praying the wind was legal. I was excited and elated when I saw the time and my first thought when I saw it was 'please be legal'," said Wallace who believes he can go even faster.
"I'm overwhelmed a little bit. I wish Richard [Browne] could have been here as the conditions were amazing. He would have pushed me and I would have pushed him and maybe it would have been even faster.
"Everything considered I was really happy with how I ran."
In the very next race, the men's 100m T52, the USA's completed a clean sweep of the medals, with five-time world champion Raymond Martin (17.01) leading the way. Silver and bronze went to Gianfanco Iannotta (17.39) and Paul Nitz (17.46).
The USA also dominated the podium in the men's 100m T42. Shaquille Vance (12.69) broke the Games records to take gold, whilst Regas Woods (13.26) and Desmond Jackson (13.29) took the other medals.
Hannah McFadden (1:00.15) secured the USA's final track gold of the day winning the 400m T54 ahead of teammate Cheri Madsen (1:01.51). Canada's Diane Roy took bronze (1:02.00).
The first of six golds of the day on the track went to Brazil's Yeltsin Ortega Jacques (15:47.78) in the men's 5,000m T12. The USA's Charles Davis (15:48.87) ran a personal best to take silver and Venezuela's Roger Rodriguez (15:51.93) claimed the bronze.
Edson Pinheiro (11.25) beat Canada's Kyle Whitehouse (11.41) to the tape in the men's 100m T38. Bronze went to Colombia's Weiner Javier Diaz Mosquera (11.66).
Soon after, three golds came in quick succession for the Rio 2016 hosts.
With a 4.3m/s tailwind, Gustavo Faria Araujo (10.67) beat Cuba's Americas record holder Luis Gutierrez (10.92) into silver and Mexico's Daniel Manriqued (11.09) into bronze in the men's 100m T13.
Mateus Evangelista Cardoso (11.64) won the men's 100m T37 ahead of teammate Lucas Ferrari (11.86). Third was Venezuela's Omas Monterola (12.01).
Three-time Paralympic champion Terezinha Guilhermina (12.02) topped an all Brazilian podium in the women's 100m T11. Silver and bronze went to Jhulia Santos (12.40) and Jerusa Geber Santos (12.51).
Brazil's final track gold of the day came in the men's 400m T11. Felipe De Souza Gomes (51.13) beat teammate Daniel Silva (51.65).
The men's equivalent race saw the USA's David Brown (10.95) win his first major title with a Games record. Brazil's world champion Lucas Prado (11.11) picked up the silver, whilst the bronze went to Colombia's Delfo Jose Arce Orozco (11.56).
"The race was good, we executed it like we wanted to. I believe we could have gone a little bit faster, but I am completely happy about the time," said Brown.
"This is actually my first ever big time gold medal. So this is ecstatic. I can't even begin to explain it."
Argentina's Yanina Martinez (30.63), a silver medallist four years ago, led from start to finish in the women's 200m T36 to break her own Americas record. Despite closing in on the winner in the final 50m, Brazil's Tascitha Oliveira Cruz (31.43) had to settle for silver. Bronze went to Colombia's Martha Liliana Hernandez Florian (32.70).
Michelle Stilwell (19.58) won Canada's first gold of the day in the women's 100m T52, finishing ahead of the US duo of Kerry Morgan (19.92) and Cassie Mitchell (25.63).
After shattering the women's 100m T12 world record in Monday's heats to become the world's fastest female para-athlete, Cuba's Omard Duarand went even faster on Tuesday in the final as she won gold. Unfortunately a tailwind of 3.7m/s means her time of 11.64 will not stand. Also making the podium was Brazil's Alice De Oliveira Correa (12.19) and Venezuela's Greilyz Villaroel (12.79).
Durand's teammate Leinier Savon (10.61) also bettered the world record on his way to gold in the men's 100m T12 but again the wind was not legal. The USA's Josiah Jamison (11.15) and Mexico's Manuel Martinez (11.18) completed the podium.
Mexico's Manuel Martinez (49.54) beat Cuba's Luis Galano (50.86) in the men's 400m T12.
It was a Venezuelan one-two in the men's 400m T20. Luis Arturo Paiva (49.03) beat his teammate Edixon Pirela (49.69) to the top step of the podium. Ecuador's Damian Carcelen (51.58) was third.
Field events
Two London 2012 Paralympic champions – Brazil's Shirlene Coelho (36.68m) and Mexico's Angeles Ortiz (9.96m) - retained their Parapan titles in the women's javelin F37/38 and shot put F56/57 respectively.
"I am very happy, it is my second competition of the year and I improved my standing a lot since, I am completely happy," said Coelho, who also broke the Americas record.
"I am competing at shot put and discus throw tomorrow, I started off great here today and I will finish it like so as well."
Colombia's Abrahan Ortega (13.78m) set a new Americas record in the men's shot put F46 on his way to gold, whilst USA's Dion Townsend-Roberts (7.18m) also broke the Americas record in the final round of the men's long jump T47 to take gold.
Brazil's Silvania Costa De Oliveira (4.96m) won the women's long jump T11/12, Colombia's Jose Alexis Belizario Angulo (36.04m) the men's javelin F11/12, Cuba's Leonardo Diaz (40.65m) the men's discus F54/55/56 and Ecuador's Ronny Mauricio Santos Iza (6.49m) the men's long jump in a Games record.
Less than two years after taking up para-sport, the USA's Rachael Morrison (11.19m) won her first major title with a Games record in the discus F51/52. Teammate Cassie Mitchell (11.19m) claimed silver and Canada's Becky Richter (6.26m) the bronze.