"We are showing the joy of life through sport"
A profile of Germany's Heinrich Popow, a man determined to spread the word about the Paralympic Movement both on and off the track.
14 Feb 2017
Imagen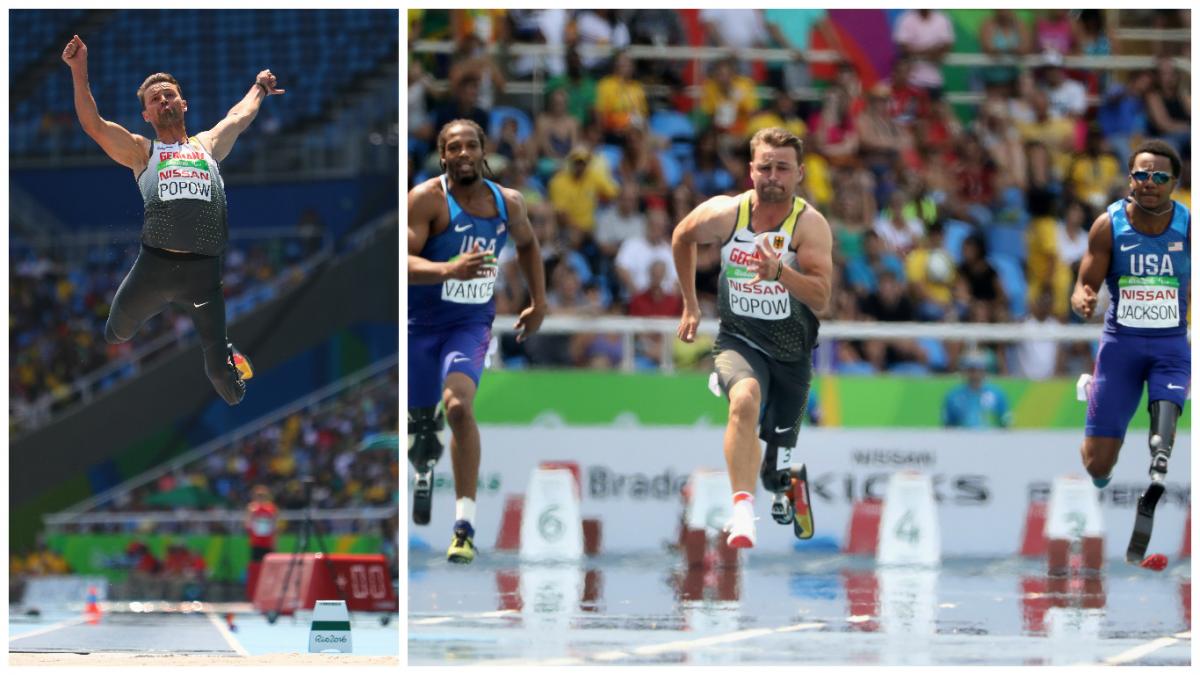 ⒸGetty Images
By NPC Germany
"There are so many emotions, that's the power of sport. There is no better tool for rehabilitation than sport."
Germany's Heinrich Popow cares about the Paralympic Movement. Not only is he is the current Paralympic champion in the long jump T42 but off the track he is helping to engage youngsters and people with prosthesis into Para sport.
Last September, the Süddeutsche Zeitung described him as the "posterboy of the Paralympics" and one of the most famous faces of Para sport. His sporting achievements speak for themselves: two Paralympic golds, 100m T42 and long jump T42 world record holder, eight-time Paralympic medallist. Outside of sport, the 33-year-old, who will participate in the TV show Let's Dance from 17 March, is helping young athletes and other people with prosthetics worldwide.
In 2001, he came from his hometown at Westerwald to TSV Bayer 04 Leverkusen. Not an easy step for an 18-year old, but the right one for the youngster whose leg had to be amputated above the knee when he was nine years old. He was fascinated by the sport and wanted to reach the Paralympics – he has since participated four times.
"It took me a while to get used to high-performance sport," said Popow. "My CV was not always straight and there were times when I wanted to quit – but I managed to get through these phases."
His coach Karl-Heinz Due is also a big fan.
"He is an absolute legend, he lives and loves athletics," said Due.
For "Kalle", being a coach is not just a job, it is his passion. The duo has been working together for 16 years – and they will continue to do so until Popow finishes his career.
Strong rivals? "That's the great thing about the development of our sport"
Maybe this year, or after the 2018 European Championships in Berlin, Popow plans to end his career. But he certainly wants to be part of this July's World Para Athletics Championships in London, Great Britain. It will see him return to the Olympic Stadium where he won his first Paralympic gold over 100m in 2012.
"I am really looking forward to this. That's my track, I have so many good memories," said Popow who says the 100m still motivates.
In Rio he could defend his Paralympic title, finishing fourth in a race where he still holds the world record.
"I was not happy with the result in Rio, but I know what happened and I will improve my mistakes and give my best," explained Popow who is aware his rivals are getting stronger, only in the 100m but the long jump too.
"The performances are improving, I think that's a great thing about the development of our sport," he added.
Emotional, authentic – a "posterboy", but also a guy with a mind of his own, Popow is someone who says what he thinks and who can infect people with his passion for the sport.
"We have a very important attribute: We've all been through hard times but we embody passion and the love of live through our sport. People are identifying with Para athletes, we can motivate people," said Popow. "The conditions for athletes have become better and better, athletes are developing on the base of hard training. That's the big change: Earlier, people praised us because we have an impairment. Nowadays, they praise us for the performances we deliver with our impairments."
And Popow does not only look at his own performances. He takes care of other young athletes like Felix Streng (21) or Leon Schäfer (19) just like he used to do for Markus Rehm and David Behre.
"I am seeing myself through these guys. I've been through a lot and know what they are thinking. And I am trying to jump in and help them."
He especially supported Leon Schäfer with building a sport prosthetic for him as a final project for his occupational training as an orthopaedic technician.
"Why should he not benefit from this? Now he can compete in London with this prosthetics and he says it's feeling great."
As an ambassador for Ottobock he is travelling the world to show people how to practise sport with prosthetics. The project is called "running clinics".
"That's my baby," Popow admits. "It's the best feeling in the world to see the participants' excitement. I love to do something that matters. Meeting all these people change me, I always return with great impressions."
Be it in Australia, China, Dubai, India, Japan, Cuba or Russia: Popow shows the old and young participants how much fun you can have with your prosthetics.
"There are so many emotions, that's the power of sport. There is no better tool for rehabilitation than sport:"
And one athlete who he met during his trips was successful at the Paralympics in Rio: The Cuban Malu Perez Iser won bronze in the long jump – thanks to his mentor Heinrich Popow.
Posterboy, critical mind – someone who loves the Paralympic Movement and will continue to take it forward, most certainly after his active career on the track. But first, he has another job to do; on to the World Para Athletics Championships in London.