Weir fired up for seventh London Marathon title
David Weir and Tatyana McFadden will return to the Virgin Money London Marathon in 2014
10 Feb 2014
Imagen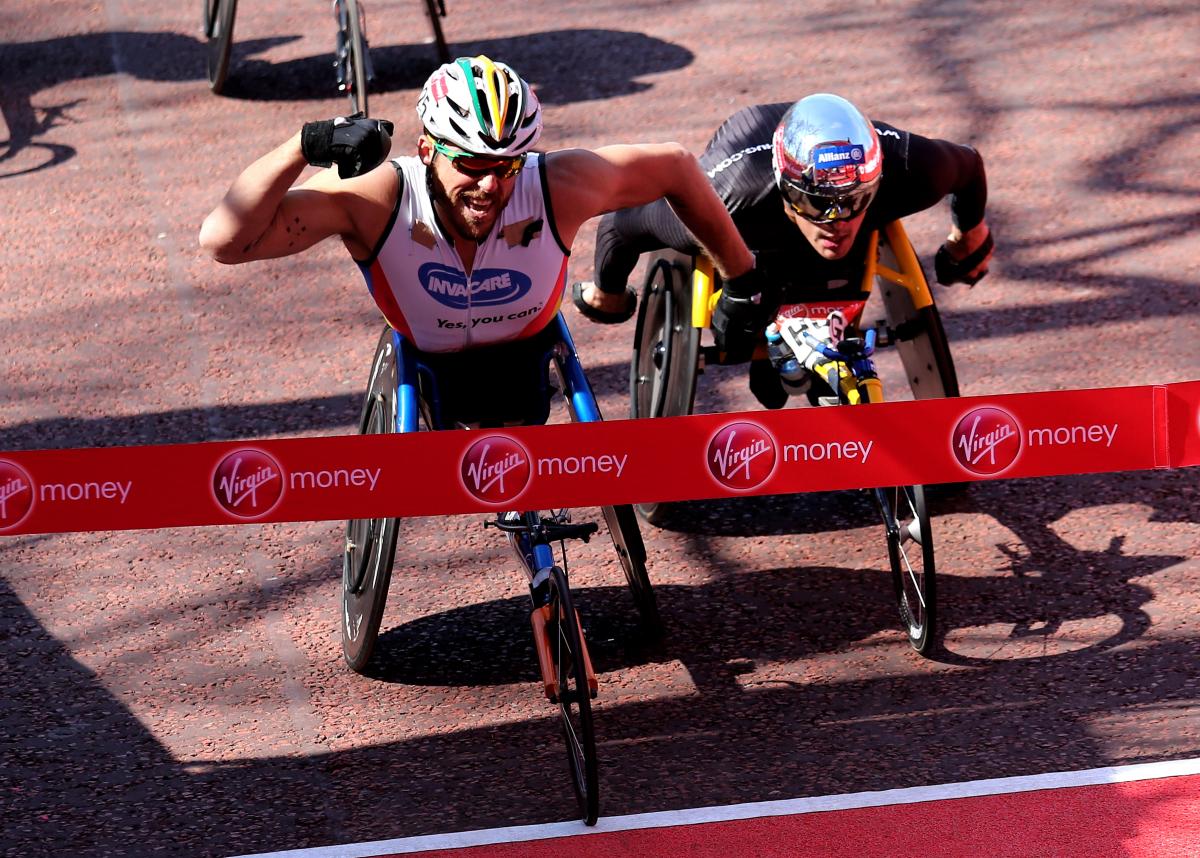 ⒸGetty Images
By Virgin London Marathon
A rejuvenated David Weir will return to the Virgin Money London Marathon on Sunday 13 April hoping to become the greatest wheelchair racer in the event's history by winning his seventh title on the famous course, and Tatyana McFadden will defend her women's wheelchair crown after the American's year of dominance on road and track.
Weir lost out to Australian Kurt Fearnley last year but the six-time Paralympic champion claims to have got his "hunger back" after taking a partial break from racing in 2013 to recharge the batteries following his London 2012 triumphs.
Weir equaled Baroness Tanni Grey-Thompson's record of six London Marathon victories in 2012, and was hoping to add a seventh in 2013 to become the event's most successful male or female wheelchair racer. But the Briton had to settle for fifth last year after he was beaten in a bunch sprint.
"I always have an 'off year' after the Paralympics and last year was no different," said Weir. "I needed to take the pressure off after the intensity of 2012, and I think I made the right choice to have an easier year. I'm not getting any younger."
But the 34-year-old is confident he will have the measure of his opponents again in 2014. He's resumed his old routine this year, spending January training hard in Australia and in March he will sharpen up for the marathon with another warm weather spell in Portugal.
"I've got that hunger back now, and I've been training really hard again because I still have the desire to overtake Tanni's record," he said. "I promised last year I wouldn't stop until I've done it, and now I'm fired up to win again."
Weir skipped the IPC Athletics World Championships in Lyon, France, last summer where Marcel Hug won five gold medals. With Fearnley absent this year due to the birth of his second child, Hug is likely to be Weir's main rival. The Swiss racer has been second three times in recent years, and will be full of confidence after winning the World Championships marathon in July and the New York Marathon title in November.
"It was a fantastic achievement by Marcel at the World Championships," commented Weir. "He looked pretty good there, and he's looked good ever since."
Hug won't be the only man Weir needs to watch, however, as the field announced today is packed with champions, athletes such as official world record holder Heinz Frei, another Swiss racer, who won three London Marathon titles in the 1990s and triumphed at the Berlin Marathon last September.
There will also be stiff competition from 2010 London champion Josh Cassidy and nine-time Boston Marathon winner Ernst van Dyk. Cassidy recorded the fastest time ever on the downhill Boston course two years ago, but the Canadian will feel he has something to prove here after his unfortunate collision with Olympic marathon champion Tiki Gelana last year.
Van Dyk also has a point to make in London. Despite his dominance in Boston, the South African has never won the London Marathon, finishing second in 2000 and third in 2009 and 2013. He has represented South Africa at every Paralympics since the Barcelona Games in 1992 and shows no sign of slowing down. He won the Chicago Marathon last October ahead of Fearnley and was only narrowly beaten by Hug in New York.
The field also includes last year's Boston Marathon winner Hiroyuki Yamamoto, one of three Japanese racers with their eyes on a podium place, and the three-time Chicago Marathon champion, Joshua George, who leads the US challenge.
US racers will be to the fore in the women's race too with McFadden returning to the scene of her 2013 victory. The triple Paralympic champion broke the course record on her 24th birthday to win her first London title last April just six days after bagging the Boston crown. She dedicated her win to all those affected by the Boston Marathon bombings.
McFadden went on to dominate the 2013 racing scene. She won a record six gold medals on the track at the Lyon World Championships last summer, and added the Chicago and New York Marathon titles to her list of achievements in the autumn to become the first athlete, disabled or otherwise, to win four major marathons in a single year. This winter, she swapped her racing chair for sit-skis and duly gained selection for USA's Sochi Winter Paralympic Games cross country skiing squad.
Among McFadden's opponents will be three talented US teammates, including the London 2012 Paralympic champion, Shirley Reilly, and the 2009 and 2011 London Marathon champion, Amanda McGrory, who was a close second last year.
Wakako Tsuchida of Japan is the fastest woman on paper and the five-time Boston winner will be looking to regain the title she won in 2010. Paralympic bronze medallist Sandra Graf will be aiming to repeat her 2008 victory after finishing third last year, while her Swiss colleague Manuela Schär makes her London Marathon debut after winning the World Championships marathon last summer.
Shelly Woods will again fly the flag for Britain. The Paralympic silver medallist could only finish fifth last year but she was a commanding winner in 2012 and will be pushing for her third victory this time. Woods will be joined by Jade Jones, an 18-year-old three-time Mini London Marathon winner who now steps up to the senior event for the first time.
The main wheelchair races will again form part of the IPC Athletics Marathon World Cup, an event for para-athletes to be hosted by the Virgin Money London Marathon until at least 2017. The World Cup this year features seven races in all, including a new men's wheelchair contest for racers in the T51 and T52 categories.
El Amin Chentouf returns to defend his 2013 victory in the men's race for visually impaired runners. The Moroccan broke the T12 world record last year on his marathon debut to win the race for T11-13 athletes. He will again face the London Paralympic T12 silver and bronze medallists, Elkin Serna of Colombia and Abderrahim Zhiou of Tunisia.
Paralympic legend Bob Matthews will also race in that event. The 52-year-old won 13 Paralympic athletics medals for Britain at five Games between 1984 and 2000, including a marathon silver in Sydney, and represented New Zealand in cycling at the London 2012 Games.
Another British Paralympic champion, Richard Whitehead, will again feature in the T42/43 race for leg amputees. The marathon world record holder has had a busy year, winning the world T42 200m title in July before running 40 marathons in 40 days down the length of Britain to raise money for charity.
Spain's Maria Carman Paredes will defend the women's T11-13 crown, while Italy's Alessandro di Lello seeks a second T44-46 title after beating Brazil's Paralympic champion Tito Sena last year. The T51/52 wheelchair race pitches Spain's 2006 T52 world champion Santiago Sanz against Raymond Martin of USA who won five World Championship golds on the track last summer.
The 2014 Virgin Money London Marathon elite wheelchair fields and personal bests:
Men
David Weir (GBR) 1:27:46
Josh Cassidy (CAN) 1:18:25
Ernst van Dyk (RSA) 1:18:27
Heinz Frei (SUI) 1:20:14
Marcel Hug (SUI) 1:21:23
Kota Hokinoue (JPN) 1:22:01
Choke Yasuoka (JPN) 1:22:17
Rafael Botello Jimenez (ESP) 1:22:18
Denis Lemeunier (FRA) 1:22:31
Joshua George (USA) 1:22:50
Michel Filteau (CAN) 1:23:02
Hiroyuki Yamamoto (JPN) 1:23:16
Roger Puigbo Verdaguer (ESP) 1:23:22
Jordi Jimenez (ESP) 1:23:26
Krige Schabort (USA) 1:24:22
Tomasz Hamerlak (POL) 1:27:18
Pierre Fairbank (FRA) 1:31:11
Richard Colman (AUS) 1:32:03
Simon Lawson (GBR) 1:34:01
Women
Tatyana McFadden (USA) 1:45:03
Wakako Tsuchida (JPN) 1:34:06
Sandra Graf (SUI) 1:35:44
Amanda McGrory (USA) 1:36:39
Shirley Reilly (USA) 1:37:36
Shelly Woods (GBR) 1:37:44
Manuela Schär (SUI) 1:38:07
Diane Roy (CAN) 1:40:09
Susannah Scaroni (USA) 1:42:46
Christie Dawes (AUS) 1:47:04
Jade Jones (GBR) Debut
2014 IPC Athletics Marathon World Cup fields and personal bests
T11-13 Men
El Amin Chentouf (MAR) T12 2:24:00
Elkin Alonso Serna Moreno (COL) T12 2:26:39
Abderrahim Zhiou (TUN) T12 2:26:56
Andrea Cionna (ITA) T12 2:31:59
Ildar Pomykalov (RUS) T11 2:33:27
Manuel Garnica (ESP) T11 2:36:02
Gabriel Machado (POR) T12 2:37:23
Igor Khavlin (RUS T11 2:37:59
Carlos Ferreira (POR) T11 2:38:27
Gabriel Macchi (POR) T12 2:40:13
Joaquim Machado (POR) T11 2:42:37
Jorge Pina (POR) T12 2:46:46
Bob Matthews (NZL) T11 2:47:18
Hatem Nasrallah (TUN) T12 2:57:08
Ricardo de Pedraza (ESP) T11 2:57:11
Gerrard Gosens (AUS) T11 2:59:18
T11-13 Women
Maria Carman Parades Garcia (ESP) T12 3:00:06
Ivonne Mosquera-Schmidt (USA) T11 3:06:00
Mihoko Nishijimim (JPN) T12 3:15:36
Yumiko Konno (JPN) T11 3:28:11
Yumiko Fuji (JPN) T11 3:28:39
Misato Michishita (JPN) T11 3:38:28
T42/43 Men
Richard Whitehead (GBR) T42 2:42:52
T44-46 Men
Tito Sena (BRA) T46 2:30:40
Alessandro di Lello (ITA) T46 2:31:06
Jose Antonio Castilla (ESP) T46 2:35:15
Mario Bauer (AUT) T46 2:46:15
Ezequiel Marcelo da Costa (BRA) T46 2:47:36
Michael Wood (CAN) T46 2:51:09
Johann Lendner (GER) T46 2:54:53
Pedro Meza (MEX) T46 2:46:20
T51/52 Men
Santiago Sanz (ESP) T52 1:46:09
Raymond Martin (USA) T52 1:59:41
Rob Smith (GBR) T52 2:01:31
Stefan Strobel (GER) T51 2:37:15
For more information please contact the Virgin Money London Marathon press office:
Nicola Okey Tel; 020 7902 0182, 07799 661345
Email: nicolao@london-marathon.co.uk