Fearnley beats home favourite Weir to Virgin London Marathon title
Australian leads home Hug and Van Dyk in strong field
21 Apr 2013
Imagen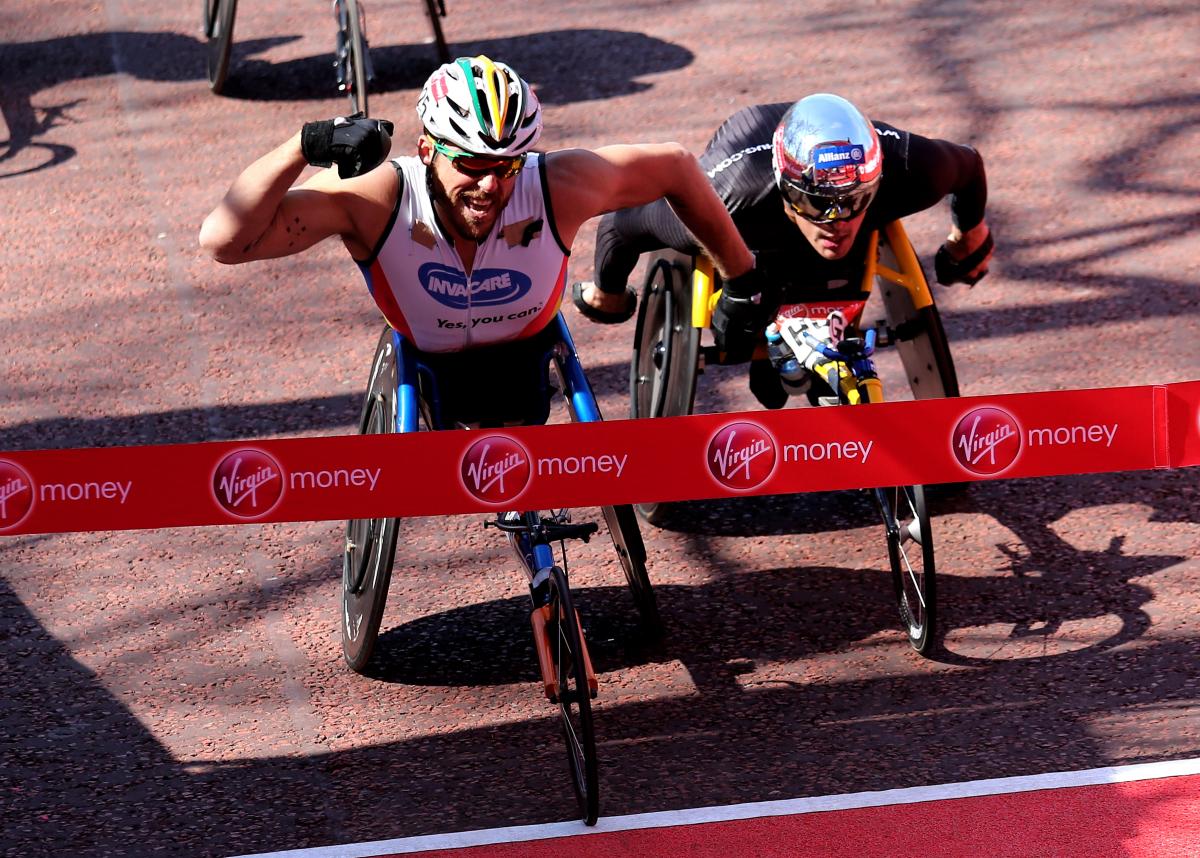 ⒸGetty Images
"Today I didn't think about the time, I thought about the blokes next to me. "I spent myself at previous marathons before the finish line came and that didn't work out for me, so today I needed to give something else a go. I decided to mix it up a bit, and it worked."
Australia's Kurt Fearnley clinched the elite men's wheelchair gold under clear blue skies at the Virgin London Marathon on Sunday (21 April), outsprinting six-time champion Davir Weir down the home straight to claim his second London victory.
A pack of eight athletes raced towards the finish line down the Mall, but it was Fearnley, who won Paralympic marathon bronze behind Weir at the Games last summer, who showed the greatest strength as he powered past the Briton and Switzerland's Marcel Hug in the closing 50m to finish in 01:31:29, leaving the course record he set in 2009 intact.
Hug crossed the line in second place, with South African Ernst Van Dyk taking bronze.
"Today I didn't think about the time, I thought about the blokes next to me," Fearnley said. "I spent myself at previous marathons before the finish line came and that didn't work out for me, so today I needed to give something else a go. I decided to mix it up a bit, and it worked."
The win was particularly pleasing for Fearnley, as he turned the tables on Weir and Hug, who picked up gold and silver ahead of the 32-year-old at the Paralympics last year.
"Huggy Bear (Marcel Hug) is a great athlete, he is a great guy," added Fearnley. "I finished a couple of metres behind him in London, so it is nice to win, but anyone of those six or eight guys at the finish could have won on any other day. I'm just grateful that today was my time."
Great Britain's Paralympic gold medallist David Weir was in the mix as the athletes raced round the final bend past Buckingham Palace, but he couldn't match Fearnley's sprint finish, crossing the line in fifth place.
"Probably Dave's success benefitted the rest of us, it puts a pretty big target on your back when you're so successful, and you have a Paralympics like he had," added Fearnley. "Everyone's going to be looking at you and it's your race to lose, so I guess it is a little bit fortunate for the rest of us.
"Dave is a pretty imposing guy and has been through lot these last few months. He dominated us through the Paralympics so it is nice to get a win."
There was disappointment for 2010 champion Josh Cassidy who suffered a collision with Olympic champion Tiki Gelana at the 15km mark when the elite female field and the men's wheelchair racers passed a feed station at the same time.
Gelana appeared to cross in front of Cassidy to reach her water bottle, and was hit from behind by the Canadian who thumped the table in frustration as he watched the rest of the field speed away. He rejoined the race but was never able to catch the leaders.
Cassidy told BBC Sport: "Every single year we come up to and overtake the women…and there's 10 chairs going at over 20 miles per hour, with bottlenecks and turns, and the poor women are just scrambling to find their feed, and sure enough one of them knocked into me. I have a brand new $2,000 pair of wheels that are damaged, and I've got a race that I trained for months for, so it's really frustrating.
"The most safest thing would be to have the wheelchair start first so that there is no overtaking, because one of these days one of these poor women is going to get knocked unconscious, or a leg broken or a career ruined and it's just not worth it…if it's going to cause injury or harm."
Related Images