What is the secret to New Zealand's success?
Paralympics New Zealand Chief Executive Fiona Allan on how the country managed to maintain its place as the world No.1 for medals per capita.
23 Sep 2016
Imagen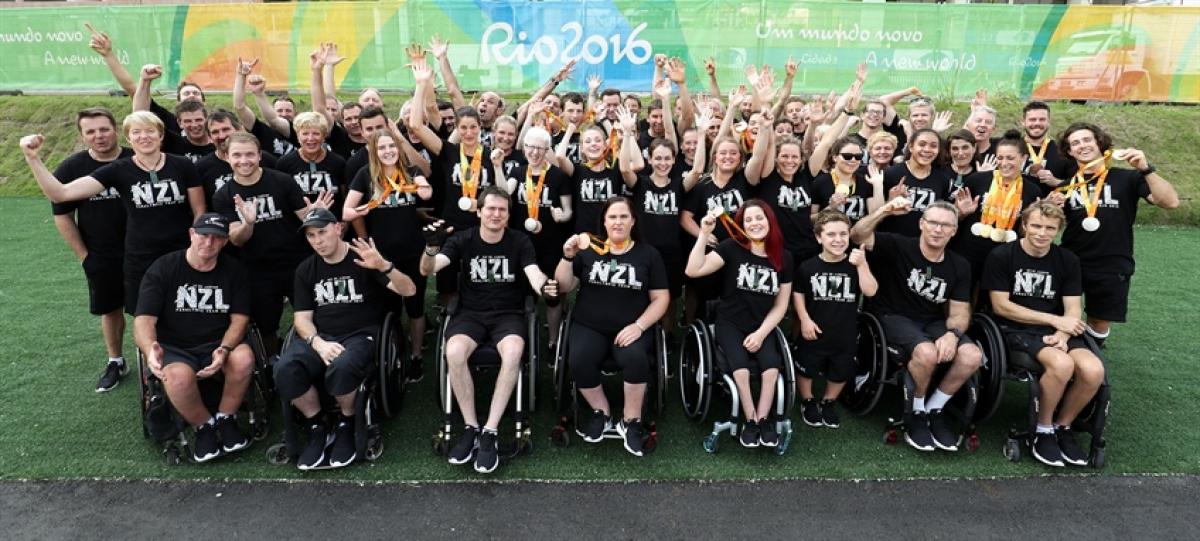 ⒸPNZ
By By Paralympics New Zealand
The New Zealand has safely arrived back home after a historic performance at the Rio 2016 Paralympic Games.
The team finished 13th in the medals table – their highest ever – and maintained their place as the world No. 1 for medals per capita with nine gold, five silver and seven bronze medals.
They surpassed their medal target of 18 and with their nine golds, the team matches their best ever performance from Atlanta 1996.
Here Chief Executive Fiona Allan talks about the secret of their success.
Paralympics New Zealand (PNZ): Fiona, did Paralympics New Zealand expect such success at the Rio 2016 Paralympic Games?
Fiona Allan (FA): The results achieved at the Rio 2016 Paralympic Games were always a very strong possibility and we knew we had the calibre of athlete to deliver a great performance for New Zealand, but that doesn't change how absolutely thrilled we are to see these 31 exceptional Paralympians achieve their potential.
Four years ago we set the strategic goal for the Rio 2016 Paralympic Games. In cooperation with High Performance Sport New Zealand (HPSNZ), we agreed a target of 18 medals, including 12 gold. This was an increase from the London 2012 Paralympic Games, where we won 17 medals and six gold.
Whilst we did not double our golds as hoped, a 50 per cent increase is still a fantastic achievement, especially when combined with all of our other results, including an overall medal tally of 21 – beating our target by three. For me, one of the most exciting things to see were some of our statistics – for example, in London 2012 we had eight individual medallists, but at Rio 2016 we have 12. Out of the 68 events New Zealand entered in Rio, our athletes reached the final 57 times. We set three world records and 11 Paralympic records. Over half of our athletes set personal bests. Overall, we have had such an exciting campaign.
PNZ: Have you seen and heard about the support New Zealanders are showing for our Paralympians?
FA: Particularly through social media, we have become very aware of the increased levels of support being shown by New Zealanders toward our Paralympians and it's something that really helped to spur our athletes on. So many of them have talked to me about doing their best for their country. For the first time over 10 years, we have had a broadcaster that has been fully committed to showcasing the elite performances of our Paralympians and telling their stories. Together, TVNZ and Attitude Live have truly brought the Games to life and I personally cannot thank them enough for their passion and enthusiasm.
In addition to preparing, selecting and leading New Zealand teams to international competitions and the Paralympic Games, Paralympics New Zealand works with athletes, members, partners and government agencies to inspire those disabled New Zealanders and increase awareness, understanding and acceptance of disability amongst the wider public. All reports say that kiwis have fully embraced our Paralympians and celebrated their achievements. The incredible outpouring of support we are seeing suggests that we may have taken a significant step forward in terms of acceptance.
PNZ: What does the future hold for Paralympics New Zealand?
FA: On the competition front, our biggest campaign on the horizon is the PyeongChang 2018 Paralympic Winter Games in March 2018 – just 15 months away. That same year, we will be nominating Para athletes to compete at the Gold Coast 2018 Commonwealth Games. In between times, we have between two-four World Championship events annually that we send teams away to as well, along with various World Cups and other competitions needed to build athlete skills and experience. Then of course, the big one we will always be working towards is the Tokyo 2020 Paralympic Games.
This means in the short term, Paralympics New Zealand's first priority will be to re-secure our funding for the next four years so that we can meet our strategic targets of Paralympic and World Championship medals. We are incredibly grateful to HPSNZ for their support for our Para sport programmes and our elite and development Para athletes; they have invested NZD 12.1m into the four-year Rio 2016 Paralympic Games cycle and not only that, given us access to world class expertise across coaching and other support services, which have meant we could best prepare for success. I had many conversations with other National Paralympic Committees in Rio, all wanting to know our secret formula. Given the success we have achieved in Rio and the increasingly competitive world we operate within, we are very optimistic that we can re-secure and hopefully increase this investment to make sure we stay at the top.
That said, HPSNZ funding is understandably ring-fenced for the elite programmes at the top level. We know that to be successful at the Tokyo 2020 Paralympic Games, we have to start at the grassroots level, which means investing into talent indentification and athlete development programmes in communities, to find the Paralympians of tomorrow. We also have a crucial leadership role within the disability sport sector and a responsibility to help our member organisations optimise opportunities for future Paralympians.
Paralympics New Zealand funds all of its work in this area through the Spirit of Gold® Initiative, a long term programme designed to increase awareness and engagement with Para sport, attract investment from commercial partners and inspire public donations. We have an amazing family of partners, who really understand and believe in us and who we work with in partnership to achieve our respective organisational objectives – they have been absolutely integral to our success in Rio. Soon we will talk to them about continuing with us on the road to Tokyo 2020 and we will also seek new partners as well. We'll also work hard to develop our public fundraising activities, such as our popular annual mufti day. And we will be working on awareness campaigns to build on the public understanding inspired by Rio.