Where are they now: Jessica Galli
19-time Paralympic medallist Jessica Galli talks post retirement
13 May 2018
Imagen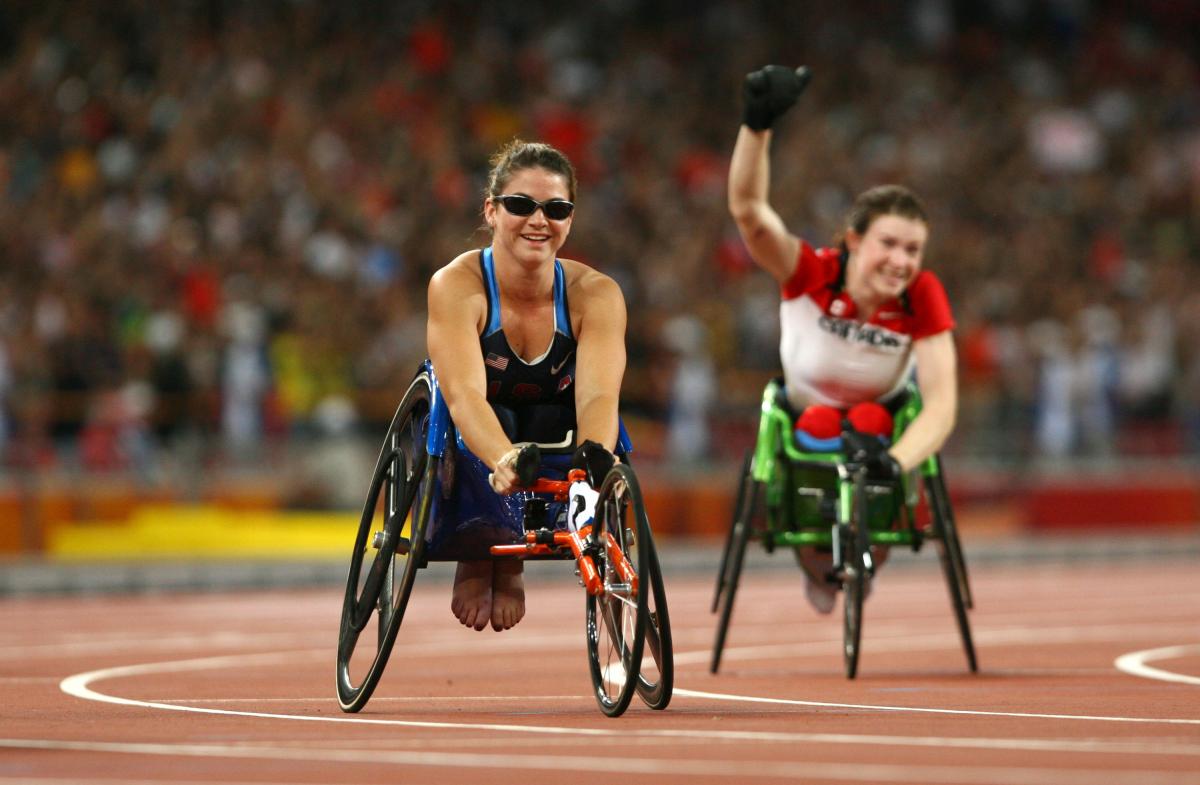 ⒸGetty Images
"I did not succeed on my own and certainly not by my own will. I was forced many times to do things and it turned out really well for me. So I just want to be a force for somebody."
"I did not succeed on my own and certainly not by my own will. I was forced many times to do things and it turned out really well for me. So I just want to be a force for somebody."
Jessica Galli won 19 medals across four Paralympic Games and four World Championships before retiring in 2012, and now says she's focused on making sure today's youngsters have the opportunity to experience Para athletics too.
The former Paralympic 400m T53 champion serves as the Junior Committee Chairperson for Adapative Sports USA, overseeing the annual Junior Nationals event as well as helping grassroots organisations run sanctioned events across the country.
"I guess it was natural to get back in to it and just try to give back to the next generation to make things better for them, even though I had it pretty great," said Galli, who has also served on the board and in different volunteer capacities with the organisation for more than a decade.
Galli also officiates and is often on hand to offer words of advice.
"While I don't think of myself as a role model, I realise that when I'm there I get to serve in that capacity, which is nice to have them able to look up to me.
"Now I've been out of the game five or six years, it's long enough for some of them who don't have a clue who I am or what I've done.
"But they still see me as an official in a wheelchair, and I have two kids now so they realise 'okay I can go on, I can be an athlete, I can go to college, I can get a job, I can have kids and a family.' That's been nice to serve in that capacity."
The 34-year-old also coaches a group of young wheelchair athletes near her home in Georgia, but it's not all about nurturing the gold medallists of the future.
"Not every kid that I coach is going on to be a Paralympian, but I know first-hand how being involved in sports increases your confidence, makes you more independent; keeps you healthy emotionally and physically," she said.
"I think having a disability can be a challenge and I think parents don't always set high expectations for their children when they have a disability.
"Exposing them to the world of athletics changes their outlook and changes their parents' outlook, so I just want to get as many kids involved, whether they are athletics-inclined or not. I think it's helpful and healthy."
Galli not only works with young and aspiring Para athletes, however.
She served eight years on the Athlete Advisory Council to the United States Olympic Committee (USOC), a position she first took up in 2008 when she was still competing, and now serves on the Paralympic Advisory Committee, the advisory committee to the USOC board.
"I was the only Paralympian on the leadership team so I had the opportunity to stress the Paralympic aspect of the USOC, because for a while it felt a little like the evil step child.
"I was just trying to be a positive voice, not one that's coming in fighting, but trying to make change in a constructive way."
The American has seen many changes in Para athletics since she began - and there's no doubt her contribution to the sport both as an athlete and in the years since has been invaluable.
"There are so many more opportunities generally speaking here in the United States," she explained.
Galli believes that the foundations are now set for Para athletics to be a part of many schoolchildren's lives in the United States.
"We have pretty successfully infiltrated the primary school setting so a lot of kids have an opportunity to compete at middle or high school which has been great.
"It's great not just for the kids that have a disability, but great for the school and for their fellow classmates," she added.
Galli's legacy to Para athletics may be just beginning.