Why I did not attempt 300kg in Dubai
The reigning World Champion reveals it was intervention by his coaches which prevented him from going further at the 2014 IPC Powerlifting World Championships, but that he will go for 300kg at the Incheon 2014 Asian Para Games.
27 May 2014
Imagen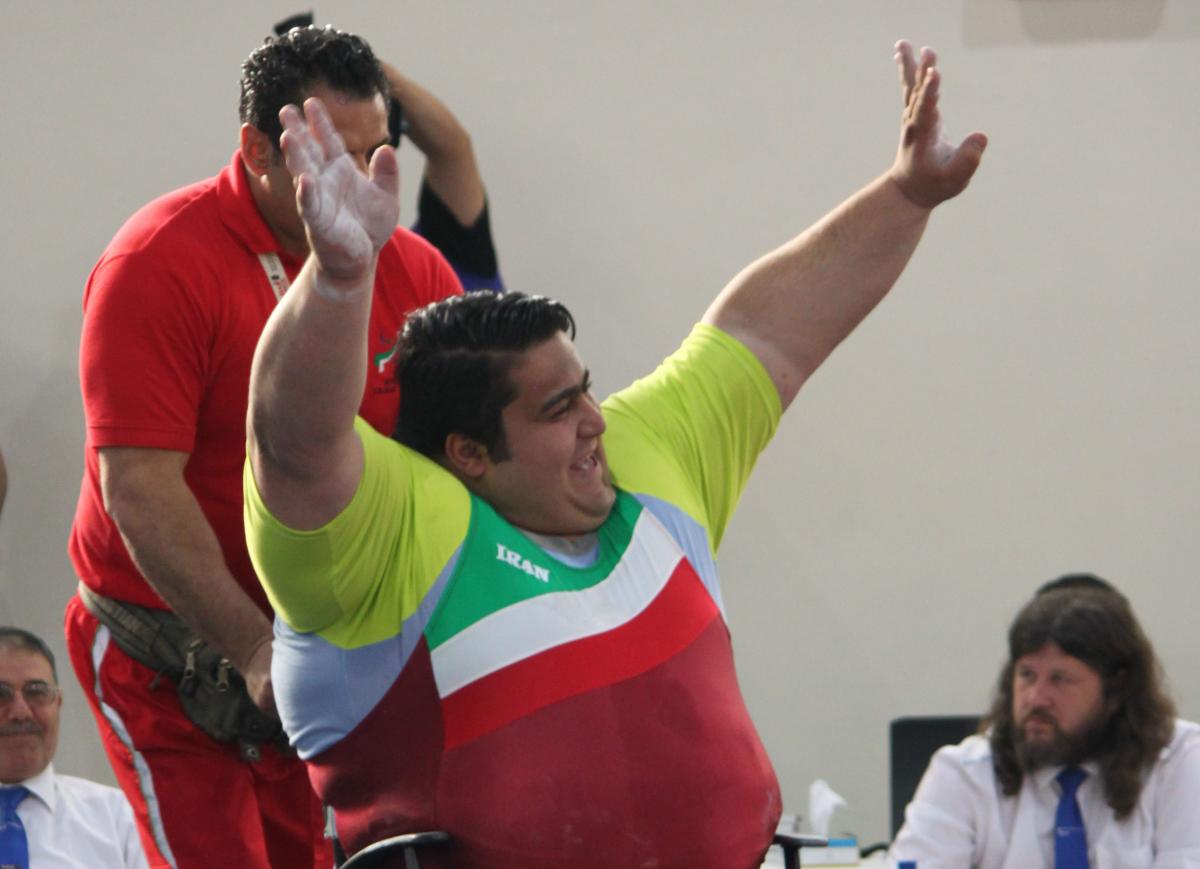 ⒸIPC
By Caryn Maconi | for the IPC
"An elite athlete should not keep stress in his mind, since at the time of lifting he may or may not be able to handle it."
The world's strongest Paralympian, Siamand Rahman, has revealed why he did not make a long-awaited attempt at breaking through the 300kg barrier at the recent 2014 IPC Powerlifting World Championships in Dubai, UAE.
In an interview with Paralympic.org, the 28 year-old said that his coaches had advised him to settle for a 285kg world record best lift in the men's +107kg, but that he would definitely attempt the feat at the 2014 Asian Para Games in Incheon, South Korea, from 18-24 October.
"For a long time the goal of 300kg has been on my mind," Rahman said. "However, I comply with my coaching staff at all times and always respect their decisions. I look forward to hitting +300kg and setting a record for my country."
Regardless of the weight lifted, Rahman's main ambition is to reach the top of the podium in Incheon.
"I don't think anything for the 2014 Incheon Games, but gold medal," Rahman said. "This would be achieved only by enjoying the support of coaches and NPC [National Paralympic Committee] officials.
"In these Games, I expect to face a professional challenge in winning the gold medal and setting a new world record, as I cannot underestimate my competitors."
Rahman has reason to be confident in his potential, as he has held is place at the top of his sport for some years.
He set his first official world record at the Guangzhou 2010 Asian Para Games, where he won a gold medal. Two years later, he was golden again at the London 2012 Paralympic Games.
For Rahman, staying relaxed is always the key to success.
"An elite athlete should not keep stress in his mind, since at the time of lifting he may or may not be able to handle it.
"For this reason, I always smile and try to remove all negative energy."
Still, the current gold medalist knows that competition in his class is growing stronger every year. One of his biggest rivals and closest friends is Mansour Pourmirzaei, a fellow Iranian.
Pourmirzaei won gold and set a then-world record at the 2013 IPC Powerlifting Asian Open Championships with a lift of 276kg. He, too, has ambitions to break the 300kg mark.
"Mansour Pourmirzaei is one of my best friends," Rahman said of the competitive relationship between the two. "We are always kidding, and we enjoy spending time with each other. I believe our friendship is more important than our competition."
Rahman is fueled, not intimidated, by his competition.
"Always, I think that a new phenomenon may be born in a corner of Iran," Rahman said. "This causes me to do my exercise at the highest level, since I tend to show my best performance during Championships."
Rahman is glad that his toughest competition is a fellow countryman.
"Our rivalry certainly is a benefit, since the outcome is only raising our country's flag," Rahman said. "The main point is to save the medal for Iran. Mansour or Siamand, makes no difference."
The 2014 Asian Para Games will feature approximately 4,500 athletes from 42 countries. Powerlifting is one of 23 sports to be contested over the 10-day competition.