Women's sitting volleyball finalists decided
China and USA are set to renew their intense rivalry in the gold medal match on Saturday 17 September.
16 Sep 2016
Imagen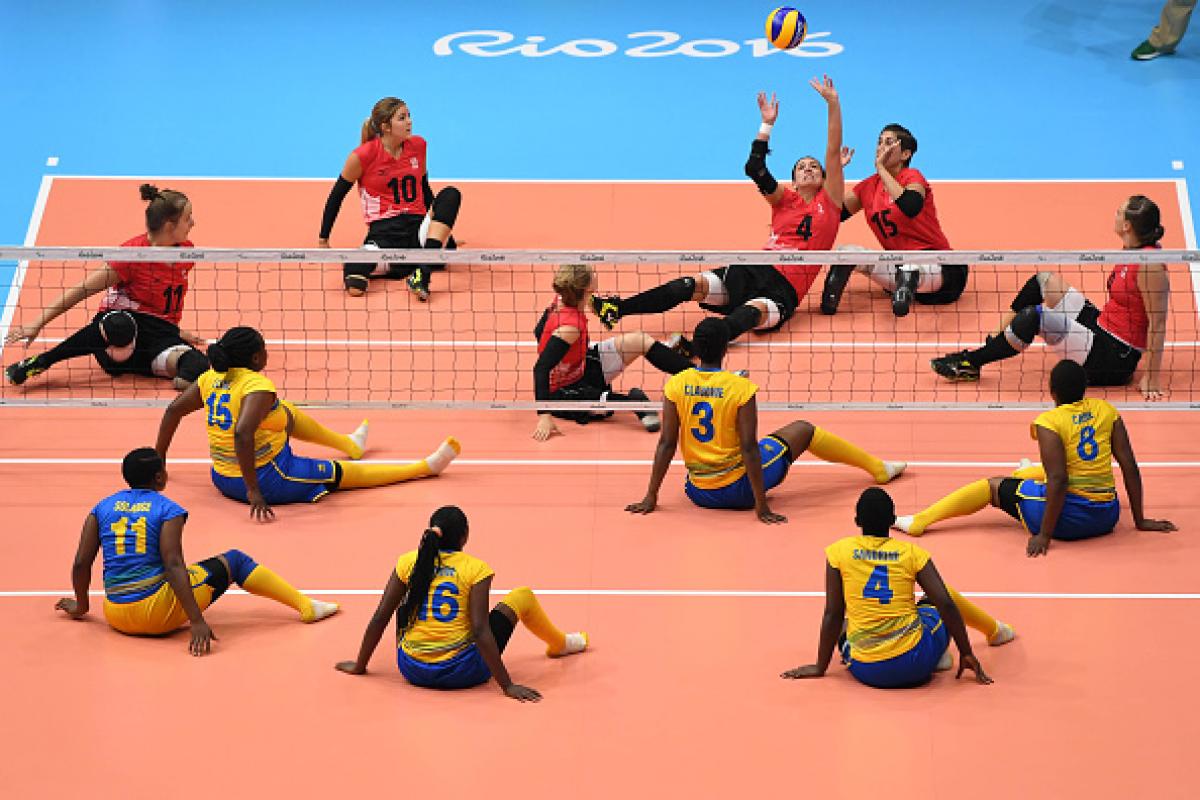 ⒸAtsushi Tomura/Getty Images
By World ParaVolley
They have met in the finals of the 2016 World ParaVolley Intercontinental, the 2014 and 2010 World Championships, and the London 2012 and Beijing 2008 Paralympic Games.
And now China and USA will again face each other for the Gold medal in the women's sitting volleyball at Rio 2016.
Here's a full round-up of the action from Thursday (15 September).
Women's 7th/8th position
Canada 3-0 Rwanda (25-21, 25-15, 25-20)
After a quick Canadian start, the Rio crowd came to life when Rwanda pulled the first set back to 9-9.
But an ace from Heidi Peters helped Canada on their way to a 16-12 lead, establishing a four-point lead they did not relinquish as they took the first set 25-21.
In the second set, four aces from Jennifer Oakes gave Canada the ideal start.
Oakes' efforts helped build an 8-3 lead before strong play from Danielle Ellis carried Canada to a 16-11 advantage. They eventually won 25-15.
Rwanda started the third set well, but could not maintain their momentum as Canada fired into a 16-5 advantage.
However, the Rwandans rallied, creating a tense finish before Canada finally secured a 25-20 victory.
Women's 5th/6th position
Netherlands 2-3 Iran (21-25, 13-25, 25-23, 25-15, 13-15)
One of the most competitive matches at Rio 2016 was eventually settled in Iran's favour – but only after they were given a mighty battle by the Netherlands.
Iran won the first two sets, but good play from Karin van Der Haar and Hong Zhao helped the Netherlands force a deciding set.
The Netherlands looked likely winners when they led 11-8, but Nasrin Farhadi (IRI) spiked and Iran got a run of points before Zahra Abdi sealed it with a beautiful spike for the set – and match.
Women's semi-final
Ukraine 0-3 China (14-25, 23-25, 20-25)
World No. 1 China were comfortable winners against third seed Ukraine in the first women's semi-final.
Having built a 16-11 lead in the first set, three aces from Meiling Zhao carried China further forward before Lijun Zhang aced to secure a 25-14 triumph.
The second set was close throughout. The scores were level at 10-10 and 22-22, but it was China who held their nerve and snatched a 25-22 win.
In the third set, excellent defensive dives and digs kept China in points that most teams would have lost. Great swipe outs from Limei Su and Zhang helped China take the set 25-20 and secure a place in the gold medal match.
Women's semi-final
Brazil 0-3 USA (13-25, 26-28, 18-25)
There was no spot in the final for hosts Brazil, despite huge support from the fans, as USA made sure the Rio 2016 final is a repeat of the same fixture at London 2012.
Brazil made a shaky start and USA were quick to capitalise, building 8-5 and 16-9 leads in the first set before eventually sealing it 25-13.
In the second set, Brazil showed their determination. They were four points down on set point, but stunned the crowd by drawing level at 24-24 before eventually losing a cliffhanger 26-28.
Katie Holloway's excellent form helped the USA take the final set 25-18 and secure their spot in the gold medal match.