Workout Wednesday: Belgium's Peter Genyn
Double Paralympic champion shares his daily regime ahead of London 2017.
28 Jun 2017
Imagen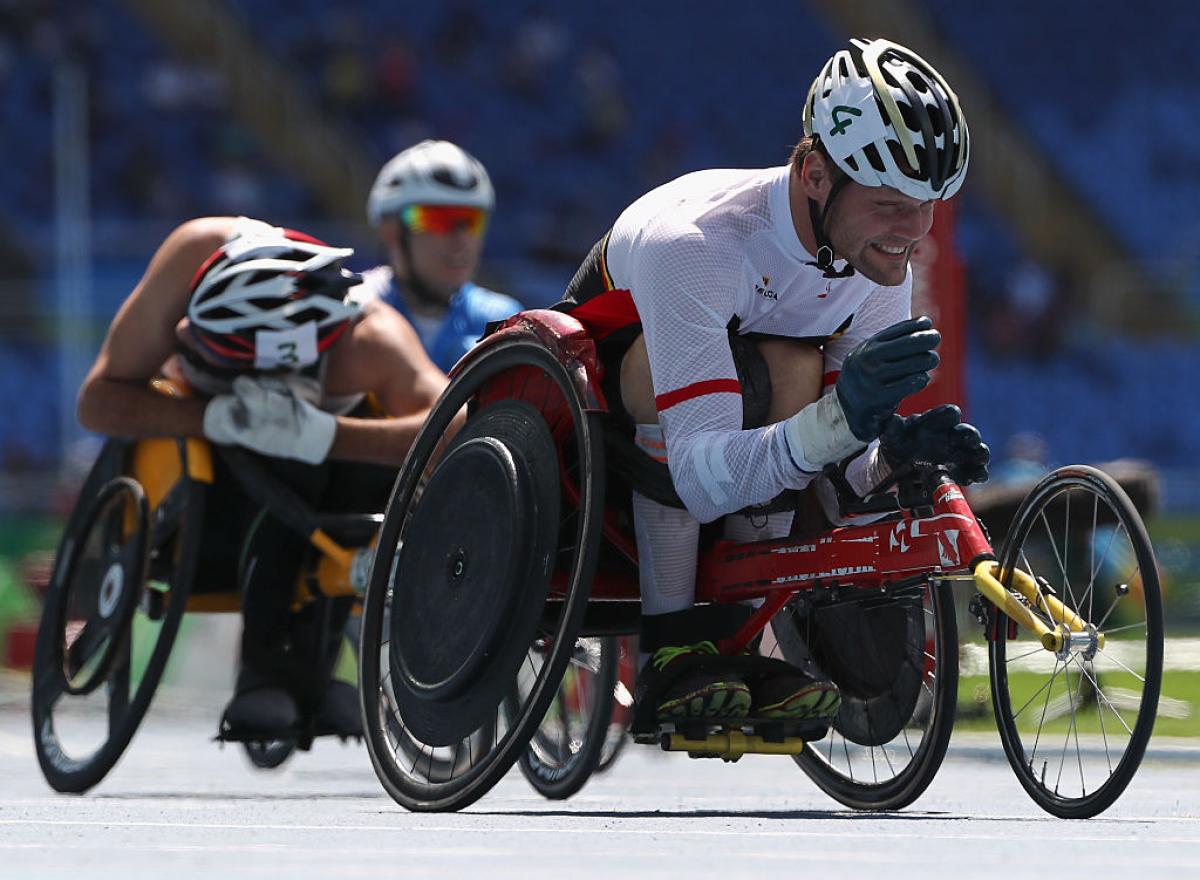 ⒸGetty Images
By IPC
"I've never been a morning person so when the alarm goes off at 7am it's not the easiest for me....I still tend to hit snooze."
Wheelchair racer Peter Genyn received a hero's welcome when he returned home to Belgium after winning two gold medals at the Rio 2016 Paralympic Games. It's no wonder – the 40-year-old had enjoyed a terrific year of track and field, which also included double gold at the European Championships in June and a new world record in the 400m T51.
Genyn now has his sights on retaining his 100m and 400m T51 world titles at the World Para Athletics Championships in London, Great Britain this July.
Here he talks us through his Workout Wednesday:
"I've never been a morning person so when the alarm goes off at 7am it's not the easiest for me. Before Rio, I got up at 6am because I knew my races were in the morning – so then it was especially hard. It's okay now, but I still tend to hit snooze.
First I'll have breakfast, which I'm not a big fan of either but you kind of have to – I learned that doing sports. I have muesli with yoghurt and some fruit. All the things they make me eat because typically my morning breakfast would be a glass of juice and that's it – I guess that's the life of an athlete!
Then I get in my car and drive to practise. It's in Ghent, which is an hour away. I live north of Antwerp in a little town called Kalmthout. It's the only indoor training venue we have – in summer I can sometimes train a little closer to home, but not much as we only have slow tracks in my area. So I usually drive to Ghent or Brussels.
Once I get there we start training around 10:30 or 11.00. There are two of us, me and Joyce Lefevre, who was also in Rio. There are a few amputee runners too – sometimes they train before us, sometimes we use the track together.
If we are training short distances, we start with the warm up, then do a few accelerations, then we will do the start two or three times before doing some longer 40 or 50 metres. We will also do some exercises in staying in lanes and making turns. The session last around 1.5 hours.
You can't always go full out, and that's difficult for me as I kind of like that. Sometimes it's hard to contain myself; you need to pace yourself. For example if training the day before was really hard, you can't really go full pace. It's difficult not to always go full speed.
I used to play wheelchair rugby, but the transition from a team sport to competing as an individual has not been that hard. Even in rugby, we also did a lot of individual training. We had one or two sessions a week with the team but we also trained every day separately, so it wasn't that big an adjustment. But you do miss the team around you.
My first year in track and field I trained alone, and that was more difficult. But now we are two and sometimes more. You arrive and you have somebody to talk to, and there is a bit of a team feeling. My coach is there too for every session.
Next is lunch, that's typically in the training venue, and I'll have a wholewheat sandwich with smoked salmon and vegetables. Then I have stability training, which I do in the gym. Some exercises are on a physio table, some are in the chair. That lasts about an hour, then I hang around a little bit to let the others finish their work out.
I'll drive home around 15:00 or 16:00 - and stand in a massive queue to get home. It's always rush hour traffic; it can take up to two hours for me to get home. I do this three times a week. On Tuesday I do hand-biking and on Thursday and Friday I train on the rollers at home. I still train a wheelchair rugby team too, so on Fridays I join them with the warm up. I don't do the actual game anymore.
For dinner I cook potatoes, vegetables and white meat. I don't cook because I enjoy it – only because I need to eat! I'll have physio after that – massage or mobilisation. Then I might relax on the computer or watch some television. I watch some sport but more at the weekends – I like stick lacrosse. I prefer to watch something funny, or action, like 'Sons of Anarchy' or 'Orange is the New Black'.
I go to bed between 10pm and 11pm but I'm a very bad sleeper – I always have been.