Workout Wednesday with Sophie Hahn
Great Britain's teenage sprint sensation gives an insight into her training regime as part of a new IPC Athletics series
11 Feb 2015
Imagen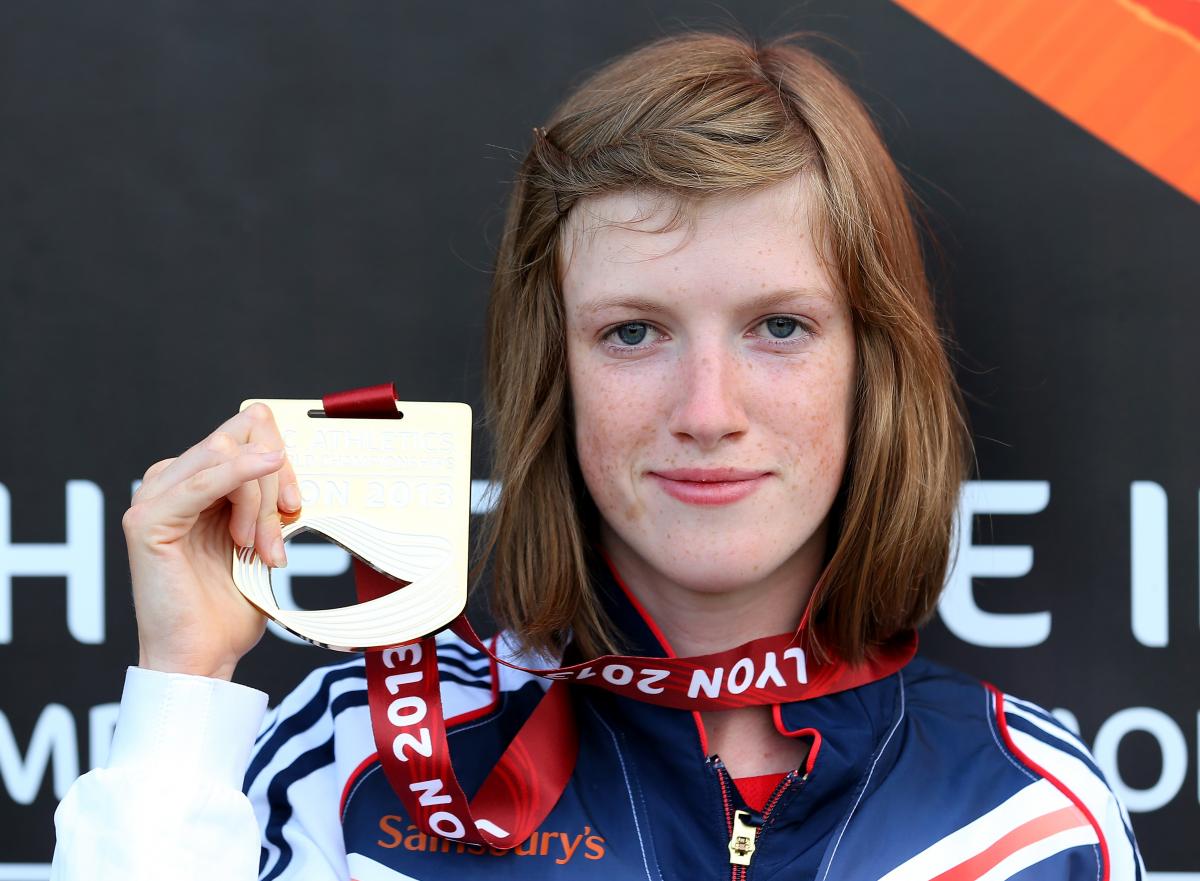 Ⓒgettyimages
By IPC
Great Britain's teenage sprint sensation Sophie Hahn burst into the spotlight at the 2013 IPC Athletics World Championships in Lyon, France.
At just 16-years-old, and making her debut in a GB vest, Hahn smashed the world record as she triumphed in the 100m T38, adding to the 200m silver she had already secured.
Now, after adding three European silvers to her medal tally in Swansea, Great Britain last year, Hahn is determined to go for gold at this year's IPC Athletics World Championships in Doha, Qatar – and beyond.
Here, as part of a new IPC Athletics series – 'Workout Wednesday' she talks us through her day.
06:00 - 12:00
I set the alarm for 06:40, have a shower and get changed in to my gym clothes, then get my belongings ready for college.
I'm studying animal care at college so I have to fit my training around my studies.
For breakfast I usually have cereal, a banana, or a bagel or muffin, with some water and a cup of tea – all to help me prepare for my gym session which starts at 08:00 every morning.
My mum drives me to the gym – it takes us about 20 minutes to get there. I do a 30-minute warm-up session, then get ready for the gym session which is either weights or core exercises. My strength and conditioning coach Sam Heathcote is there to help me each day.
I've got used to the sessions but they are tough, so it's important I warm-up properly as well as give my body the chance to recover.
Gym lasts until 09:00 so after it's finished I get changed and head to college – I'll have a protein shake on the way too.
I arrive about 09.20 – class starts 10 minutes later, and each lesson lasts about 1.5 hours – with a mix of theory and practicals.
The course is based on a farm in the countryside, and involves anything from cleaning out goats, to health checking rabbits, or dog walking. The practical part to the course is quite intensive and physical but I love it.
12:00 - 18:00
Lunch is from 13:00 to 14:00 and usually I'll have something like a jacket potato or pasta for lunch and grab the chance to catch up with my friends.
I have more lessons from 14:00 to 16.30 and then it's time to go home, do some more college homework, relax and get ready for the next day – it could be a training session, or a rest day.
On Mondays I get more time to train as I'm not at college - so I do my normal gym session in the morning followed by a track session with my coach straight afterwards, plus a physio session to finish.
18:00 - 22:00
Then I'll go home to rest, then head back out again at around 18:30 for circuit training with 20 to 30 other athletes at the track in Loughborough.
Back home I try to relax, maybe watch the soaps on television, or I might catch up with friends or go to the cinema with friends from my sprints group. I don't overdo it though – I don't see much of my friends as they are at sixth form college, and I also need to make sure I've recovered from my day.
I try to get to bed by about 22:00 – after my training sessions and a day on the farm, I don't have too many problems in getting to sleep and I usually sleep very soundly.
Sophie Hahn is an IPC Ones to Watch athlete for the 2015 season.