Imagen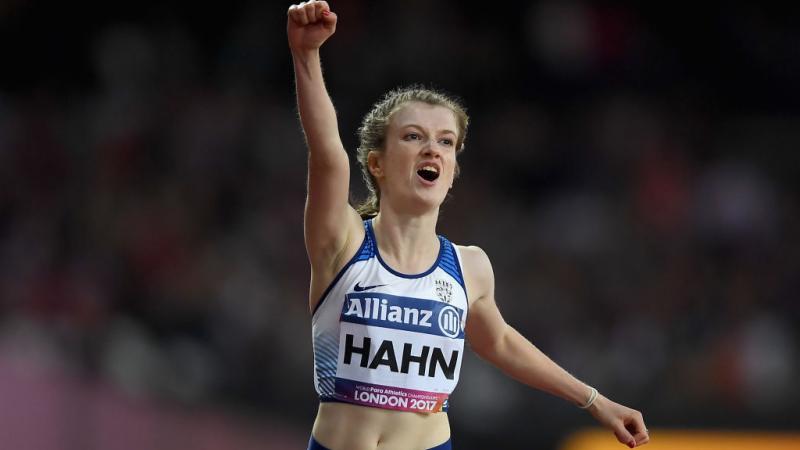 Inspired to take up Para athletics after watching London 2012, Hahn struck gold at her first major international competition less than a year later, winning 100m T38 gold at the 2013 World Championships with a new world record to boot. She also won 200m T38 silver.
There was a new kid on the blocks and she was here to stay.
At the 2014 European Championships in Great Britain, Hahn picked up three silvers. She lost out on gold over 100m and 400m to Russia's Margarita Goncharova, whilst the Russian team won the 4x100m T35-38 relay.
Ahead of the Doha 2015 World Championships, Hahn ran a sensational world record over 100m at the Grand Prix final in London, Great Britain, stopping the clock at 13.00 seconds.
She went even faster a few months later however when she retained her 100m world title with a breath-taking world record of 12.60.
Like in Lyon, she again had to settle for silver in the 200m as Goncharova took gold in world record time.
Hahn secured her second world title and world record at Doha 2015 as part of the women's 4x100m T35-38 relay team (55.22).
More silverware came Hahn's way in 2016, first at the European Championships in Grosseto, Italy, then at the Rio 2016 Paralympic Games.
Hahn won European gold in the 100m T38 and 4x100m T35-38 relay, as well as 200m T38 silver in Italy.
In Rio de Janeiro, the then teenager smashed the Paralympic record twice on her way to 100m T38 gold. Her final time of 12.62 seconds edged her Brazilian rival Veronica Hipolito into silver.
Together with Kadeena Cox, Maria Lyle and Georgina Hermitage, Hahn also won silver with a European record in the 4x100m relay T35-38 behind China.
Back on home soil at the London 2017 World Championships, Hahn this time made it double gold, winning both the 100m and 200m T38.
In the shorter sprint Hahn stormed to a new world record, this time clocking 12.44, while in the 200m she knocked 0.35 seconds off Goncharova's best to claim her second world record.
Photo Gallery
Imagen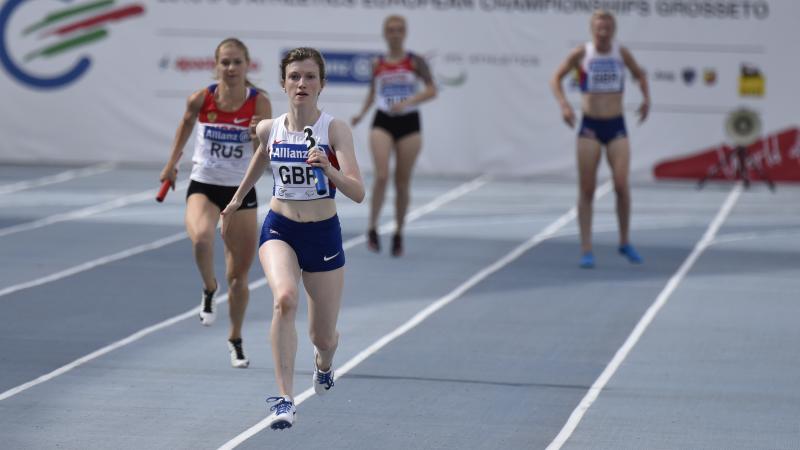 Imagen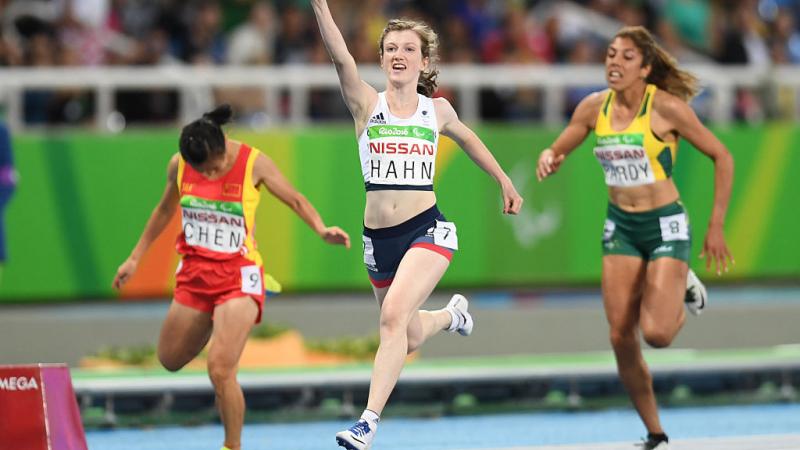 Results
IPC Athletics World Championships (Lyon, France)

| Event | Medal | Unit | Date | Rank |
| --- | --- | --- | --- | --- |
| Women's 200 m T38 | | Semifinal 2 | 2013-07-21 | 1 |
| Women's 200 m T38 | | Final 1 | 2013-07-22 | 2 |
| Women's 100 m T38 | | Semifinal 2 | 2013-07-23 | 3 |
| Women's 100 m T38 | | Final 1 | 2013-07-24 | 1 |
IPC Athletics 2015 World Championships (Doha, Qatar)

| Event | Medal | Unit | Date | Rank |
| --- | --- | --- | --- | --- |
| Women's 100 m T38 | | Final 1 | 2015-10-22 | 1 |
| Women's 200 m T38 | | Final 1 | 2015-10-29 | 2 |
| Women's 4x100 m T35-38 | | Final 1 | 2015-10-31 | 1 |
World Para Athletics Championships London 2017 (London, Great Britain)

| Event | Medal | Unit | Date | Rank |
| --- | --- | --- | --- | --- |
| Women's 200 m T38 | | Final 1 | 2017-07-15 | 1 |
| Women's 100 m T38 | | Final 1 | 2017-07-22 | 1 |
Dubai 2019 World Para Athletics Championships (Dubai, United Arab Emirates)

| Event | Medal | Unit | Date | Rank |
| --- | --- | --- | --- | --- |
| Women's 100 m T38 | | Final 1 | 2019-11-12 | 1 |
| Women's 200 m T38 | | Final 1 | 2019-11-13 | 1 |
| 4x100 m Universal Relay | | Heat 1 | 2019-11-14 | 9999 |