Workout Wednesday with South Africa's Charl du Toit
After winning double Paralympic gold in Rio, the South African will be aiming for world titles at London 2017.
29 Mar 2017
Imagen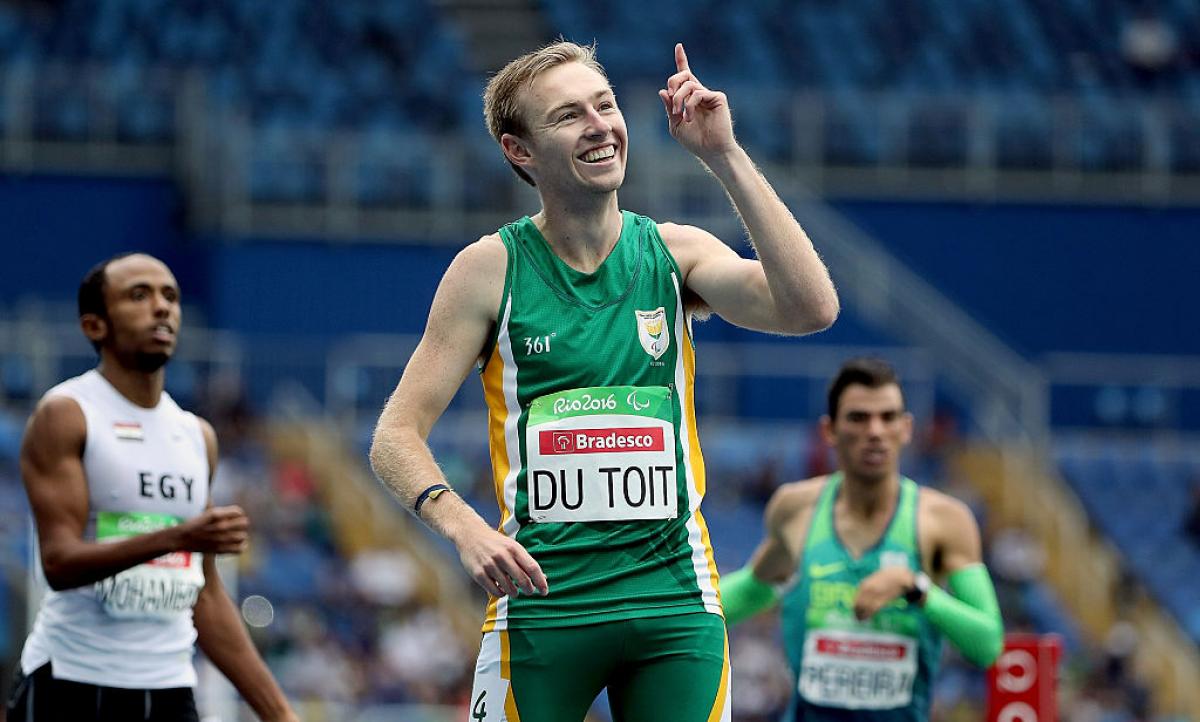 ⒸGetty Images
By IPC
South African sprinter Charl du Toit won 100m and 400m T37 gold at Rio 2016, his first major titles to add to the two silver and two bronze World Championship medals he won previously.
The 24-year-old, who twice broke the 100m T37 world record last year, is a new face on the World Para Athletics 'Ones to Watch' list for 2017.
Du Toit will be hoping to live up to expectations at July's London 2017 World Para Athletics Championships – here he shares his preparations in our 'Workout Wednesday' series.
--
"This year is a lot different to how things looked over the last four years. A typical 2017 day for the last three months has been waking up at about 05.00 or 05.30 and going to the gym at 06:30. I wasn't a morning person but I'm starting to develop in to one and that scares me!
I do a lot of co-ordination work at the gym, leg work and definitely some upper body work as well. Co-ordination is the thing we've focused on the most over the last couple of years – for CPs (cerebral palsy athletes) that's crucial.
I have a shower and have my post-workout snack - or breakfast, depending on how easy I get out of bed. I'm a big fan of Future Life cereal for my breakfast.
Work starts about 08:30. I work at a company called Living Legends, an NGO that helps kids in less privileged schools with sports and life skills. I really love it.
I'm a Living Legends manager and I tend to be office based, but I go out in to the field too and check if everything is running smoothly, or if any assistance is needed.
We go to schools where our Living Legends instructors are placed and if they have any issues we'll try and sort that out. Or I'll be in the office answering emails and attending meetings. Work has been wonderful in allowing me to train and go to competitions.
I normally eat lunch at work because I have a sprinting group that I coach at a school nearby so I get off at 14.00 to go do that.
Then I hit the track at 16.00, for a two-hour session. Twice a week I work in a physio session too. I have a fantastic training group (including Paralympic medallists Arnu Fourie, Ilse Hayes and Dyan Buis) under the guidance of our coach Suzanne Ferreira. Sometimes the sprinters and the 400m group is split but most of the time we all train together at the same time.
Mondays are normally speed days, Tuesdays are speed endurance days and Wednesdays are recovery days – which is fantastic! Then I'll just have a long jog. The Tuesday session is the hardest; it's our least favourite but we love it as well.
I don't think there is a better way to get to know someone than on an athletics track, because the guy next to you is going through the exact same pain that you are and that's brilliant. It's hard, it's difficult; but we love it. We try and motivate each other so if someone is having a bad day we try and pick them up. If everyone has a good day, that's brilliant.
Then I go back home and eat a nice dinner, try to relax and sleep as much as possible. I have two wonderful flatmates who cook dinner, it's really amazing. I'm really spoiled in that sense to have two flatmates who help me and believe in my dream of being a professional athlete.
We have been friends since school and this is now our fifth year together. I'll help with the dishes afterwards. At the beginning we said everyone is going to get a night to cook but that doesn't happen because when I get home they are already hungry!
If there is not a hard session the next day then I'll try and catch up with some friends, otherwise I'll just chill out at home and watch some sport. I love my cricket.
Since I started working I can't keep my eyes open after 21.30. I sleep well - when my head hits the pillow, like over these last three months, I am out.
To buy tickets for the London 2017 World Para Athletics Championships click here.