#WorkoutWednesday: Manuel Schaer
The Swiss European champion wheelchair racer gives an insight into her training regime ahead of this weekend's IPC Athletics Grand Prix in Nottwil.
27 May 2015
Imagen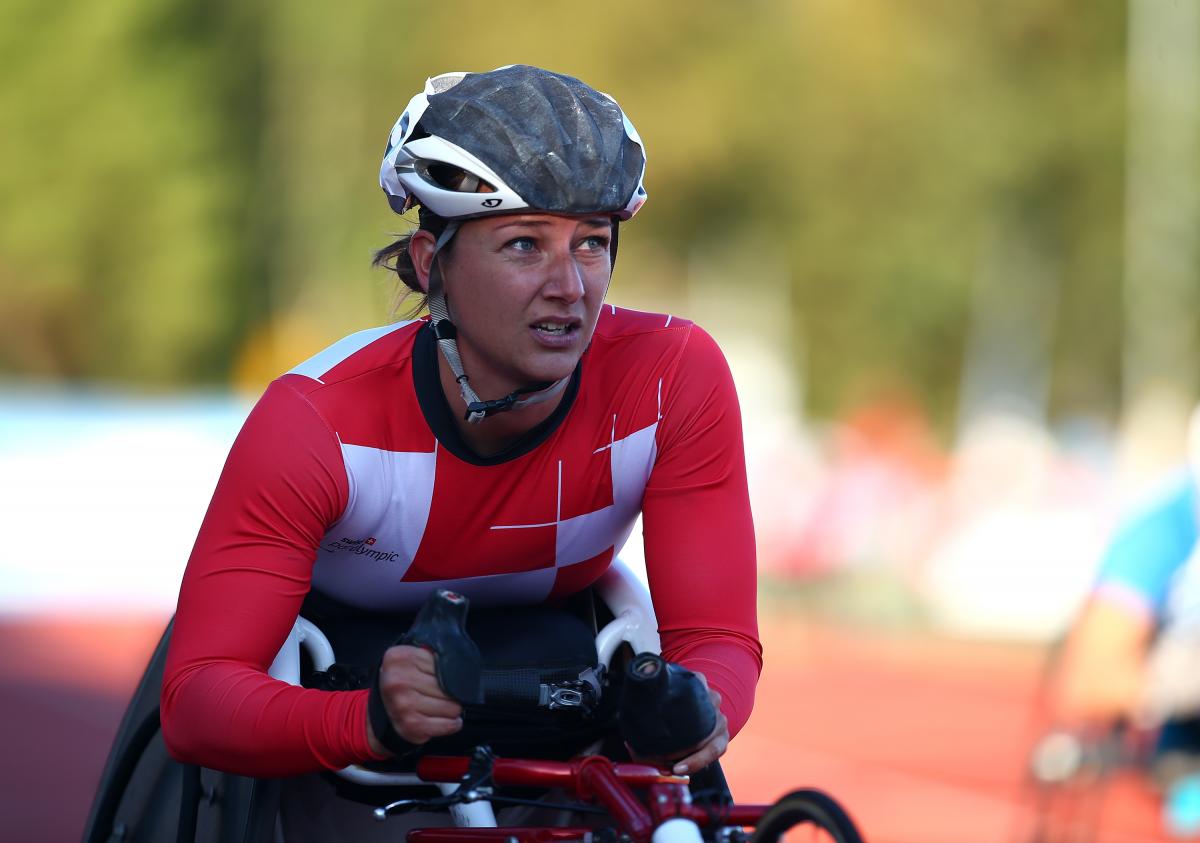 ⒸGetty Images
By IPC
Three times a week I train with a group – one of the groups I'm in has a few of the long distance guys, like Heinz Frei.
Switzerland's Manuela Schaer lines up at her home track this week for the next of this year's IPC Athletics Grand Prix series, the ParAthletics meeting in Nottwil (29-31 May).
The 30-year-old clinched one gold and three silvers at the 2013 World Championships then followed that up with an impressive four gold medals at the European Championships in Swansea, Great Britain last year.
Manuela Schaer's #WorkoutWednesday
I start work in Nottwil at 07:30 in the morning, so I have an early start to my day – I get up at 06:00. I live near Lucerne so it takes me about 30 minutes to drive to the Swiss Paraplegics Association, where I work. I do try to have breakfast before I go although sometimes I don't really feel like eating in the mornings. Usually I have a coffee break around 09:00 - I will have a yoghurt or something then.
My job involves visiting newly injured patients who use the Paraplegic centre and providing them with as much information as possible. I visit people all over the German part of Switzerland, although most will live in and around Nottwil, which has the biggest specialised hospital in the country.
We have five different departments at the Association - including wheelchair sports, culture and leisure, and legal advice. I provide information about what we do – my role can also involve youth and peer counselling because I am in a wheelchair and the people I deal with are newly injured. They want to know certain things.
It's great too because it is not too tricky to fit in around my training. When I started the job I knew my training base was here in Nottwil, so I knew I wouldn't lose time commuting between work and training. I knew it would work well for me.
At midday I have my first training session. Three times a week I train with a group – one of the groups I'm in has a few of the long distance guys, like Heinz Frei. For me it is really good to train with the guys. The first session lasts about an hour, and the second lasts up to two hours.
In my first training session I might work on body stability - it's not about getting more muscle in the gym; it's about injury prevention – so it might involve work on my shoulders, for example.
After the first session I have lunch, near to the track. I eat a lot of vegetables, and rice. I try to eat healthily and enjoy a little bit of everything.
After lunch I rest a little bit. I like to try and relax – but I don't bother going back home, so I might drink a coffee and chat with friends. Sometimes when I'm really tired, and it's been a really busy week, I even take a nap in my car – as long as it's warm enough outside!
The second session is in my racing chair outside on the track. We do a lot of interval training- there is a lot of high intensity work as it's easier to do the hard stuff in a group when you have people pulling you - especially when you have guys who can pull you to a high speed.
That session lasts up to two hours, then I'll shower and head home. Sometimes I might have grocery shopping to do on the way, or bills to pay.
I usually cook in the evening. I love vegetables and salad – but I do eat a lot of meat too. I tend not to buy it for myself though as the pack sizes mean I would end up eating it all week, which I don't want to do. I save that for the weekends, or in a restaurant.
I try to be strict five days a week then at the weekends I might have some chocolate or cake for dessert. I know it's a cliché, but we do have really good chocolate here!
In the evenings I try to relax –I might watch television or read a book. My last book was a detective novel – I enjoyed that. I also enjoy biographies. When it's summer and nice weather outside I meet up with friends and we will go have a coffee.
I try to go to bed by 22.30 so as I get enough sleep. I find it quite easy to stay up late but then I will have a hard time to get up in the morning so during the week I aim for 22:00 or 22:30.
Normally I sleep well – only when I have trained a lot, and I'm really physically exhausted, then it can be hard to sleep. But usually it's okay.
The IPC Athletics Grand Prix in Nottwil is supported by IPC Athletics international partner Allianz and will feature 350 athletes from 39 countries between 29-31 May.