World champion Ballard refuses to rule out world records in Nottwil
The Australian T53 athlete believes last year's Grand Prix in Nottwil, where she broke the 400m world record, was a turning point in her sporting career.
24 May 2016
Imagen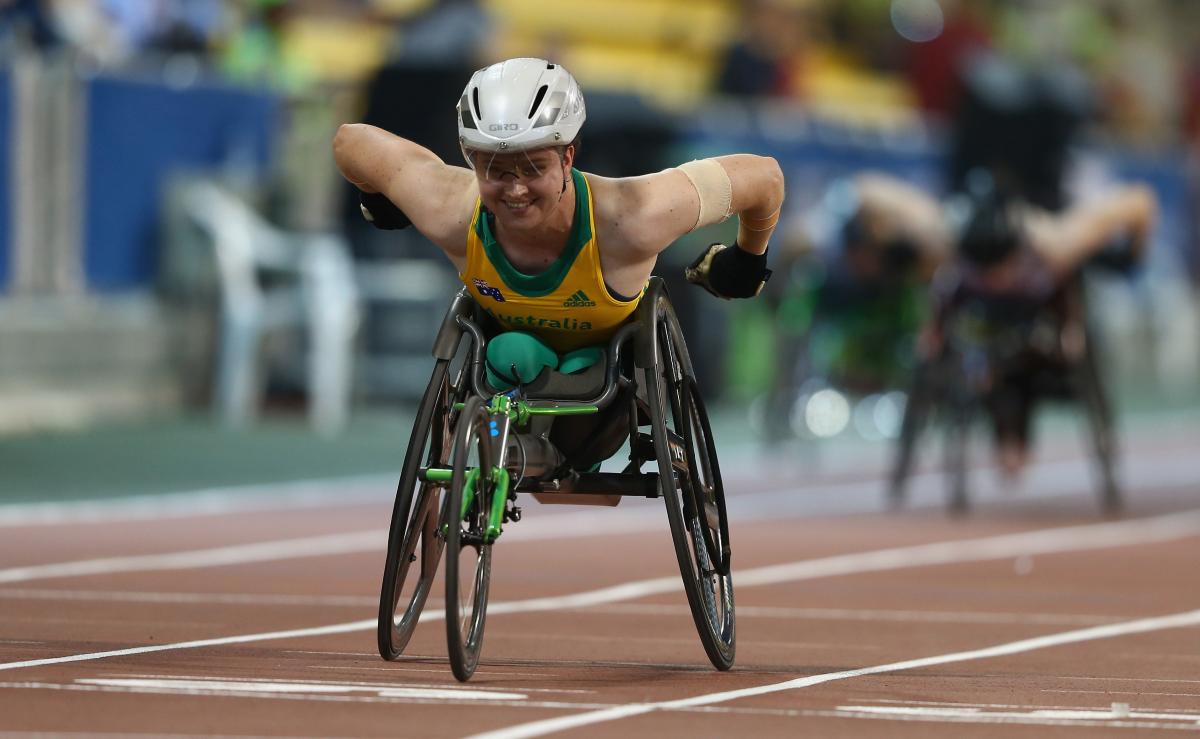 ⒸGetty Images
By IPC
"We love going there because the Swiss always put on a great meet. It's fast, and there are a huge number of competitors."
A lot has changed in the last 12 months for Angie Ballard.
A year ago the Australian raced in to the spotlight with her first ever world record in Nottwil, Switzerland, over 400m.
She lowered that T53 mark even further a week later, adding the 800m world record at the same meeting in Arbon.
In fact it is safe to say the 33-year-old never looked back – she went on to win two golds and a bronze at the 2015 IPC Athletics World Championships in Doha, Qatar.
When the Sydney-based wheelchair racer does take time to reflect, she admits that the Nottwil Grand Prix represented a significant turning point in her sporting career – at least for those looking on.
"Before last year I was a little bit under the radar. I didn't expect to break a world record there even though that was the goal," admitted Ballard, who returns to the Nottwil track for this week's IPC Athletics Grand Prix, which starts on Thursday 26 May.
"That was a huge confidence boost for me. It wasn't just that I had this awesome race where I pulled something completely surprising out of the bag. It was actually a reflection of where we had got to in training. I was actually at this new level.
"The turning point for me was actually quite a few years ago and I feel like the world record is kind of the success at the end. It was the culmination of all that had happened behind the scenes that came to that public moment that everyone witnessed."
Ballard recalls last year's race clearly.
"It was super windy, and I know some of my team-mates, and even some of the people I was competing against, were talking about it being a hard race. No one was saying it, but often when it is windy like that you're not really confident that good times will come out if it," she explained.
"I just remember being really determined to capitalise on the tailwind down the back straight and to be as strong as I could be in to the head wind. I remember hitting that head wind and feeling like it was a brick wall, and just trying to hold it all the way through to the line."
Ballard did not have everything her own way at Doha 2015 – she had to settle for bronze in the 800m T53 – but then had the pleasure of sharing in the success of her training partner Madison de Rozario, who took the gold.
"There was a mixture of emotions – it's my race too and I wanted to do well. I made a mistake so I wasn't happy with my race but I was over the moon for her," Ballard explained.
"When you train with someone day in, day out you know how hard they work – you also know what challenges they've had to overcome. Maddy is one of my biggest cheerleaders so it was huge to see her on the podium and it was really great to share the podium with her."
Ballard is old and wise enough to realise that 2015 form cannot just be replicated 12 months on without hard work and thorough preparation.
Her training regime with de Rozario – who also lines up in Nottwil this week - is designed to give both the best possible chance in Rio.
"I think anyone who trains in a squad knows that there are benefits of having that constant competition and having the support of people who know what you are going through."
Nottwil has long had a reputation in the Para athletics community of being one of the highlights of the calendar and Ballard agrees – having travelled thousands of miles to be there.
She said: "We love going there because the Swiss always put on a great meet. It's fast, and there are a huge number of competitors. The meet itself is always attractive – it's a good opportunity to see where you are at and try a few different things."
This year Ballard is focussing on the 100m, 400m, 800m and 1500m as she targets the top of the podium at the Rio 2016 Paralympic Games; her best to date was two silvers and a bronze from London 2012.
"I guess it comes back to confidence – I've done good things, and I know I can do good things – and hopefully I can do good things this time," she added.
The Australian admits that lowering her own world record could be on the agenda in Switzerland.
"It's crazy for me to think that if I race a personal best in Nottwil this week that's actually a world record at the same time. It's cool and a great place to be."
The IPC Athletics Grand Prix in Nottwil runs from 26-29 May.