World record holder Brown aims to run even faster in 2015
The US sprinter will line-up at the IPC Athletics Grand Prix in Mesa, USA, aiming to run even faster than ever before.
07 May 2015
Imagen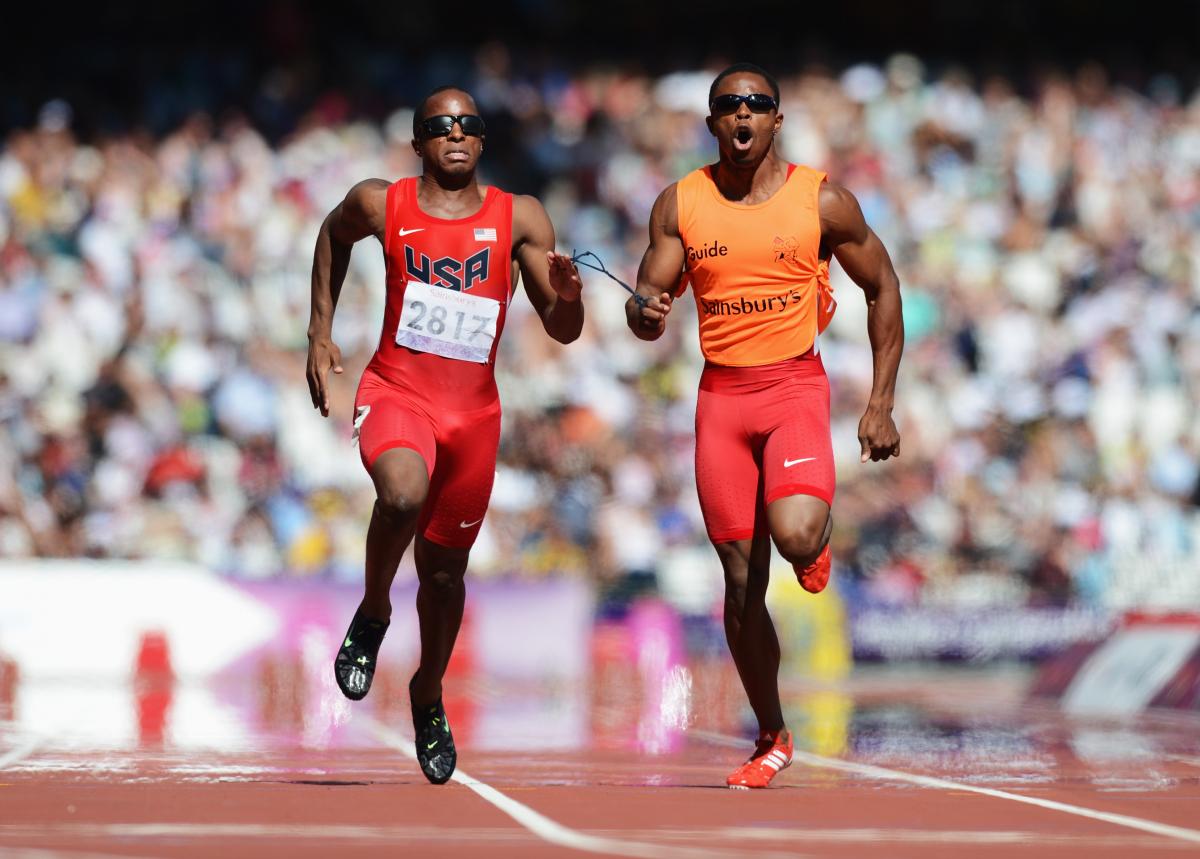 ⒸGetty Images
By IPC
"If I reach them then it's time for new targets. It gives me the motivation to keep working harder and wanting to go faster."
Twelve months after shattering the 100m and 200m T11 world records, US sprinter David Brown has warned his rivals ahead of next week's (15-16 May) IPC Athletics Grand Prix in Mesa, USA, that he feels in even better shape this year.
The 22-year-old double world silver medallist took the world by storm last April when in California, USA, he took the world records previously held by his Brazilian rivals.
"I feel more in shape now than I did last year. Last year was a great year and my fitness was excellent – but it wasn't what it is now," he said. "Speed wise and fitness wise I do feel a lot better – and I'm a lot more confident that this year is going to be even better than last year."
Everything came together for Brown during 2014 – his training from the season before provided a solid base to work from, along with speed work, technique, the right mind set and a good body weight: "So I was pretty much in good shape to be able to run how fast I did," he added.
Brown clocked an amazing 10.92 in the 100m, the first athlete in the T11 class to run under 11 seconds as he smashed the previous world record mark of 11.03 held by Brazil's reigning world champion Lucas Prado.
Not that it came as a shock: "10.92 I was actually a little surprised about, but going below 11 seconds I was not surprised about. The week before that I ran 10.96 but it was windy, with a +2.1 wind, I was mad!
"That amped up my confidence - I knew I could do it. I knew I had a good week of solid training coming up, so I knew I could use that week to get a bit faster, and that's exactly what happened."
This year, Brown is already showing the world that his impressive form continues. He opened his season in March with 11.03 in the 100m then in April ran 52.96 in the 400m – his best start to a season so far.
In fact, things are going so well that Brown has had to take on a second guide runner, Mason Rhodes, to race with him over one lap. Jerome Avery continues as Brown's guide in the shorter sprints, but the American needed a 400m specialist who was able to keep up with him and communicate at the same time.
Brown lines up at the IPC Athletics Grand Prix in Mesa in the Desert Challenge Games hoping for another winning performance, having beaten two of his main rivals – Brazil's Felipe Gomes and Daniel da Silva – there last year.
Now the world 400m T11 and 4x100m T11-13 silver medallist is chasing new world records – but he has his own method of targeting which marks he wants to break. Brown diligently looks up records and makes his plans accordingly. This means he knows exactly the performance he needs to produce in order to win each race and be the best in the world.
"I like to study my opponents to see how fast they're going and how fast I need to go in order to be on top and be the best," he explained. "First I look up the record to see how fast I need to go, then once I reach that goal, it's a case of 'Okay, now how fast do I want to go.'"
Safe to say, Brown wants to go faster than ever before. In a pivotal year that includes the Parapan Am Games and the IPC Athletics World Championships - with the Rio Games on the horizon in 2016 – Brown knows that in order to get to the top of the podium, he will have to be on top of his game.
"This year I'm hoping to run at least 10.6 seconds by the World Championships in the 100m, and sub 22 seconds in the 200m, and hopefully about 49 seconds in the 400m," he added.
"I'm going for sub 49.82 as sub 50 has already been done - 49.82 is the world record for the 400m. I said to my guide 'How fast I'll go this year I don't really know, but all I want to do this year is go faster than 49.82.' If I do that then I know I really am in potential medal territory."
Ambitious targets they may be – but not, in Brown's mind, unrealistic.
"My thought process is always set a goal that is beyond yourself, because that makes you have to work harder to improve yourself. Do I think that they're impossible? No. Do I think I can reach them? Yes," he said.
"If I reach them then it's time for new targets. It gives me the motivation to keep working harder and wanting to go faster."
Brown will be one of 225 athletes from 13 countries who will compete at the IPC Athletics Grand Prix in Mesa, USA, between 15-16 May 2015.